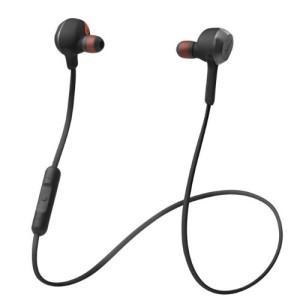 Many avid crossfitters enjoy listening to music while training or draw inspiration from their workout soundtrack. With that being said, you want the best sound, functionality and more for your money while doing so.
There are hundreds of makes and models of headphones to choose from, making weeding out the best for your lifestyle more than a full-time job. With that being said, we have done the work for you. Overall, the best accessory that you can get your hands on in the world of CrossFit is the Jabra Rox Wireless Headphones.
These headphones have been put to the test beside some of the best that the industry as to offer.
I am a huge music fan and working out with no music is just not a fun experience for me. There are hundreds of different makes and models when it comes to headphones, and finding a pair that meets your requirements can take a little time.
My own requirements include: high-quality sound, wireless connection and three or more hours of battery life. Oh yeah, these top picks also make an ideal Gift for the Workout Buff that you know and love.
To find the best headphones for CrossFit I tested the following headphones:
Flexion Kinetic Series
Plantronics Backbeat
Beats By Dre
Jaybird Bluebuds
The Jabra Rox Wireless
Jabra Rox Wireless is the Winner: Find out Why
All of them had good and bad points, but in the end, Jabra Rox was the clear winner and here is why I love them so much.
Key Features
In-line controls
Easy set up
Connects to any bluetooth device
Comfortable ear buds
Ideal for a wide range of situations, including CrossFit, running, or other sports
Power saving mode when earphones are not in use
High-definition Dolby sound
Weather and dust resistant
Kevlar reinforced cables
What Do You Get for Your Money?
Sale
Inside the box you are provided with: wireless headphones, 6 x rubber tips, 6 x EarWings, cable clip, USB wire, carrying bag, starting manual and access to the Jabra app.
The headphones are lightweight considering the durable materials (metal and Kevlar). The earpiece is fairly large, but fits snug into your ear and isn't uncomfortable even after hours of use. It is important to attach the EarWings when doing any type of activity. These do take a little bit of adjusting at first but never come out once in place.
The rubber tips provide the required comfort. I've never used the carrying bag but it seems pretty standard as far as bags go and the manual was easy to follow, although you don't really need it as instructions are spoken to you when you first turn the headphones on.
Connecting to Various Devices
I have found that you can be around 20 feet away from the device and the headphones still work. This is really good and enables you to walk around the box without the device if you don't have any pockets or simply don't like carrying your phone/MP3 player around.
If you do connect it to a phone you will be impressed with the ability to answer and finish calls by simply pulling the buds apart. The magnetic feature also saves battery life when not in use and is a neat feature.
I use either my Samsung S4 or my iPod 5 and the remote control works fine with both. I also tested it with my wife's iPhone 5 and again no issues, so it seems to be compatible with different brands and operating software.
Price
The cost is mid-range, but give you the high-end quality sound of a pair double the price. Overall, they're quite a reasonable option and most people find that they're ideal for CrossFit headphones, or for other sorts of workouts.
Sound Quality
I am a self-confessed sound geek so the quality of the sound is always a top priority. The base is deep, but not Dre Beats deep — still, who needs that much base anyway? The mid is clear and steady even at a high volume. The tops are crystal clear and sharp. I was overly impressed with the clarity and it was the sound quality that finally convinced me these are the headphones for me.
The Dolby digital sound is truly amazing. I would advise you to download the best-quality MP3 dubstep track and start your next workout with sounds that seem like they are hitting you from every direction.
Battery Life
A big frustration with a number of wireless headphones is the lack of battery life. My average daily training is around an hour, but I also enjoy running long distance and playing sports. It's important to me that the battery lasts for three or more hours and the Jabra Rox has so far given me around six hours of continuous use.
This is more than enough for daily workouts and can also last for three or four days without having to be recharged. Recharging only takes about 90 minutes using a USA wire.
Where Can I Get Them?
Do they sound like the right pair of cross trainer headphones? You can easily find Jabra Rox on Amazon. Click the button below to check for the best prices and to learn more about this popular product:

What do People Think about Them?
—>Read More Customer Reviews on Amazon.com<—
"Almost a third of the price as some of their major competitors, but just as good in my opinion. Perhaps the perfect pair of workout headphones and the sound quality is certainly good enough, when you consider the price of them."
"Easy to set up to connect to my phone, laptop, etc. and all the functions work exactly as described in the user manual. Just about my only complaint is the battery drain on these things—it kind of feels like I'm always charging them, but this is a similar problem with other bluetooth headphones I think and not particular to Jabra Rox."
"Issues with durability. Sure, they're cheap, but if you're looking for headphones that'll last a year or two at least, then these are not it."
Jabra Rox Review
If you want to find out another opinion on these popular CrossFit headphones, then please watch the short video below:
Have your Say about this Jabra Rox Review!
What's your top pick for wireless bluetooth headphones for that next serious workout? Are you considering Jabra Rox, or are you opting for another brand? Leave a comment below and let us know what you think. We'd love to hear from you.
Also be sure to give this a share on Facebook, Twitter, or Pinterest. It'll help other fitness enthusiasts who like music, like yourself find this useful resource guide.  And don't forget to pick up a top-notch pair of shorts and CrossFit shoes!
Last update on 2022-11-07 / Affiliate links / Images from Amazon Product Advertising API