Your normal daily workout may not be possible when you're traveling. This can happen for a variety of reasons-lack of time, proper equipment, tiredness due to jet-lag, etc. However, your fitness doesn't have to suffer despite traveling if you take advantage of some of these CrossFit travel workouts that can be done in small spaces with minimal equipment..
Keep reading for a handful of simple workouts that can be practiced anywhere and everywhere. These mostly don't need any equipment, but if they do you can just grab anything that is easily available to you and start practicing.

Here is a list of work outs that you may go for in order to get a serious workout in while on vacation. CrossFit travel workouts: let's get to it!
CrossFit Travel Workouts
Keep on reading for WODs that you can do while on the road from a hotel room, outside or in a hotel gym.
Workout #1
You don't have to do all of the exercises on the list, but please feel free to pick and choose among them to create a workout of just about any length, from 10 minutes to over an hour.
Exercise A
You have to go for each of the exercises as mentioned below for the number of rounds stated here. Try to cover as many rounds as possible. You have to cover three rounds at least to start with.
Air squats – 55 reps
Run – 750 meters
Exercise B
Perform each of the drills mentioned below for the prescribed number of repetitions for 10 minutes. Try to get through as many rounds as you can without taking a rest. Keep count of how many rounds you can get through so that you can outdo your own record next time.
Burpees – 20 reps
Sit-ups – 30 reps
Air squats – 30 reps
Exercise C
Go through all four exercises prescribed below to complete one round. Try to finish five rounds.
Handstand push-ups – 10 reps
Jumping lunges – 5 reps per leg
Sprint – 200 meters
Mountain climbers – 15 reps
You can perform handstand push-ups on the outside of your home, on a wall, or on a fence. If unable to perform that, just go for regular push-ups. If you have no way to measure 200 meters, just take 30 seconds and run fast.
Exercise D
One full round consists of all the exercises mentioned below. To complete the session, you have to complete all four WODs 10 times.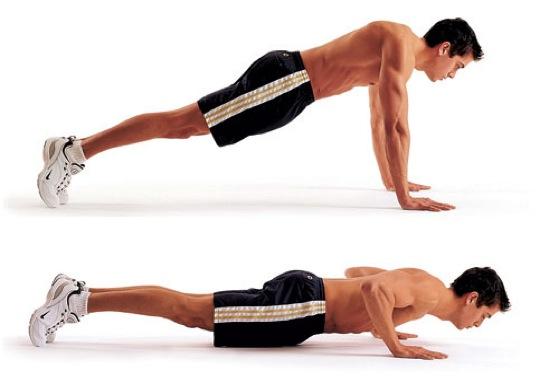 Sit-ups – 10 reps
Push-ups – 20 reps
Squats – 10 reps
Exercise E
You'll do this exercise minute by minute.
Step-ups – 20 reps
Burpees – 15 reps
Try to complete the exercises in less than 3 minutes. Have a 30 second rest and then complete 2 more rounds.
This workout may seem simpler because you get a little respite, but as you get exhausted, those rest periods will keep getting shorter.
Exercise F
You have to complete the drills here in five rounds. Each of the exercises is to be repeated in five rounds.
Squats – 15 reps
Push-ups – 15 reps
Run – 250 meters
Exercise G
If you're not habituated to running quickly for a prolonged period of time, this training will probably be a bit tough. But it's superb if you are looking for a challenge.
Run – 700 meters
Sit-ups – 150 reps
Air squats – 100 reps
Push-ups – 50 reps
Run – 700 meters
The strategy is to keep moving. Double everything if you want to perspire even more.
Exercise H
Try to engage in a headstand or handstand for about 5 minute. However, you should be very careful with one thing. Do not spend more than a minute at a time if you are going for a headstand. This is one thing that you must be very careful about.
Exercise I
This one should be continued for 10 rounds, each exercise extending for a minute at maximum.
Hollow rock hold
Bottom of squat
Pleb's plank
You should use the transition times as breaks, as the rest time should be as limited as possible.
Exercise J
The following has to be done in 10 rounds.
Sprint – 55 meters
Push-ups – as many as possible
Tabata – 5 minutes at each workout
In the case of the push-ups, you have to test your strength and judge your intensity. Go for push-ups that include an extension of the full body and a constricted chest. If you can't do the push-ups for men, you can try from the knees followed by 150 squats.
In the case of the Tabata, nine rounds have to be performed for 22 seconds with a break of 10 seconds each. You have to do alternate rounds of tick jumps and sit-ups.
Exercise K
Alternating pistol squats – 10 reps
Push-ups – 10 reps
Pull-ups – 10 reps
Sit-ups – 10 reps
Pistol squats are a fairly cutting-edge movement, but you can perform them by holding onto a wall for balance or using a counterweight. If the pull-ups are undo-able, just omit them from the regime and perform the other four exercises. As added advice, you can speed up early so that you can keep moving for the entire 15 minutes.
Workout #2: CrossFit Mayhew Travel WOD
Check out even more ideas for CrossFit Travel workouts:
CrossFit Travel Workout #3
This workout is super simple and requires no equipment except a pair of running shoes.
3 rounds:
1/2 mile run
50 air squats
20 push-ups
Hotel CrossFit Workout #4
This is another easy workout that can be done in hotel room:
10 rounds:
16 push-ups
14 burpees
12 sit-ups
10 squats
Hotel WOD #5
For time:
50 burpees
100 air squats
50 burpees
Workout #6: 3 Round Hotel WOD
Check out this tough workout that you can do easily in a hotel:
Workout #6: CrossFit Rowing WODs
If you're staying in a hotel, you may find that they have a rowing machine. If this is the case, you'll want to check out some of the following options:
Travel WOD #7
10 rounds, for time:
14 push-ups
12 squats
10 sit-ups
8 burpees
Workout #8
Here's a simple one that can be done with no equipment in a hotel room. For time:
100 air squats
20 push-ups
CrossFit Travel Workout #9
10 rounds, for time:
50 jumping jacks
5 burpees
5 push-ups
WOD #10
10 minutes, AMRAP
12mountain climbers
10 sit-ups
8 push-ups
6 hollow rocks
The Takeaway on CrossFit Travel Workouts
These are in short some of the CrossFit WODS that you can easily perform at home or when you are on the move, as you do not really need much training apparatus to do this. Thus you can now catch up with your daily WOD session no matter where you are.
Remember that doing something is certainly better than nothing. Although you may not be able to do your regular routine, mix things up and do something else. It may even be good for your body!
FAQs
There are a number of common questions that people have about travel workouts. Here are the answers to some of the most popular ones.
Why are CrossFit travel workouts useful?
CrossFit travel workouts allow individuals to maintain their fitness routines and continue training even when they are away from their usual CrossFit gym or equipment. They provide a way to stay active and engaged in physical activity while traveling.
What equipment is typically used in CrossFit travel workouts?
CrossFit travel workouts often involve minimal or no equipment. They can be designed to utilize bodyweight exercises, such as push-ups, squats, and burpees, or incorporate portable equipment like resistance bands or jump ropes.
Are CrossFit travel workouts effective?
CrossFit travel workouts can be highly effective for maintaining fitness levels and improving strength, endurance, and conditioning. They can provide a challenging workout even without access to traditional CrossFit equipment.
How can I find CrossFit travel workouts?
CrossFit travel workouts can be found through various sources, including CrossFit websites, fitness apps, and YouTube channels, or by consulting with CrossFit coaches or trainers who specialize in travel workouts.
What are some examples of CrossFit travel workouts?
Examples of CrossFit travel workouts may include circuits of bodyweight exercises like air squats, push-ups, sit-ups, and lunges, or interval training with running, jump rope, and resistance band exercises. They can be designed for specific time durations or rep schemes.
Can CrossFit travel workouts be modified for different fitness levels?
Yes, CrossFit travel workouts can be modified to accommodate different fitness levels. The exercises, repetitions, or intensity can be adjusted based on individual capabilities and goals.
Are CrossFit travel workouts suitable for beginners?
CrossFit travel workouts can be adapted for beginners, but it's important to choose exercises and modify intensity levels that align with their fitness level and abilities. Starting with simpler movements and gradually increasing intensity is recommended.
Can CrossFit travel workouts be done in small spaces?
Yes, CrossFit travel workouts can be designed to be performed in small spaces like hotel rooms or outdoor areas. They can utilize exercises that don't require much room for movement, such as mountain climbers, plank variations, or squat jumps.
Do CrossFit travel workouts require a lot of time?
CrossFit travel workouts can be designed to fit various time constraints. They can range from quick high-intensity workouts (e.g., Tabata intervals) that last a few minutes to longer, more structured sessions depending on the available time and desired training goals.
Have your Say about these CrossFit Travel Workouts for on the Road
Do you have any tips or tricks for getting your CrossFit workout in while you're on the road? Leave a comment below and let us know what you think.
Also be sure to give this article a share on Facebook, Pinterest, or Twitter. It'll help other travelers who are fitness buffs find this useful resource.