If you're looking for your first, or next pair of CrossFit shoes, you're certainly in the right place. Keep on reading for all the details you need to know before making your choice for CrossFit shoes for men or CrossFit shoes for women. You can also find the top choices for running shoes and weightlifting shoes. We've been reviewing workout shoes for almost 10 years and have a wealth of experience to help you make the best choice for your feet so you can get your workout on in style.
Nike, Reebok, Asics, Under Armour, Adidas and even Brooks have joined the CrossFit shoe market. If you are looking for a CrossFit shoe, the first thing that you need to do is look at the pros and cons of a particular shoe. Keep in mind that every shoe has a different construction. You may find some of these designs helpful in some scenarios while some features only hinder specific movements. Oh yeah, CrossFit gear or all the CrossFit News? We have that too!
Here are just some of the factors that you'll want to consider when choosing your ultimate pair of CrossFit shoes:
Mesh vs rubber upper
Preferred workout style
Styles and colors
Price
Lateral support
What are the Best-Selling CrossFit Shoes?
Before we get into more details about the factors you'll wan to consider when choosing the best shoes for CrossFit, here's a sneak peak at some of our top-sellers. Click the link to see the full review:
Choosing The Best CrossFit Shoes Guide
It is surprising the difference the right pair of shoes can make in your performance, and this is certainly true for CrossFit. In a sport which is constantly pushing you to bet a personal record during a serious workout, the last thing you need is a pair of shoes that are holding you back.
Whether you are new to the sport or simply want to make it through a workout without your feet killing you, the information continued in this guide will make it easy for you to choose the right shoes for CrossFit.
The Most Important Factors to Consider
Here's what you should be looking for in the best CrossFit shoes. If you choose your footwear solely based on these three aspects you will be able to find supportive CrossFit shoes that will help you improve your performance during your workouts.
Hard, Stiff Sole
A good example of a CrossFit shoe with a hard, stiff sole is the Nano from Reebok. While we'll not necessarily say this is the best athletic shoe, it does have some of the features that are important if you want to be successful at the sport.
Minimal Heel to Toe Drop
A shoe's "drop" refers to the height difference between the heel and forefoot. This measured difference will affect how the shoe feels and performs, and the best CrossFit reviews suggest choosing a pair with a minimal drop in height between the front and back of the shoe.
It is not uncommon to find athletic and running shoes with a 10+mm heel drop, and while the thick cushioning is ideal for comfort it can affect mobility.
If you need the supportive padding due to weak ankles but want the lightweight mobility of a minimal drop, the best CrossFit shoes for you might be ones with a 6mm differential. This will still give you the support your ankles need while still providing plenty of mobility, which is perfect for when your workouts call for sets of sprints.
Lateral Support
During CrossFit workouts, torque is created which can cause your weight to shift. Your knees are often bent, and the majority of your weight is supported by your heel. To prevent your ankles from turning and other potentially painful injuries it is important to find a pair of CrossFit shoes that come with plenty of lateral support.
You will want to look for athletic footwear that has a wire or "cage" type design in the center of the shoe that will keep your feet securely on the soles, and not pushing out over the sides.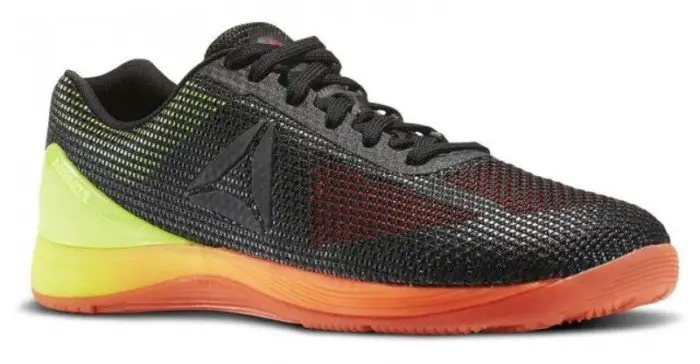 Mesh Material vs Rubber Cage
Let's start off with the material of the shoe. There are some manufacturers that go for a rubber cage construction on their shoe. This allows the user to have stability, especially when going for lifts and activities that could do minor to major damage to the body.
However, there are some cons when you make use of a CrossFit shoe that is made of a rubber cage. For this scenario, you have the mesh fabric. A softer material that can instantly go with the form of your foot to any activity that you do, this material offers little support but great comfort.
Style and Colours
While not the main consideration, this is certainly something to consider. Workout shoes range the gamut from very plain black or white shoes to some of the most stylish ones around that you could wear around town, day or night and not look out of place.
What's your preference? This is really the only important thing in this regard and it really is just a matter of personal preference as to what you prefer.
Price
Some people are willing to spend a lot of money on CrossFit shoes. That's good because there are certainly shoes that are close to $200! They are top-quality, comfortable and durable sneakers to say the least. Plus they look great too.
However, if you're on a budget, then you'll probably just want a pair of shoes that fit well, prevent injuries, and are comfortable to wear. Of course, they should also be durable because if you spend a hundred bucks but your shoes only last a couple months, it's not actually a great deal.
The very expensive shoes are usually the ones that are designed specifically for CrossFit. If you want to save a bit of money, try picking up a pair of general crosstrainers that are sometimes half the price of these CrossFit shoes.
They may not look at cool, but they'll get the job done most certainly!
Best Type of Shoes for CrossFit
There are a number of types of shoes that people wear for CrossFit workouts. Here are a just a few of them:
Specialized CrossFit Shoes: Reebok makes some amazing shoes for CrossFitters, from their Nano 8.0, to the pump to the speed. They seem to do a bit of everything! Running, jumping, lifting, climbing: no problem with these things.
Minimalist Shoes: If you're looking for some barefoot shoes, or Chuck Taylors for your workouts, then you'll be in some good company. Lots of people use these kinds of shoes for their workouts. They're usually designed for running, but the minimal differential means they're good for lifting as well.
Weightlifting Shoes: If your workouts are heavy on the weightlifting, then you'll want to consider some heavier, sturdier shoes that can offer some serious stability. The strap keeps your feet locked in place. And the minimal drop means you'll be achieving your personal bests.
Cross Training Shoes: If you want to save a bit of cash, just use the cross training shoes you probably already have in your closet. Lots of people do it, especially when they're just starting out. Be careful though, they should offer some good support to prevent injuries.
Here are some of our top recommendations for cross-training shoes that you can use for CrossFit WODs:
Crossfit workouts are extremely varied. You'll need a shoe that can do a bit of everything, and this usually means a cross-trainer.
What are CrossFit Shoes?
Basically, CrossFit shoes are very similar to cross-training shoes. However, there are a few differences that you should be aware of:
Many of them are a bit flatter than training shoes to allow for better performance when weightlifting
Most Cross Fit shoes have traction and extra durability on the inner part of the shoe for rope climbing
You can often find a stronger toe box for doing wall handstands
When compared to running shoes, CrossFit shoes have a lower heel to toe drop, are a bit heavier and sturdier, and have more support for lateral movements.
Why Wear CrossFit Shoes?
When compared to something like running shoes, you'll notice a huge difference when putting on your first pair of CrossFit shoes. They're flatter and will allow you to get deeper into your squats and deadlifts. You'll also just feel generally more stable when lifting weights because of the lower heel.
You may also notice that they have some nice support for side-to-side movements. And also that things like box jumps are less scary due to the higher level of traction and firmness in the toe box.
Try them out for yourself and we're sure that you're notice a difference as well. They'll just feel good on your feet for a huge variety of movements: sprints, jumps, climbs and lifts.
Things to Consider While Buying CrossFit Shoes
CrossFit is a demanding sport that requires constant movement, which means you need to find a pair of athletic shoes that are durable, have a sturdy structure, and are breathable. Here are a few tips to help you get an idea of what to look for in a new pair of CrossFit shoes so you can be assured you are getting the best value for your money.
Structure 
At some point during your workouts you will find yourself having to do rope climbs, which is one of the reasons why structure is an important feature to look for in a pair of CrossFit shoes. You want to find footwear that has some texture on the sides, and Nike has come out with some that feature tiny rough nubs.
The shoes also need to be durable and protective, especially during a double-under. Rubber, nylon or even vinyl uppers will provide you with the lightweight protection you need.
Durability
You want your CrossFit shoes to be a good value for your money, which means you want the pair you choose to last for more than a couple of workouts. The Nike Metcon has a rubber outer sole that is durable and designed to withstand even the most strenuous workout.
Other features to consider ensuring the shoes will last include rope guards on the instep and Kevlar added to protect the uppers. Individual manufacturers will use different materials to add strength and prolong the life of the shoes, and the right ones for you will often depend on the type of workouts you frequently do.
Flexibility
The Best CrossFit Shoes are flexible enough to perform well when you throw some serious hurdles at them. They should be able to move with your feet when you're jumping, sprinting, climbing ropes, or lifting weights. Sounds like a pretty typical CrossFit workout, right?
Weather
It is important to remember that you won't always be doing CrossFit workouts indoors, and weather is something that you will want to consider. If you frequently find yourself running through the snow during a "Helen" WOD you want to choose a shoe that is still lightweight, but has plenty of traction.
However, if the weather is usually hot where you live, then breathability is important for comfort and your health. If your feet overheat it could affect the rest of your body, resulting in heat stroke or other serious complications. Look for CrossFit shoes that come with mesh liners and uppers to prevent moisture and sweat from soaking your feet, and to allow plenty of cooling air flow.
Ankle Rolls
Rolling an ankle is a common athletic injury that can easily be prevented with a good pair of CrossFit shoes. They offer support, but are light in weight and comfortable to wear on your feet.
Stay safe with some top-quality CrossFit shoes! After all, nothing sets you back further than time off due to injury. Avoid this it at all possible. Of course, we recommend top-quality CrossFit shoes!
Shoe weight
When you're jumping on boxes, or climbing ropes, the last thing you want is big, clunky shoes on your feet! CrossFit shoes are light enough that you shouldn't even notice them.
However, if you're doing CrossFit workouts that are mostly focused on weightlifting, then you might want to consider a pair of specialized weightlifting shoes. We love the Adidas Powerlift 3, which are kind of a hybrid between the more serious weightlifting shoes, and training shoes.
Good Value
We're kind of stating the obvious right now, but a box membership isn't cheap! It only makes sense to get the best value out of your membership by using the proper gear that will get you the results you want.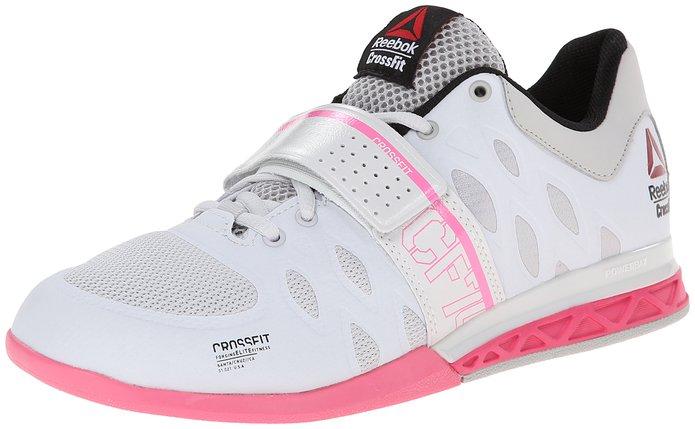 Some Helpful Buying Tips
Before you go, here are a few helpful buying tips for your next pair of CrossFit shoes:
Quality 
Sometimes it is worth it in the long run to spend a little more, and this is certainly true when you are buying a pair of shoes for CrossFit. Some of the best CrossFit shoes like the Nano 7.0 from Reebok or Intensity 2 from ASICS might be priced slightly higher but the long lasting construction and comfortable design make it worth your money in the long run. There is also no denying that you get a boost of confidence during your workouts when you are wearing a pair of high quality shoes.
Support
We simply can't say enough about support. Shoes that are supportive are more comfortable, and better able to prevent injuries. Having plenty of support can also improve your overall performance during your workout or when you are competing against other athletes. In general most minimalist shoes are able to provide some support, but athletes with ankle or foot problems might want to choose a slightly heavier pair that is designed for running.
While minimalist shoes have moderate to little support, this type of footwear is sturdy and lightweight. You also have the advantage of the flexible design, along with the shoes' versatility. One pair of minimalist shoes to consider is the Nano series, which offer slightly more support than other brands.
Main Use 
If you prefer workouts that come with plenty of sprints and 2 mile runs you will probably want a minimalist shoe. If you are new to the sport than look for one with a 3+ differential, while experienced joggers might one a pair with a true minimalist design.
Shoes with higher height differential are also ideal for strength training, especially calf and leg muscles.Weight lifters will want shoes with a higher lift ratio so they get an extra boost during squats and other exercises.
Some Olympic style footwear has almost no differential, but this can be impractical for wear during other workouts. In most cases a 4-6mm height ratio between the toe and heel will provide you with the added lift you need, while still being versatile enough to be worn through rope climbs, jogs and even up on rope climbs.Knowing what type of workout you need the shoes for can help narrow down your options so you can easily might the right decision.
Fit
If you are purchasing the athletic shoes in a brick and mortar store, it is easier to ensure you picked the right size. When you are ordering online you don't have the advantage of trying the shoes on first, which is why it is important to take a few seconds and measure both of your feet.
You can either use a measurer at a local shoe store or do it yourself at home. Simply trace a precise outline of your feet and measure the length and width to find your exact size. It is also a good idea to read customer reviews to see if there are any complaints about the shoes not running true to size.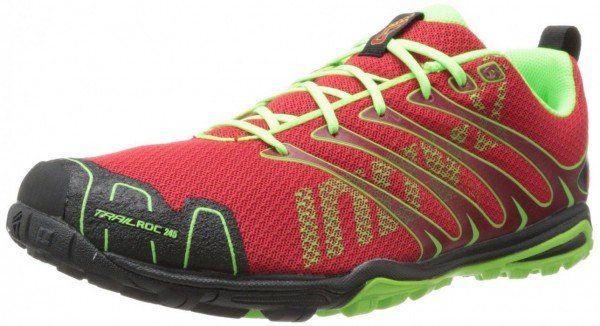 Needs to Be Stable and Comfortable
First off, you will need a shoe that is stable enough for all the activities you will do while training for CrossFit. It should be stable enough for weightlifting; light enough for sprints, jogging, and running; and flexible enough for jumping and other movements. It also depends on your own preferences, body type, and needs.
Some shoes are good for only men, others are specifically women, and then there are some that are unisex. These are the basics when knowing what are good CrossFit shoes.
The bottom line is that there are characteristics and features that you have to make sure your shoe has to be able to sustain heavy training. They include comfort, flexibility, durability, and balance to name just a few.
Proper Balance
A good pair of CrossFit shoes will allow you to have proper balance during your workouts. Running shoes are meant to keep you going in a forward motion. They aren't great for lifting weights, doing a squat, or jumping on boxes.
Heel-to-toe drop
Weightlifting shoes have a minimal heel to toe drop, while runners have quite a high one. Weightlifters need a very stable platform to lift from, which is why they prefer flat shoes. Runners like to have a bit of forward motion to their gate, which is why they need a bigger heel to toe drop.
CrossFit shoes fall somewhere between these two extremes. The best CrossFit shoes are comfortable enough to do some sprinting in, as well as providing a stable enough platform from which to do some serious lifting.
How Should CrossFit Shoes Fit?
A common question that people have is how a CrossFit shoe should fit. The first thing to mention is that they're just like any other athletic shoe. They should fit snugly and your feet shouldn't be sliding around in them. However, you'll want enough room in the toe box so that your toes are jammed up against the front.
When you put them on, they should immediately be comfortable and they don't really require a breaking in period. If you have particularly flat, narrow, or wide feet, or have high arches then you may want to do some further research about which sneaker might be a good option for you.
You may be tempted to go for a slightly larger size like you would with a long-distance running shoe. This is because towards the end of a long run, your feet may swell. However, most CrossFit workouts are about an hour in length and this shouldn't be a problem.
What are the Best CrossFit Shoes Today?
Okay, so let's get to what you really want to know: what are the best CrossFit shoes? The ones that you'll find everyone at your CrossFit box wearing. Or, the ones that your favourite trainer will recommend to you.
As we've already mentioned, you can find everything from minimal, barefoot running shoes to weightlifting shoes at your local gym. If you're into sprints or cardio, then running shoes may do well for you. However, if you're into workouts heavy on the weight, then you may want to go with a dedicated lifting shoe for the best results.
That said, most people use cross-trainers, or a dedicated CrossFit shoe like the Nike Metcon 4, Reebok Nano Grace, or the Reebok Nano Speed. NoBull, Recon 5.11 and the Puma Tazon line are also becoming increasingly popular.
You can check out our top picks below.
The Best CrossFit Shoes for Men
Are you looking for your first (or next) pair of training shoes? You'll need to check out our top recommendations first.
You can find all of our top picks here: What are Best CrossFit Shoes for Men?
The Best CrossFit Shoes for Women
There are a ton of choices out there for sneakers. It can actually be kind of overwhelming. Don't worry though. We've done the hard for you and narrowed down the choices to the top ones,
Want to see the whole list of the Crossfit shoes we recommend for women? You can check it out here: What are the Top CrossFit Shoes for Women?
No One Size Fits All Solution for CrossFit Shoes
The market of CrossFit shoes is now diverse. New products come out almost every month. You have to keep in mind though that there is no perfect CrossFit shoe. There are some shoes that are perfect for certain movements, but you have to understand that you can't have a shoe that does everything.
For those who are going to invest in footwear specific for CrossFit, you need to always make sure that you do not have unrealistic expectations from the shoe brand that you are going to buy. You have to understand that every shoe will have its own set of strengths and weaknesses.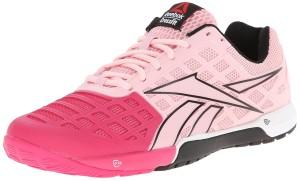 What are the Benefits of CrossFit Shoes?
Here are some of the reasons why you might consider CrossFit shoes over running, or general training shoes:
Comfort
Flexibility
Balance
Durability (especially with rope climbing)
Heel-to-toe drop
Ankle roles
Balance
Shoe weight good value
CrossFit workouts consist of a number of activities ranging from sprints, to heavy weight to rope climbing and box jumps. It's clear that a running shoe, or cheap workout shoe won't stand up to this kind of test. That's why you should consider a specialized Cross Fit shoe instead.
Why Do CrossFit?
For example, police, tactical teams, military members, martial artists, athletes, and other elite professionals all do CrossFit. Some are in it for work but many are in it for optimal fitness. Basically, if you want to get into seriously good shape, CrossFit workouts are where it's at!
This is where the consumers come in. It isn't easy to say that any good shoe is fit for cross-training. It has to be a specialized shoe that can do what you need to do and that can carry your strength and durability. This is why you really need to know what you are planning to get. Let's dig deeper into what the qualities of the best CrossFit shoes are.
Or, head over to Amazon to check out one of our top-rated CrossFit Shoes, the Reebok CrossFit Nano 8.0:

Compare Reebok CrossFit Shoes
Questions, Comments or Recommendations for Us?
Do you have any questions about CrossFit shoes? Or about CrossFit in general. Please contact us here and we'll do out best to help you out.
Last update on 2023-08-20 / Affiliate links / Images from Amazon Product Advertising API