Are you looking for a pair of top-quality shoes you can use for CrossFit workouts, Insanity, T25 or other high intensity workouts? Then you should seriously consider the newly released Reebok Nano 9.
Read our buying guide packed with information to help you decide if it's right for you. And, also to see how it compares to the very popular Nano 8.
Reebok Nano 9 Review
If you're looking for pair of trainers for CrossFit workouts, then you'll need to seriously consider the Nano 9's. I mean, the Nano 8 was a great shoe for indoor gym workouts, but the 9 is even better.
Better for Running
Reebok has made the Nano 9 even better for running than previous models. There's extra cushioning in the midsole which helps to absorb shock. Plus, the two piece outsole allows for more flexibility along the length of your foot.
So, you want to do a workout with lots of sprinting and cardio? Consider this one!
Protection Wrap Midsole
One of the newer features is the midsole wrap. It's made from a very strong, firm substance and it extends up the sides of the shoe. This allows the midsole foam to be squishier and more absorbent. The other benefit if that it adds extra grip and durability for rope climbing. If you've ever torn up a regular pair of runners or trainers doing a rope climb, you'll know exactly what we're talking about here.
Nano 9 Release Date
Maybe you've heard all the buzz in the CrossFit world? The official release date for this shoe was June 12, 2019. Is it the best Nano yet? Let's see!
Key Features
4 mm heel to toe drop
Metaslip design
Wide toe box
Flexweave upper in a figure-8 design
Classic vector logo on the side
More cushioning in the midsole compared to previous models
Midfoot wrap made from soft rubber comes up the sides to add stability and make them more durable
More cushioning in the forefoot
Bootie like construction and fit
Forefoot flex grooves
Low-cut design
Variety of color and size options
Shop Now
Do they sound like the right pair of cross-trainers for you? You can easily check out all the color and style options right here:

What do People Think about the Reebok CrossFit Nano 9?
—>Read More Customer Reviews and Ratings Here<—
"I've tried a few different Reebok Nano versions now and have to say, this is probably one of my favourites. It's decent for running in, thanks to the new design on the sole. And, I love the added wrap up the midsole that makes them super durable and also stable for serious lifting."
"Probably the most comfortable CrossFit shoe to wear for long periods or time. I've worn them for hours when out doing errands or whatever and my feet feel great. They're very breathable thanks to the added Flexweave. Dare I say if, the best CrossFit shoe of all-time?"
"A nice shoe for all kinds of gym workouts. If you like to lift weights, but do some cardio, plyometrics, rope jumping, etc. then you should seriously consider the Nano 9."
Reebok Nano 9 Review
Pros:
Offers some serious stability for lifting
Stylish and comes in a variety of nice colors
Comfortable to wear for long periods of time
Split outsole construction is very comfortable
Redesigned flexweave
Slightly redesigned eyelets similar to the Reebok Speed TR
Heel does a nice job at preventing slippage
Cons:
Not that stretchy or flexible, but could be because of the rope guard on the side of the foot
Not ideal for running
Quite heavy (For a lighter option, consider the Nike Flex Trainer 8)
Why include "Nano" and "CrossFit" on the side and back of the shoe?
Forefoot material bunches up when you're pulling the shoe on tightly
How Does the Reebok Nano 9 Compare to the Nano 8?
There are a few key changes to the new Nano 9 compared to the super popular Nano 8 that was around for what seemed like forever.
First of all, there is an updated design and new color options. The large vector logo on the side makes an appearance and they have an overall sleek look to them.
Flexweave is back, and what's new about it is that it's stretchy and sparkly. You'll get a custom fit throughout the upper, along with great airflow. However, they're not designed as a waterproof outdoor shoe, so take this into account if it's raining!
You can also find a snug, bootie fit for the Nano 9. The fit is similar to the Nano 8 in this aspect, along with the same 4 mm heel to toe drop.
However, the biggest difference seems to be in the midsole. There's a harder TPU material in the usually squishy part of the shoe. This material goes up the sides of the shoe a little bit, and allows them to use a squishier, more shock absorbing material in the sole without a loss of stability for lifting. It looks kind of cool, and also adds some durability for rope climbing.
Basically, the Nano 9 feels like it has more cushioning, but seems to be flatter and lower to the ground. This is due in part to the new tread pattern on the sole. It performs well enough for sprints and jumps, despite being the heaviest Nano yet.
Get your Pair Today
You can find these top-quality trainers at Reebok.com. Click the button below to head over there now:

Reebok Nano 9 for Men Colors
Check out some of  our top picks for styles for men:
Reebok Nano 8 for Women Colors
Here are some of our top color and style options for the Nano 9 women:
Are these the Ideal Shoes for CrossFit?
If you take a look around your CrossFit box, or ask your trainer, then you'll probably notice a huge variety of shoes on people's feet. You can find everything from barefoot or minimalist shoes to weightlifting shoes.
However, most people stick with a pair of cross-trainers, or a CrossFit shoe like this one or something like the No Bull or Metcon 4. That's also what we recommend doing.
You can experience a huge variety of exercises during a typical WOD. You may go from sprinting to jumping to climbing and then lifting. You'll need a versatile shoe that can stand up to the test. Will the Reebok Nano 9 excel at this? It certainly will and it's actually designed for this exact type of workout.
The heel to toe drop is great for lifting, but it's light and flexible enough to handle a bit of cardio. It's durable enough for rope climbs and has enough cushioning for jumps.
Compare CrossFit Shoes
Besides the Nano 9, there are a ton of great options for CrossFit shoes for men and women. You can see some of our top picks here:
Can I Use the Nano 9 for Running?
Out of all the Reebok Nanos, the 9 is probably one of the best options for running. This is due in large part of the split outsole that makes them more flexible.
However, if you're looking for a pair of shoes to run your next marathon in, these are certainly not it! They can handle some sprints and cardio in the gym, but they don't have the characteristics of the best running shoes.
The heel to toe drop is too low (4 mm compared to 10 mm), they're heavy and don't have enough cushioning and shock absorption because they're designed in large part for weightlifting. If you're looking for a pair of shoes to run a marathon in, then you'll want to consider one of the following: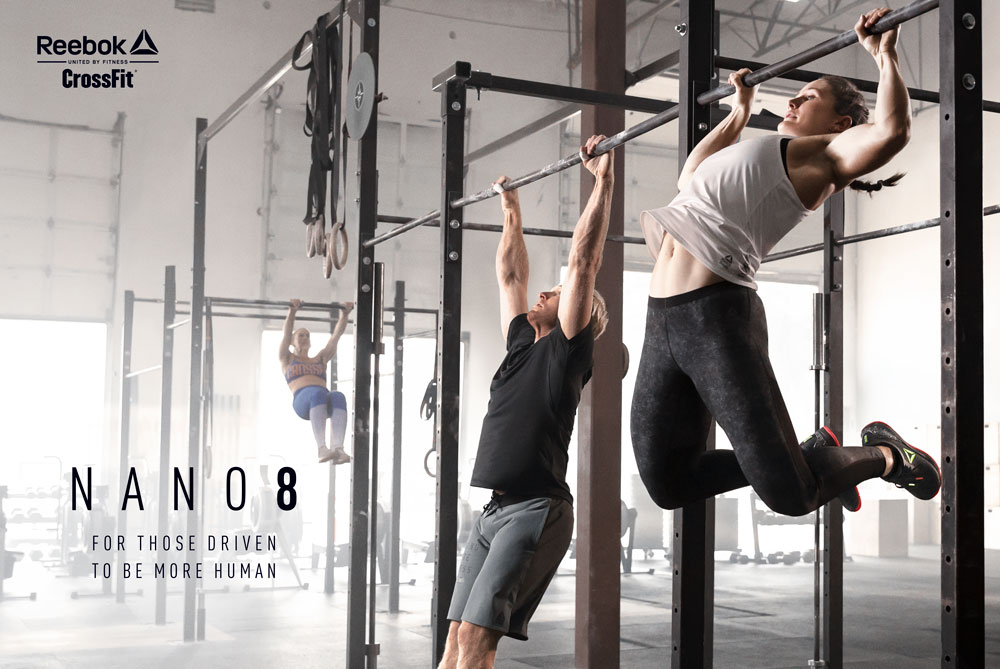 What about Weightlifting with the Nano 9 Reebok? 
If you like to lift weights, you may want to know if the Nano 9 will work for you. It will certainly be much better than running shoes, and even the average cross-trainer. The low heel toe differential means you get deeper into squats and deadlifts. There is a ton of grip with the floor, and the wide toe box is ideal for this type of activity.
However, if you workouts that are almost exclusively lifting, then these may not be the shoe for you. You'll want a dedicated weightlifting shoe that's flatter, sturdier and offers more support. Here are some of our top picks:
Nano 9 Reebok: The Best One Yet?
The Takeaway on the Reebok CrossFit Nano 9 Sneakers
If you're looking for a pair of trainers for the following workouts, the Reebok Nano 9 might be exactly what you need:
CrossFit
Weightlifting, along with light cardio or more dynamic movements
T25
Insanity workouts
Jumping rope
HIIT
Most gym workouts
In our opinion, it's the best Nano yet with the increased flexibility, and midfoot heet wrap. Plus, the new design and color schemes mean that your style won't have to suffer like with some of the previous Nanos! Of course, tell us what you think about it by leaving a comment below.
Order Yours Today
If you want to learn more about the Nano 9 Reebok, then click the button below to head over to Reebok.com. Don't forget to check and see if these sneakers are eligible for free shipping:

Have your Say about this Reebok Nano 9 Review
What do you think about the Nano 9 from Reebok? Leave a comment below and let us know what you think.
Also be sure to give this article a share on Facebook, Pinterest, or Twitter. It'll help other fitness enthusiasts, like yourself find this useful resource.
Last update on 2022-11-07 / Affiliate links / Images from Amazon Product Advertising API