Finding athletic footwear used to be fairly easy. There simply weren't many options but your body suffered as a result. Times are different. Athletic shoes are now available for every sport – including CrossFit and you can even find CrossFit minimalist shoes and minimalist lifting shoes!  Keep on reading for all of the options for minimalist training shoes, or have a look at the top option here: Xero Shoes.
But if you're a beginner to CrossFit, where do you begin? These options for barefoot workout shoes are a nice start. They are reasonably priced, have a ton of great reviews online and most importantly, fit well and offer some degree of support during your workouts.
We've created the Beginner's Guide to Finding the Right CrossFit minimalist shoes. Be sure to check out the top picks from our editors in the handy chart below, including our favourite minimalist weightlifting shoes.
Before we get into things that you should look for in a barefoot or minimal shoe, and detailed reviews, here's a sneak peek at our top picks for barefoot CrossFit shoes.
10 Best Minimalist Training Shoes
What Should I Look for in a CrossFit Minimalist Shoe?
There are 3 big things to look for when choosing a minimalist athletic shoe:
#1: The Heel to Toe Drop
The drop measures the difference between the height of the heel and the height of the forefoot. This guides your feet from heel to toe.
So if you're a runner, you want additional support and may choose an 8mm drop. This can help to transfer power from stride to stride and reduce fatigue.
But in a CrossFit minimalist shoe, a 4mm drop or lower is chosen.
With CrossFit, you want a shoe that evenly distributes your weight. You want to feel as though you're barefoot for better balance.
What about Minimalist Shoes for Weightlifting? 
Some people who lift weights find that these style of shoes are ideal for them. When you're doing squats or deadlifts, you can get further into your bend with a shoe that doesn't have a heel lift. In order to achieve the maximum results possible, you'll want to have a full range of motion during these exercises, and something like a running shoe just doesn't allow for that. That's where minimalist lifting shoes come in.
Of course, there are also far more sturdy shoes that can offer the same feature. These may offer a more stable platform and many of them features a sturdy strap across the midfoot, along with excellent traction to help you achieve this. They also have a bit better support on the side of the shoe.
Learn more here: Weightlifting Shoes: Everything You Need to Know.
 #2: The Hard Sole
A CrossFit athlete looks for stability. Lifting heavy weights demands that your feet are planted firmly on the ground.
However, not all athletes are the same and not everyone wants the same kind of workout.
To find the perfect sole for your needs:
Know how you plan to workout – Not everyone works out the same way. It's important to match your shoes to your fitness levels and goals.
Know how you plan to use the shoe – Certain activities will cause more wear on your shoes. Plan ahead of time which activities you plan to participate in to help you find a shoe that lasts.
Know your climate – Snow and rain will ruin any CrossFit trainer's workout and their shoes. Choose wisely in climates with varied weather.
Know your own personal shoe preferences – These are your shoes so make sure you feel comfortable and supported in them.
Remember that the amount of padding in this style of shoe is quite minimal, so you'll want a durable rubber sole to absorb a little bit of the shock and protect your feet. Don't put your feet and health at risk with shoes that have too thin of an outsole.
Whatever shoe you choose for your exercise, you'll want some sticky material on the bottom, especially if you're doing an indoor workout like with CrossFit.
#3: Durability of Barefoot Workout Shoes
CrossFit means variety.
One moment you might be lifting Olympic-sized weights. The next you're running down a long trail, and later on you might plan to do some rope climbing.
You need an athletic shoe that can handle all that variety. You need a shoe that will last.
What Makes a Durable Barefoot CrossFit Shoe?
Look for minimalist weightlifting shoes that feature traction on the top of the shoe as well as the back. Otherwise, you'll find your shoe wears out quickly when rope climbing.
Inspect the sole where the upper meets the instep. If there is soft foam with no added protection your shoes will most likely wear out very quickly.
Other Things to Look for in Minimalist Workout Shoes
In online reviews CrossFit enthusiasts wrote they also looked closely at the following things:
Fits Like a Glove to Your Feet (some are pretty narrow though and may not be ideal if you have wider than average feet)
A Good Buy in terms of price
Good Flexibility
Stability
Looks
Tough sole with good traction for various types of surfaces
Strap or laces (a matter of personal preference)
A decent level of support on the sides of the shoe to allow for lateral movement
Compare Minimalist Workout Shoes
View some of our featured products here:

Let's start with some information about CrossFit Minimalist Shoes, for keeping your feet happy and comfortable during your workout.
What Are CrossFit Minimalist Shoes?
80% of runners suffered injuries of some type last year.
Studies are showing fewer injuries are occurring when an athlete chooses CrossFit "minimalist shoes" or no shoes at all.
So why not just choose to go barefoot? Here's why:
Barefoot CrossFit shoes offer more:
Stability
Better Grip
Protection from Injury
Quicker lateral movement
They'll help you have a neutral ride, and more natural movement.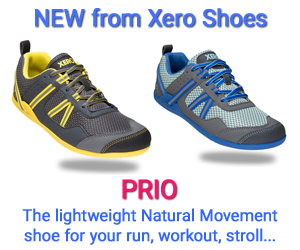 Who Makes Zero Drop CrossFit Shoes?
Now that you know what to look for, it's time to take a look at the companies making CrossFit minimalist shoes.
Let's start with a few fan favourites:
Xero Shoes Prio: Barefoot Shoes for CrossFit
One of our top picks for minimalist shoes from CrossFit are the ones from Xero Shoes. They do a ton of things right and are some of the best minimal shoes that we've ever seen.
We love the design of them with the wider than normal fit, combined with a large toe box and zero drop. This results in an excellent feel for the ground and a very comfortable fit. There's a little bit of padding as well, so they can make a nice transition from cross-training or running shoes if you want that not quite barefoot shoe.
Key Features of Xero Shoes
5.5 mm TrueFeel rubber allows you to get feedback from the ground
Optional 2 mm insole. Take it out if you want a more "barefoot" feel
Around 7 ounces in weight, far lighter than some traditional cross-trainers or runners
Secure fit with heel and instep straps
For use with, or without socks
100% vegan friendly materials
5000 mile sole warranty
Not waterproof but highly breathable and should dry very quickly
45-day return policy
Top-notch customer service
Can easily handle a variety of indoor and outdoor conditions and terrain
Thinner soles than traditional shoes
A Minimalist Running Shoe
Xero Shoes can also be used as barefoot running shoes. They're designed to give you that natural feel and gait. However, as with any of these shoes, start slow and ease into it.
What are People Saying About Them?
—>Read More Customer Reviews for these Minimal Shoes Here<—
"The sole is simple, but durable and they also have a nice warranty on it as well. The general design is nice and although the shoe is kind of roomy, my feet feel pretty secure in them. I use them for quick jogs, at the gym, and when doing errands or playing sports with the kids. I'd definitely buy another pair!"
"Very well made and also quite comfortable. They're roomier and wider than other barefoot style shoes. Please note: they really do run quite small so pay attention to that fact when you're ordering them. I made that mistake and had to do an exchange (free in the US)."
"Impressed and unlike most other minimal shoes I've tried, these ones don't have any big issues as far as I can see. I like the little bit of padding, which means that you can use them on just about any surface, including on the trail or at the gym. The way they're designed with the zero drop means they're just easier on the body."
Order Yours Today
You can easily find these top-quality barefoot shoes that are ideal for your next WOD on the company website. Click the button below to find out more about them:

---
Vibram 5 Fingers Zero Drop CrossFit Shoes
Sale
You've probably seen Vibram shoes out on the trail, or in the gym. They make the zero drop training shoes with "toes." While originally designed for trail running, more and more CrossFitters are trying them out, and loving them. They're a classic among minimal shoes and are ideal if you find that your feet get too hot in regular training shoes.
If you find the toe box of regular sneakers to often be a tight fit, you may want to give these a try.
Features of the Vibram 5 Fingers Barefoot Shoes
Made from polyester fabric
Hard, thick, durable sole made of rubber to protect your feet from rocks, branches, etc.
Thin sole that's less than 5mm allows you to maintain easy contact with the ground
Lightly padded tongue and speed lacing system for maximum comfort and ease of use
Will need to wear special socks with them, or no socks at all
Lightweight construction
Stylish design
Excellent Customer Ratings and Reviews for Vibram Fivefingers Barefoot CrossFit Shoes
"These are exactly what the doctor ordered! I've been having some knee pain and a fellow CrossFitter suggested trying out minimalist shoes for a while to see if they made a difference. They're a game-changer, and I'm really happy that he mentioned them to me."
"I've been wearing nothing but Vibram 5 Fingers for all my workouts, including CrossFit for a few years now and am never going back to regular cross-training shoes. These ones are just so much better for my body because they allow it to move in a more natural way."
"Ideal for off-road running and hiking over rocky terrain. They allow you to move more naturally than regular shoes. Just be a bit more careful where you step though."
Where to Buy Zero Drop Cross Training Shoes?
Keep in mind that these shoes are very different from the ones you're probably using. Start small and ease into them to prevent injuries. However, if you're going to make the switch, then these top rated ones are a nice pick.
Does it sound like these CrossFit shoes are right for you and your CrossFit workouts? Many people really love them and they're our top pick for minimalist workouts. You can check them out for yourself over on Amazon:

Vibram Fivefingers Minimalist Shoe in Action
---
Merrell Minimalist CrossFit Shoes
Another company that makes some minimalist shoes for Crossfitters is Merrell. In particular, we love the Merrell Trail Glove Series. It's a top-quality minimalist shoe that can be used for trail running, as well as for serious CrossFit workouts. In terms of quality, Vibram and Five Fingers are very close to each other.
Features of the Merrell Glove Trail Runner
Thin vibram outsole allows you to maintain contact with the ground on a variety of surfaces and can cushion against small rocks, sticks, etc.
Protective against stones and rocks when using them outside for trail runs
The new models (3 + 4) offer some additional arch support
Breathable mesh lining for maximum comfort
Vegan friendly
Extra durable construction
What People are Saying about Merrell Minimal Shoes
"I love that the tongue is integrated into the shoe with this new version because it allows a much more comfortable fit. Also like the addition of some arch support for my somewhat flat feet. Overall, they're amazing for trail running, and I also find myself wearing them to the gym a lot too."
"I can't stress how amazing these things are. I work for the postal service and have to walk for hours everyday. I'm always searching for something that won't leave my feet aching at the end of the day, and these ones did the trick. I appreciate the fact that they offer a bit more ankle support and coverage than the true bare foot shoes."
"These things are amazing for CrossFit workouts that are heavy on the sprints and jumping. They're very light, and also extremely durable. I recently took them on an outdoor test (walking on a trail in the forest) and they performed well. I'd buy them again for sure. I just wish they came in a wider variety of colors."
Where to Buy Merrell Glove Barefoot Shoes
The best place to find these popular Zero Drop CrossFit Shoes is over on Amazon. You can check out one of the best zero drop shoes on the market:

---
Inov-8 Bare XF 210
Another top pick for a barefoot training shoe is this popular one from Inov 8, the Bare XF 210. It's designed for gym or CrossFit workouts, and has a slight heel raise and a bit more support than the shoes we've just mentioned on the list. If you're looking to make the transition to minimal shoes from running shoes or cross-trainers, then this may be exactly what you're looking for.
Key Features
Grippy rubber sole
Ideal for speed training and dynamic gym workouts
Roomy toe box
Light in weight
Breathable so your feet will stay cool
Meta-flex technology
Innovative lacing system
Rope-tec feature offers traction and durability
3 mm heel toe drop
Rubber toe bumper
This model has a nice look and feel to it
What are People Saying about the Inov-8 Bare XF?
—>Read More Customer Reviews Here<—
"Probably the best barefoot shoe on the market today. I use mine for gym and CrossFit workouts and couldn't be happier with them. So far, no injuries, but you really should ease into this kind of shoe if you're used to beefier ones. If you need a reason to switch—these are just plain comfortable."
"Nice, stable base for lifting and I use them for treadmill running as well. I've had them for almost 2 years now and they still look and feel almost brand new. Awesome and I couldn't be happier!"
"Inov-8 is my go-to brand of shoes and I wonder why they're not more popular. These minimal shoes fit like a glove, have a really grippy sole and offer just enough support for running, boxing, etc."
Shop Now
Do they sound like the right pair of minimalist workout shoes for you? You can learn more about them here:

---
Nike Men's Free FlyKnit
Nike Men's Free Rn Flyknit Running Shoe, Black/White, 11 D(M) US
10, 10.5, 11, 11.5, 12, 150$-300$, 8, 8.5, 9, 9.5, black, man, new, newness, running
One of the new additions to the minimalist athletic shoe world is this popular running shoe from Nike, the Free Flyknit. It's an interesting looking shoe, in that there's a bit more coverage than the other options, but it's still ultralight and mimics barefoot running.
Although it's a running shoe, many people are using them for CrossFit workouts with good results. Try out the Nike Free to find out for yourself.
Key Features of this Nike Minimalist Trainers
Foot-hugging fit, for extreme comfort while running or working out
Allows for a more natural movement and mimics the body in its natural state
Ultra-light support, giving you some stability and control
Innovative lacing design allows for a nice fit
Protective sole
Slightly cushioned sole
Variety of colors and styles
Some leather on the upper for increased durability
What People are Saying about Nike Free FlyKnit Minimalist Shoes:
—>Check More Customer Ratings and Reviews Here<—
"These are very light, but well-made shoes that are more durable than I thought they would be. They're my go-to shoes for all kinds of things—running, hiking, gym workouts, casual walks, etc. My feet feel super secure in them and hopefully, you'll have a similar experience."
"They're the most comfortable pair of Nike shoes I've ever owned. I just bought a pair for my Chef boyfriend who always has sore feet at the end of the day and he loves them. They're light but can still give your feet a break when you're on them all day."
"I've been using these Nike Minimalist shoes for my CrossFit workouts and they've done well, especially at the sprinting and jumping. If the WOD is heavy on the weights, I'd probably opt for something else though. They do offer plenty of support on the sole, unlike some of the other shoes of this type that I've tried."
Where to Buy the Best Minimalist CrossFit Shoes
If you're looking for one of the best pairs of minimalist shoes for CrossFit, you've come to the right place. Check out the Nike Free over on Amazon:

---
Topo Athletic Halsa Training Shoe
Although it's a bit of a newcomer to the scene, Topo Athletic is quickly taking the minimalist cross-training shoe world by storm. This new company was started by the former CEO of Vibram, makers of the five fingers shoe, so it's certainly a top-quality product.
The company recommends this product for gym training. We've found that they really excel at box jumps, rope climbs, wall handstands, sprints, lifting and more. Seriously, it really is that good of a shoe and it's kind of the ultimate shoe for a serious WOD.
Topo Athletic Men's Ultrafly 3 Breathable Road Running Shoes, Ocean/Green, Size: 13
PURPOSE - Best used for road running. STACK HEIGHT - 28mm (heel) // 23mm (forefoot). WEIGHT - 9.6 oz...
MORE CUSHIONING AND RESILIENCE - Proprietary midsole compound which is springier than EVA and offers...
MULTI-DENSITY MIDSOLE - Allows you to access two levels of cushioning: soft against the foot and...
LIGHTWEIGHT BREATHABLE MATERIALS - These running shoes are made of lightweight breathable materials...
5MM DROP - Our highest available drop allows you to access natural running with more under-heel...
Here are the key features that you'll love:
4 mm, strong rubber outsole
Zero drop, offering a stable but light platform to help you stay on form
3 mm footbed
EVA midsole
Roomy toe box
Abrasion-resistant mesh upper
Cons
What are some of the negatives of this zero drop CrossFit shoe? That's a great question and we're happy that you asked!
Some issues with durability
Not ideal for running
What do People Think About Them?
—Read More Customer Reviews on Amazon<—
"I bought these for my husband who wanted a pair of workout shoes for cardio, lifting, etc. at the gym and he couldn't be happier with them. They're his first pair of minimal shoes and he said that he's never going back to regular sneakers again!"
"I do CrossFit and bought these with the recommendation of my trainer, after having some problems with my Asics sneakers and injuries. They're perfect for just about everything except rope climbs. The mesh upper just doesn't seem durable enough to be able to handle this."
"There are a number of benefits to wearing these kinds of shoes, including the fact that your leg muscles will get way stronger."
Where to Buy Them?
You can easily find one of the best minimalist crosstrainers on Amazon:

---
New Balance Minimus Cross Training Shoe
If you're looking for a minimalist shoe that looks and feels more like a regular pair of athletic shoes, then you'll want to consider the Minimus line from New Balance. The 4 mm heel to toe drop is a nice balance between totally flat and then 8-9 mm of a running shoe. This makes it a nice choice for CrossFit workouts, or a basic gym shoe that does a bit of everything.
Although technically a trail running shoe, you can often find it in the gym. There's also enough traction on the sole to make it suitable for racket sports, basketball with the kids, or a range of other sports.
Key Features
REVlite midsole foam offers support, cushioning and shock absorption
Meta support
Asym collar
Removable insert (can be replaced with orthotics)
11 ounces
More supportive than other minimal crosstrainers, but still offer a large degree of flex
Offer some serious air flow to keep your feet dry and comfortable
More room in the toe box than some other minimal shoes
Frequently updated versions of this shoe
What People Think About Them
—>Read More Reviews from Users Here<—
"These are by far the best pair of sneakers I have ever owned. I've been searching for a very light pair of shoes for my high-impact CrossFit workouts that still has a bit of support. If you're planning on using them to run, be sure to start slow to avoid injuries."
"Not a lot of arch support or support on lateral movements, but they're not designed for that as they're a minimal shoe. What they do offer is some great protection on the soles, excellent grip and total comfort for a lot of different workouts. I couldn't be happier with them."
"I have a very long workday on my feet and have been looking for a light, but supportive shoe. This one does the trick and is keeping me from shin splints and other injuries that I've had in the past. Nice choice of material in them and ideal for everyday use."
Where Can I Buy Them?
Check out one of the best products if you're looking for minimal sneakers:

---
Vivobarefoot Primus Lite Trainer
Topo Athletic Men's Ultrafly 3 Breathable Road Running Shoes, Ocean/Green, Size: 13
PURPOSE - Best used for road running. STACK HEIGHT - 28mm (heel) // 23mm (forefoot). WEIGHT - 9.6 oz...
MORE CUSHIONING AND RESILIENCE - Proprietary midsole compound which is springier than EVA and offers...
MULTI-DENSITY MIDSOLE - Allows you to access two levels of cushioning: soft against the foot and...
LIGHTWEIGHT BREATHABLE MATERIALS - These running shoes are made of lightweight breathable materials...
5MM DROP - Our highest available drop allows you to access natural running with more under-heel...
Another newcomer to the minimal shoe world is Vivobarefoot. They are light and lean and will help you work out in a more natural way. In short, they're perfect if you want a little bit of protection during a workout, but you also want to feel like you barely have anything on your feet.
Key Features
Rubber outsole that is very durable and grippy on a variety of surfaces
Breathable synthetic mesh
Perfect for wider feet
Vegan
A bit wider in the toe box than other similar shoes
Minimal heel-to-toe drop
The grippy outsole will keep a good hold on the ground
What Do People Think About Them?
—>Read More Reviews and Ratings<—
"I bought these after trying out Vibram Five Fingers just for a change and found that I prefer these. They're a bit thinner on the sole, but still stiff enough that you can't feel every single thing you step on. I use mine for running, as well as workouts at the gym. They're obviously built to a high standard."
"I was super happy with these things for about six months and wore them almost every single day. But, they started to fall apart…I was hoping that they'd be slightly more durable, but I think this is a similar complaint with many brands that make this kind of shoe."
Where to Buy Them?
Show now online. Shipping is often free with Amazon Prime:

---
Aleader Shoes
ALEADER Men's Mesh Cross-Traning Running Shoes CarbonBlack 10.5 D(M) US
Double mesh upper,allow your foot to breathe and enough durable
5 claws side design with strong lace up,give your full support for your foot,add extra comfort and...
Cushioned insole with breathable lining
it is with hydro-grip outsole provide excellent traction and stability for all surfaces and...
Lightweight shoes provides feelings of walking barefooted for a more natual walk. -----Kindly...
Another top option for lightweight CrossFit shoes is these one from Aleader. They are more well-known for their water shoes, but also make some cross-training shoes like the ones that we've reviewed.
Here are some of the key things you need to know about them:
SOLYTE MIDSOLE
This extremely lightweight midsole provides excellent bounce-back and durability, whether you're running the London marathon or walking to the store.
OPEN MESH CONSTRUCTION
The upper part of the shoe and the hole in the sole gives far superior breathability to other sports shoes, thus they tend to dry much faster than many of their competitors.
COMFORDRY SOCK LINER 
This portion of the sneaker creates a much healthier, cooler and dryer shoe environment while still giving peak cushioning performance, making for a far more comfortable experience.
What do People Think about Aleader Shoes?
—>Read More Customer Review and Ratings Here<—
"They look and feel great. Assuming that they hold up for at least a few months, I"ll be buying more pairs of them. Can't beat the price and they're perfect for walks, sports with the kids, or at the gym."
"Maybe the best pair of fitness shoes that I've ever owned. They're super light in weight, have some excellent traction, and are a great price, like 1/4 of some of the other athletic shoes I've had in the past."
"Really cheap, but strangely, don't seem super low in quality. I've had them for a few months now and they're holding up well, despite wearing them almost every day."
Where Can I Buy Them?
You can easily find these barefoot-style shoes on Amazon. Click the button below to check for the best prices and also to learn more about them:

---

Are you looking for a top-quality, minimal running shoe? Then the Merrell Vapor Glove for Women should be at the top of your list. Read our buying guide packed with information to help you decide if it's right for you.
Merrell Vapour Glove Trail Running Shoe Introduction
Pros: Minimalistic, barefoot feel, stability
Cons: Soreness, not very comfortable
Best Uses: Running, training for barefoot running
The truth is that no matter how much we like our shoes, what we actually want is the feel of running barefoot. Unfortunately, for a variety of reasons, that usually isn't possible. For one, you'll have to step out of the safety and comfort of your shoes.
You have to give up all that protection for yourself and your feet when running. With the Merrell Vapor Glove, it's as good as going barefoot, only with a little bit of cushioning and some protection from the elements. 
Where Can I Get Them?
Do they sound like the right pair of minimal running shoes for you? You can learn more about them at Amazon.com and don't forget to sign up for a Prime membership to get free shipping:

Features of the Merrel Vapor Glove Running Shoe
These shoes are probably most useful to those who are actually making the transition to barefoot running. Such transitions have to be gradual, and shoes like the Vapor Glove are great for preparing yourself for the change. They serve as an intermediate between traditional running shoes and actually going out with nothing on you feet.
It comes with uniform cushioning from the heel to the toe, absorbing all impacts but, at the same time, letting your feet land flat on the ground as you run. This simulates the natural way of running such as you would without any shoes.
Merrell Vapor Glove Review
Minimalistic Running
The materials used in the shoe are synthetic leather and mesh. The mesh makes the shoe breathable while also lending stability and support to your heels. The great thing about minimalistic shoes like these is you'll be able to feel what's on the road underneath your feet, and you can bend over what's in your way instead of balancing on them, as you would with a more traditional running shoe.
As you get used to these shoes, you will realize that your biomechanics are changing too. Your stride will be a little shorter, but the rhythm of your run will be faster. Your posture will be more upright and there will be a spring in your step that wasn't there before. The run that you achieve is the kind that we were made for, as nature intended.
Just a quick warning though. Many a person has been injured by trying to do too much too quickly in minimalist running shoes. Start small with only a mile or two at a time and work up from there. You may also want to consider a pair of top-quality running shoes if you're training for your next marathon.
What Do People Think About These CrossFit Minimalist Shoes?
—>See More Customer Reviews and Ratings Here<—
"I'm obsessed with these things. It literally feels like I have nothing on my feet, but they meet the social convention of wearing shoes in public! I work in a hospital and am on my feet for hours a day, and my feet are not sore at the end of the day in these things."
"Nice minimalist shoe that can be used for lots of different activities: trail running, walking, hiking, CrossFit, gym workouts, etc. Fits quite well, although a little bit snug and not that easy to get on and off. However, they don't slide around when I'm in them so that's good."
"I could probably sleep in them, that's how comfortable they are. It really does feel like I'm not wearing shoes at all, but they're protective enough on the bottom from rocks or sticks on the trail."
Summary for the Women's Vapor Glove Trail Running Shoe from Merrell
All this natural running means that you are going to end up with a lot of stiffness, especially at first. Muscles that you never knew you had will be making their presence felt. Do yourself a favor, take lots of hot baths and let yourself get used to the change in your shoes and your running style.
Natural Running Style
But, if you're looking to get into a more natural style of running, the Merrell Women's Vapour Glove Trail Running shoe will help you do just that. It's a high-performance, durable shoe at a very reasonable price and comes highly recommended by us here at Best CrossFit Shoes!
Shop Now
Check here for the lowest prices on these minimalist running shoes from Merrell:

---
Reebok CrossFit Shoes
The official shoe of CrossFit. For 10 years. Enough said. Reebok shoes really are that good, and they've dominated the CrossFit scene for 10 years.
They make a wide range of choices, from ones best for lifting to others for workouts focused on sprints.
Check out the Reebok CrossFit Nano Series for just one example.
—>Check Customer Ratings and Reviews for the CrossFit Nano Series Here<—
---
Converse (Chuck Taylors)
Chuck Taylors, a shoe so well made it's barely changed in over 100 years. Except for maybe the color and style options.
Perfect for powerlifters. The flat sole helps you remain planted. It also helps you feel the ground and push with your heels.
While they do have a lot of style, they are really not recommended for anyone who plans to jump, run or climb during a workout because they are not supportive enough.
---
Inov8 CrossFit Shoes
This company boasts they're "all terrain specialists". They have dedicated themselves to providing the best shoewear to support athletes' interaction with the environment. Check out the Inov-8 215 Cross-Training Shoe.  It's one of our favourites.
Learn More about Inov-8 Barefoot CrossFit Shoes
Even More Recommendations for the Best CrossFit Minimalist Shoes 
These were just a few of the brands that CrossFit enthusiasts recommend for a safe and effective workout. There are more, and business is growing.
So whether you're warming up, increasing your skill and strength, in the middle of your WOD or are in recovery, choosing the best minimalist shoe is an important decision that can easily make or break your workout.
Minimalist Workout Shoe FAQs
There are a number of common questions that people have about barefoot training shoes. Here are the answers to some of the most popular ones.
What are the Best Minimalist Shoes?
The best minimalist shoes for working out or CrossFit really depends on personal preference. There are some barefoot style minimalist shoes to consider like the Vibram Five Fingers series or more traditionally shaped ones like Xero shoes.
Are Minimalist Shoes Good?
Minimalist shoes are good but they may not be the right choice for everyone. Some runners and people who work out prefer them because they're low to the ground and lighter than traditional shoes while others prefer more cushioning and padding as well as support during exercise.
Why are Minimalist Shoes so Expensive?
Minimalist shoes are sometimes more expensive than regular training shoes because they're popular and appealing. The higher price is not a reflection of more expensive materials, design or construction style.
Can you Wear Barefoot Shoes Every Day?
It's possible to wear barefoot or minimal shoes every day as long as they feel comfortable and are not causing you any injuries (like any pair of shoes). However, it's recommended to start wearing minimal shoes for shorter periods of time when just getting started with them in order to give your body time to get used to them and prevent any injuries.
Why are Minimalist Shoes Bad?
Some people think that minimalist or barefoot shoes are bad because they don't cushion or protect the feet as well as traditional sneakers. However, others prefer them because they are lighter and lower to the ground and help to mimic a more natural running style.
Are Zero Drop Shoes Better than Traditional Runners?
Those who advocate for zero drop shoes say that they allow for a more natural foot position and foot strike. This can increase foot strength as well as offer better stability which can in turn improve running performance. However, they are certainly not for everyone and some people find that they get injured more easily with zero drop shoes compared to normal running shoes.
Do you Wear Socks With Minimalist Shoes?
You can wear minimal shoes with, or without socks. The choices is yours! For the barefoot shoes with toe pockets, you can even get toe socks that are compatible with them. However, wearing socks can be a nice way to transition into using minimalist shoes because you'll have a bit of padding in the midsole.
How Long do Minimalist Running Shoes Last?
Minimalist running shoes last for around 300 to 500 miles. There are a number of factors that influence this including the type of barefoot shoe, running surface, stride and weight. In general, they may last for fewer miles than traditional running shoes will.
Common Myths About CrossFit Workouts
Since this is a beginner's guide to CrossFit minimalist shoes, it's safe to assume you're new to CrossFit.
Let's explore some common myths to help you get the most out of this sport:
Myth 1. You'll Bulk Up
Not usually. Those bulked-up people are the top competitors in the world. Most people use CrossFit to become stronger, fitter and more toned.
Myth 2. You Have to Eat a Paleo Diet
Not everyone benefits from the same diet. Not everyone has the same diet goals, either.
Paleo consists of a high-fiber, high-protein, low-carb diet which works well for many athletes.
But not everyone has the sam budget, time or diet goals.
Start with your workout routine and then consult a doctor if you want to change your diet.
Also Consider the Zone Diet
Another popular option is the Zone Diet, which many people find easier to follow because no food is off-limits. It's just about eating protein, fat and carbs in the correct ratios.
Myth 3. You'll Pass Out Or Vomit During Workouts
CrossFit is an intense sport. But if you're passing out, you're doing harm to yourself, not good.
In CrossFit, you first build yourself a foundation to build on. You need to learn the proper techniques. It's about consistency.
Build Intensity When you're Ready
The intensity comes when you're ready. It's okay to feel tired and sore, it's not okay to exhaust yourself into respiratory distress or injure yourself.
If you feel like you're about to vomit or pass out, stop and rest or get help.
Myth 4. You'll Get Seriously Injured by Doing CrossFit
As with all athletics, an injury is possible. However, CrossFit is designed to strengthen muscles and prevent injury.
Here are some ways to prevent serious injury:
Wear at least CrossFit minimalist shoes to protect your feet
If it seems too heavy, don't lift it
Listen to your body – it will tell you when it's time to stop
Stay hydrated and eat Omega 3's to reduce inflammation
Myth 5. CrossFit is a Time-Consuming Workout
While not everyone will have the schedule to become a CrossFit fan, it doesn't mean countless hours in the gym, either.
3-4 workouts per week are all it takes for big changes.
2 workouts per week are all it takes to maintain your current fitness level.
Workouts can last anywhere from 8 minutes to an hour.
Myth 6. You Can Just Wear Running Shoes
 In general, we don't recommend running shoes for CrossFit workouts.
Running shoes have a high heel to toe drop. This helps to propel you forward when running, but sprints are just a small part of a CrossFit workout. You also have rope climbing, weight lifting, box jumps and more.
You need shoes that are flexible in terms of use in order to meet the demands of your workout. Keep on reading for some of our picks for the best CrossFit minimalist shoes. Or, check out one of our favourites here:
Myth #7: You Need a Bunch of Equipment
Some of the best workouts just use your body weight. Things like jumping jacks, push-ups, crunches, jumps and sprints can be part of a basic CrossFit workout.
So don't let a lack of expensive equipment be an excuse for not getting into excellent shape! Of course, there are some tools of the trade, including a top-quality pair of shoes, knee-high socks and lifting gloves.
Not Sure Which Zero Drop Training Shoes are Right For You?
Not to worry. We've got you covered if you're looking for a barefoot training shoe for your next workout. Most people are very happy with one of our top recommendations:
Sale
Minimalist CrossFit Shoes: Have Your Say!
What's your top pick for a CrossFit Minimalist, or Barefoot CrossFit shoe? Leave a comment below and share your thoughts with us. We'd love to hear your feedback.
Also be sure to give this article a share on Facebook, Twitter, or Pinterest. It'll help other fitness buffs, like yourself find this useful resource.
Please keep in mind that these kinds of shoes require break-in time. This is true of any brand of a barefoot shoe. So stay healthy by starting slow and being wise about the surface you work out on (grass is better than cement for example).
I am proud to be a Xero Shoes affiliate and may receive compensation for referring the Xero Shoes brand.
Last update on 2023-08-20 / Affiliate links / Images from Amazon Product Advertising API