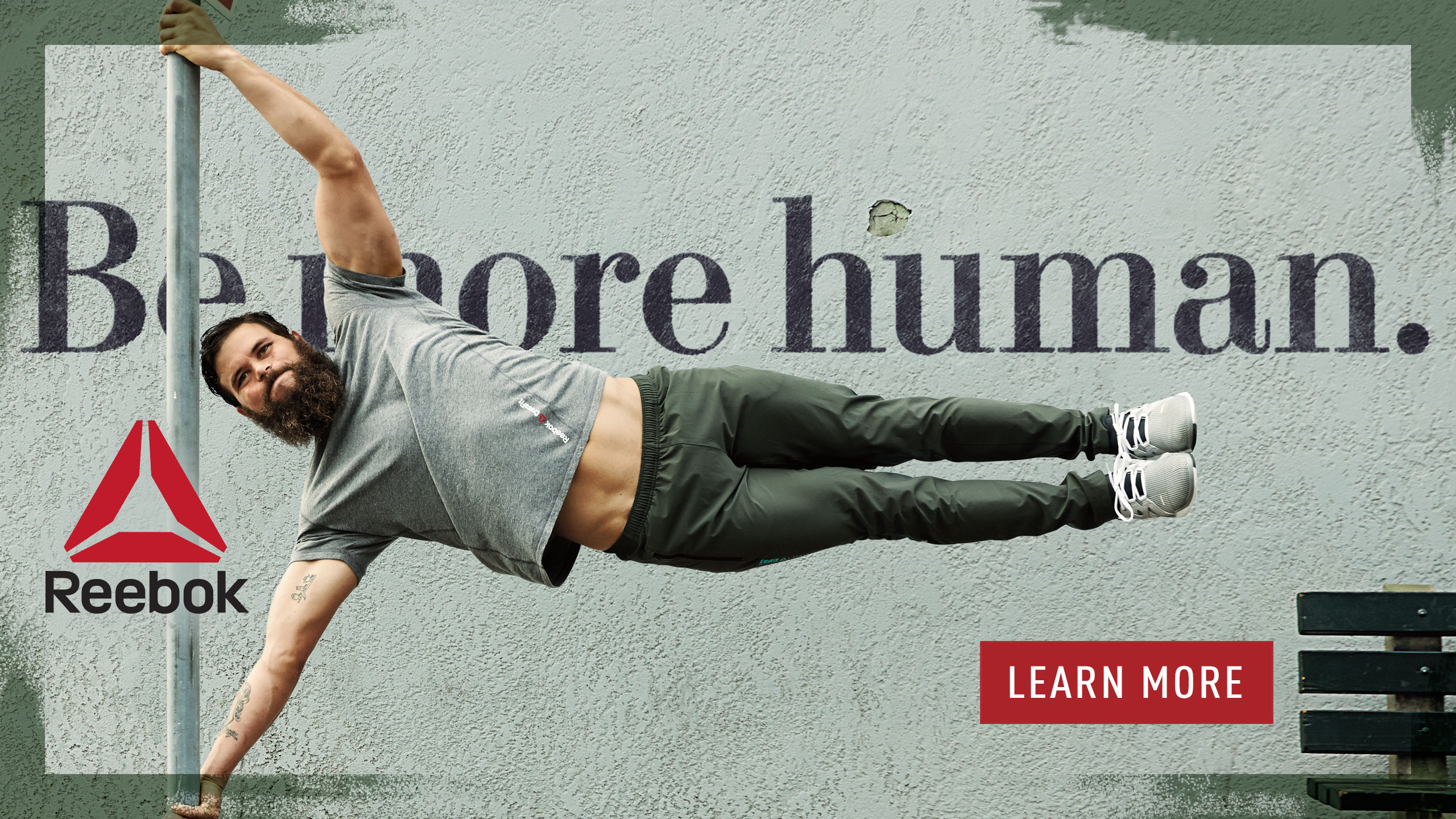 The right kind of gloves for CrossFit workouts is an absolute necessity, for it is the only way you can evade blisters and unwanted slips. Moreover, the high rates of accidents that occur while performing rigorous exercises and during heavy weightlifting can also be diminished with the proper usage of the right pair of gloves.
Top Choices for CrossFit and Workout Gloves
You should keep in mind your workout style and aesthetics before making a purchase. Here are the top picks for CrossFit gloves that have gained maximum customer appreciation and satisfaction throughout the world.
Reebok CrossFit Glove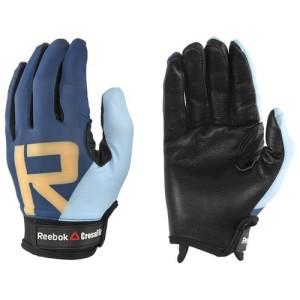 The big name is not the only thing that is carried by this pair of gloves. This one really delivers in terms of comfort and protection. For extra care against blisters, they provide leather reinforcements and strap-adjusted security. Not only that, they also include mesh insertions between the fingers for extra air passage.
Reebok is one of the most trusted names in athletic gear for good reason!
PROS:
Stretchable hook and loop closure provides a secure fit
Play Dry technology absorbs sweat to make it more comfortable
Mesh insertions in between the fingers enhance aeration
Has extra leather reinforcements for durability
CONS
They may split or stitching may loosen up after rigorous usage
Where Can I Get Them?
Do they sound like the right pair of CrossFit gloves for you? You can check them out for yourself at Reebok.com:

---
Pro Fitness Workout Gloves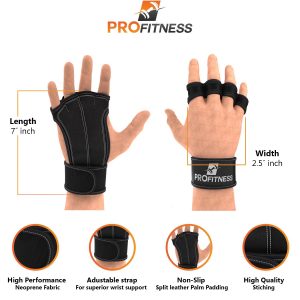 If you're looking for a pair of top-quality gloves for lifting, WODs, Insanity P90X3, T25 or other kinds of gym workouts, then these ones from Pro Fitness should be at the top of your list.
They're comfortable, have some excellent customer reviews online and are also very grippy. The enhanced grip and stability wrap will help you reduce injuries when weightlifting or doing things like rope climbs.
PROS:
Extremely versatile for a variety of sports and workouts
60 day money back guarantee
Will keep your hands dry and free from callouses
Good grip that doesn't slip when lifting
The gloves do an excellent job at absorbing sweat
CONS:
Some reports that the palm of the gloves it a little bit small for some people
The wrist wraps can get a little bit warm (they wrap around twice)
Where Can I Buy Them?
Do they sound like exactly what you need for your next workout? You can check them out for yourself over on Amazon to find the best prices:

---
Essential CrossFit Gear
Ever-Dri Performance Workout Gloves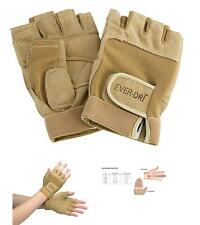 Another top choice for the best gym workout gloves are these ones from Ever-Dri. Besides some excellent customer reviews and ratings, they are designed to keep your hands dry, comfortable and injury free.
PROS:
Lightweight and very durable
Microfiber padding for extra protection
Moisture wicking materials
Machine washable
Secure fit
CONS:
Very stiff when you first use them
Some people found that they had too much padding
Some reports that not as durable as people hoped for
Where Can I Get Them?
These affordable workout glove can be easily found on Amazon.com. Check there for the best prices:

---
Wod Nation Leather Barbell Grips
Another one of our top options for CrossFit gloves are these ones from WOD nation. This company is serious about CrossFit, and this shows in their products.
There are a ton of features that you'll love about these gloves, but the best thing is the combination of nylon and leather. This makes them durable, but also very comfortable.
The triple-stitched seams won't rip or tear during a serious lift. You don't want to have to worry about what's going on with your gloves, right?
PROS:
3x stitching
Ideal for CrossFit, gymnastics, Kettleballs and lifting
Durable materials
Reasonably priced compared to other options
Nice design and style
CONS:
Some reports that the finger holes are too big, even for the small gloves
A few people mention that the plastic part rubs against their skin in the wrong way
Where to Buy Them 
You can easily find these affordable workout gloves on Amazon. Check now for the best prices on athletic gear:

---
Rebook VR6000 Gloves
The choice of the CrossFit Games itself, these gloves not only have a great fit and optimal aeration, but also a sturdy build for resisting tears caused by repetition. The gloves deliver seamless palm technology, which makes use of the world-famous cabretta leather facilitating adequate ventilation. It also acts as a moisture repellent. This one is a good buy as an all-round performer.
PROS
Seamless palm technology for providing exceptional grip performance, comfort, and control
Cabretta leather facilitates adequate ventilation
Updated design
Extreme comfort and support to the wrist is ensured
CONS
Palm has no padding
Not recommended for avid CrossFitters
Where Can I Get Them?
Do they sound like the right pair of workout gloves for you? Check them out at Reebok.com to find the lowest prices: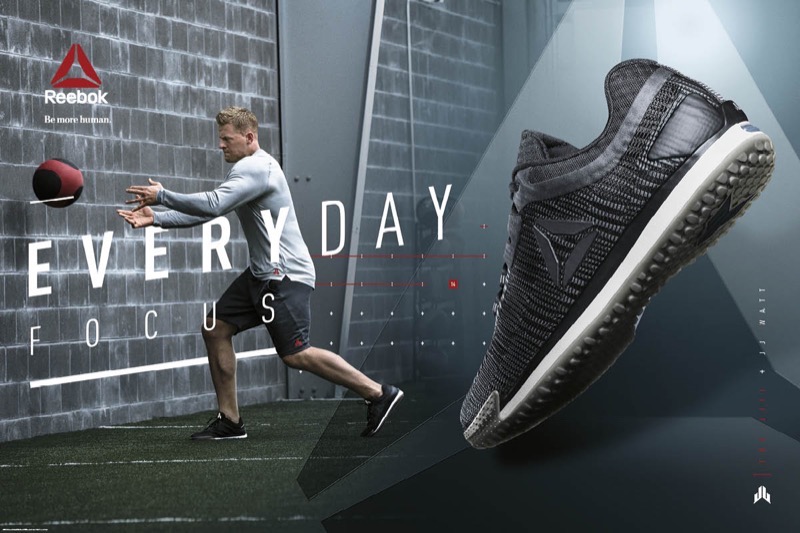 ---
Bionic Gloves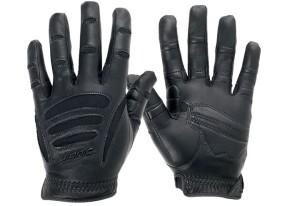 The Bionic Gloves yield quite satisfactory results as far as protection is concerned. The material is strong and provides versatility. But one of the disadvantages of this is it makes hands sweat excessively.
PROS
Durable and strong
Multifunctional
High protection for rigorous workouts
CONS
Excessive sweat formation
Grip is a problem sometimes
Shop Now
Do they sound like exactly what you need for your CrossFit workouts? Check them out on Amazon.com to find the best prices:

---
Bear Komplex 3 Hole Leather Hand Grips
Bear KompleX 3 Hole Leather Hand Grips for Gymnastics&Crossfit,Pull-ups,Weight Lifting.WODs w, Wrist...
🏆 THE BEST HAND GRIPS ON THE PLANET! Bear KompleX genuine leather Hand Grips are the perfect...
DURABLE QUADRUPLE STITCHING will ensure full support and stability when using the Bear KompleX...
🙌 DOMINATE EFFECTIVELY: To ensure you get the best out of your Hand Grips, make sure to...
💯 SUPERIOR LEATHER WILL REDUCE SLIPPING: on the bar and allow you to keep banging those...
🤑 FREE Carabiner grip clip included to make sure your pair of Grips never gets lost! AND...
Another one of our top picks for workout gloves are these ones Bear Komplex Grips. There are a ton of features that you'll love, including the fact that they're made from genuine leather. This makes them far more durable than the ones made from other materials.
Besides that fact, there is a 2-hole, or 3-hole option as well as a customizable wrist strap for a superior fit. The 4x stitching is guaranteed to not rip or tear. After all, the last thing you want to worry about during a tough WOD is what's going on with your hands, right?
They're ideal for Crossfit, as well as weightlifting, and gymnastics. No more losing grip on the bar, or having to use chalk all the time. They'll even work if you have really sweaty hands (like me!).
PROS:
Thousands of excellent user reviews
Top-quality materials
Superior grip
Includes a free carabiner clip to make sure you don't misplace them during your workout
CONS:
More expensive than many of the other options
Don't offer full hand coverage
Where Can I Buy Bear Komplex Grips?
Do they sound like what you need for your next WOD? You can easily find them on Amazon.com:

Have your Say about the Best CrossFit Gloves
What's your top pick for CrossFit, or gym workout gloves? Leave a comment below and let us know what you think.
Also be sure to give this article a share on Facebook, Twitter, or Pinterest.

I am a Crossfit Level 1 Trainer, an avid Crossfit-er. I started bestcrossfitshoe.net with an aim to educate the fitness community and share knowledge on crossfit footwear, equipment's, nutrition and workout routine to help them make a difference in their lives.

Latest posts by John James (see all)
Last update on 2019-04-18 / Affiliate links / Images from Amazon Product Advertising API