The right kind of gloves for CrossFit workouts is an absolute necessity, for it is the only way you can evade blisters and unwanted slips. Moreover, the high rates of accidents that occur while performing rigorous exercises and during heavy weightlifting can also be diminished with the proper usage of the right pair of gloves.
Rope climbs, heavy lifts, pull-ups, or all-round CrossFit workouts: We've got you covered with our top options for the best CrossFit grips and gloves to choose from.
Top 10 Choices for CrossFit and Workout Gloves
You should keep in mind your workout style and aesthetics before making a purchase. Here are the top picks for CrossFit gloves that have gained maximum customer appreciation and satisfaction throughout the world.
#1: Reebok CrossFit Glove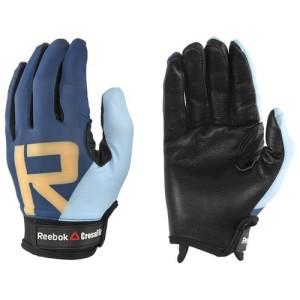 The big name is not the only thing that is carried by this pair of gloves. This one really delivers in terms of comfort and protection. For extra care against blisters, they provide leather reinforcements and strap-adjusted security. Not only that, they also include mesh insertions between the fingers for extra air passage.
Reebok is one of the most trusted names in athletic gear for good reason!
PROS:
Stretchable hook and loop closure provides a secure fit
Play Dry technology absorbs sweat to make it more comfortable
Mesh insertions in between the fingers enhance aeration
Has extra leather reinforcements for durability
CONS
They may split or stitching may loosen up after rigorous usage
Where Can I Get These Reebok Cross Fit Glvoes?
Do they sound like the right pair of CrossFit gloves for you? You can check them out for yourself at Reebok.com and don't forget to see if they're eligible for free shipping:

---
#2: Elite Sport Cross Training Gloves
If you're looking for some top-quality CrossFit WOD gloves at a very reasonable price, then these ones from Elite Sports might be one of your top picks. Of course, they have all the features that you'd come to expect in a product like this. Keep on reading to find out why we like them so much.
PROS:
Super strong grip
Silicone padded palms
Wrist wraps secured with velcro and are very comfortable
Breathable
Ideal for a range of exercises
Excellent price
CONS:
Some people prefer a full glove style
User Reviews
"I was looking for a pair of CrossFit gloves that could do it all—rope climbing, weightlifting, etc. and these ones are exactly what I was looking for. I find that I never need to take them off during my entire workout actually."
"These workout gloves from Elite Sports are some of the best in the business. They are super durable and the price is certainly right. Really good for my Phat workout plan as well as CrossFit."
Get Them Now
Do you want to pick up some of the best CrossFit workout gloves for yourself? Head over to Elite Sports where you can find some excellent prices:

---
#3: WODies Grips
JerkFit WODies Camo Hand Grips with Wrist Wraps for Weightlifting, Pull-Ups, Cross Training, WODs,...
✅ PALM PROTECTION + WRIST SUPPORT: There is nothing worse than being limited in a workout due to...
💪 ALL-PURPOSE GRIPS: WODies are the most versatile gloves on the market. They are designed to...
✔️DURABLE: Made from high-quality, hypoallergenic, latex-free woven elastic, WODies provide a...
🦅PROUDLY MADE IN AMERICA: We've made it our mission to keep our products made in America, using...
✋USE SIZE CHART: Please measure your hand before ordering. Use the 6th photo to determine what...
Next up on our list of the best CrossFit grips and gloves are these ones from WODies. They have some of the best customer reviews among all products in this category and for good reason. They're comfortable to wear, do an excellent job at increasing grip on the bar (also consider a grip strength training program), and are also very durable.
PROS:
Ideal for weightlifting, gymnastics, CrossFit, etc.
Free shipping
Extra wrist support for heavy lifts
No bunching or pinching
Made in the USA
Heavy-duty, durable material
2-in-1 design
Does a great job at protecting the hands
Protects the palms from cuts and abrasions
Excellent customer service
CONS:
Some people found the grip wasn't as good as they'd expected it to be
What do People Think about Wodies CrossFit Gloves?
—>Read More Customer Ratings and Reviews Here<—
"I was pretty surprised that you had to cut the finger openings yourself, but it's actually kind of cool because it's a way better, custom fit."
"Far superior to any other hand grips or gloves that I've tried before. It does take a couple of workouts to break them in, but after that? They're the most comfortable things you'll put on your hands for a workout!"
"I used to get callouses on a couple of my hands and then they'd bleed and get chewed up when I did dishes or whatever. My trainer recommended these and the result? No problems at all with that, plus I love the extra wrist support when I'm lifting really heavy."
Shop Now for the Best CrossFit Hand Grips
Do they sound like the right choice for your next workout? You can easily find WODies grips on Amazon. Check now for the lowest prices and also to see if this product is eligible for free shipping with a Prime membership:

Best Workout Gloves
Do you want to see the head-to-head comparison of our top picks? Then you'll definitely want to check out this handy chart we put together for you:
---
#4: Pro Fitness Workout Gloves for Women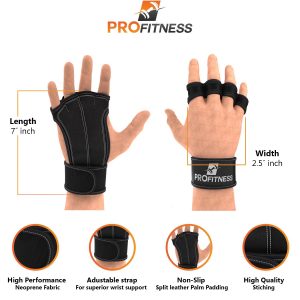 If you're looking for a pair of top-quality gloves for lifting, WODs, Insanity P90X3, T25 or other kinds of gym workouts, then these ones from Pro Fitness should be at the top of your list.
They're comfortable, have some excellent customer reviews online and are also very grippy. The enhanced grip and stability wrap will help you reduce injuries when weightlifting or doing things like rope climbs.
Why are they the best option for women? It's because this company makes gloves in various sizes from X-Small to X-Large. Women who generally have smaller hands will be able to easily find the right pair of CrossFit grips and gloves for their needs.
PROS:
Extremely versatile for a variety of sports and workouts
60 day money back guarantee
Will keep your hands dry and free from callouses
Good grip that doesn't slip when lifting
The gloves do an excellent job at absorbing sweat
CONS:
Some reports that the palm of the gloves it a little bit small for some people
The wrist wraps can get a little bit warm (they wrap around twice)
Where Can I Buy Them?
Do they sound like exactly what you need for your next workout? You can check out these women's CrossFit gloves for yourself over on Amazon to find the best prices:

---
Essential CrossFit Gear
Do you want to find out more about the best gear and apparel for CrossFit workouts, including gloves and grips? Then you'll definitely want to check out this video for all the details you need to know:
#5: Ever-Dri Performance Workout Gloves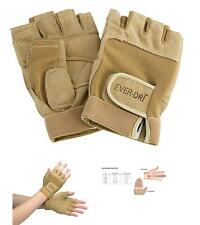 Another top choice for the best gym workout gloves are these ones from Ever-Dri. Besides some excellent customer reviews and ratings, they are designed to keep your hands dry, comfortable and injury free.
PROS:
Lightweight and very durable
Microfiber padding for extra protection
Moisture wicking materials
Machine washable
Secure fit
CONS:
Very stiff when you first use them
Some people found that they had too much padding
Some reports that not as durable as people hoped for
Where Can I Get Them?
These affordable workout glove can be easily found on Amazon.com. Check there for the best prices:

---
#6: Wod Nation Leather Barbell Grips
WOD Nation Barbell Gymnastics Grips Perfect for Pull-up Training, Kettlebells, Gymnastic Rings...
No More Destroyed Hands : Blisters, callouses, rips and tears on your hands will put you on the...
Premium Materials and Construction : Unlike other brands, we use top quality material that is not...
Perfect For All Bar Exercises : Barbells, dumbbells, kettlebells, gymnastics rings, parallel bars,...
And They Look Cool Too : Just because they are gym equipment doesn't mean they have to be ugly.
Another one of our top options for CrossFit gloves are these ones from WOD nation. This company is serious about CrossFit, and this shows in their products.
There are a ton of features that you'll love about these gloves, but the best thing is the combination of nylon and leather. This makes them durable, but also very comfortable.
The triple-stitched seams won't rip or tear during a serious lift. You don't want to have to worry about what's going on with your gloves, right?
PROS:
3x stitching
Ideal for CrossFit, gymnastics, Kettleballs and lifting
Durable materials
Reasonably priced compared to other options
Nice design and style
CONS:
Some reports that the finger holes are too big, even for the small gloves
A few people mention that the plastic part rubs against their skin in the wrong way
Where to Buy Them 
You can easily find these affordable workout gloves on Amazon. Check now for the best prices on athletic gear:

---
#7: Rebook VR6000 Gloves
The choice of the CrossFit Games itself, these gloves not only have a great fit and optimal aeration, but also a sturdy build for resisting tears caused by repetition. The gloves deliver seamless palm technology, which makes use of the world-famous cabretta leather facilitating adequate ventilation. It also acts as a moisture repellent. This one is a good buy as an all-round performer.
PROS
Seamless palm technology for providing exceptional grip performance, comfort, and control
Cabretta leather facilitates adequate ventilation
Updated design
Extreme comfort and support to the wrist is ensured
CONS
Palm has no padding
Not recommended for avid CrossFitters
Where Can I Get Them?
Do they sound like the right pair of workout gloves for you? Check them out at Reebok.com to find the lowest prices:

---
#8: Bionic Gloves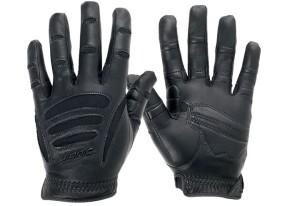 The Bionic Gloves yield quite satisfactory results as far as protection is concerned. The material is strong and provides versatility. But one of the disadvantages of this is it makes hands sweat excessively.
PROS
Durable and strong
Multifunctional
High protection for rigorous workouts
CONS
Excessive sweat formation
Grip is a problem sometimes
Shop Now
Do they sound like exactly what you need for your CrossFit workouts? Check them out on Amazon.com to find the best prices:

---
#9: Bear Komplex 3 Hole Leather Hand Grips
Another one of our top picks for workout gloves are these ones Bear Komplex Grips. There are a ton of features that you'll love, including the fact that they're made from genuine leather. This makes them far more durable than the ones made from other materials.
Besides that fact, there is a 2-hole, or 3-hole option as well as a customizable wrist strap for a superior fit. The 4x stitching is guaranteed to not rip or tear. After all, the last thing you want to worry about during a tough WOD is what's going on with your hands, right?
They're ideal for Crossfit, as well as weightlifting, and gymnastics. No more losing grip on the bar, or having to use chalk all the time. They'll even work if you have really sweaty hands (like me!).
PROS
Thousands of excellent user reviews
Top-quality materials
Superior grip
Includes a free carabiner clip to make sure you don't misplace them during your workout
CONS
More expensive than many of the other options
Don't offer full hand coverage
Where Can I Buy Bear Komplex Grips?
Do they sound like what you need for your next WOD? You can easily find them on Amazon.com. Click the button below to learn more:

---
#10: JerkFit WODies Hand Grips
JerkFit WODies Hand Grips with Wrist Wraps for Weightlifting, Pull-Ups, Cross Training, WODs, and...
✅PALM PROTECTING + WRIST SUPPORT: Full Palm protection and Wrist Support combined in one product....
✅COMFORTABLE: WODies provide a "natural glide" to absorb friction away from your hands and on to...
✅PROUDLY 100% MADE IN AMERICA with the finest, and most premium materials available. WODies are...
✅BUILT TO LAST: Heavy-Duty built-in supportive wrist brace gives you the extra confidence to push...
✅ MULTI-PATENTED, 2-in-1 DESIGN: Used by Hundreds of thousands of athletes worldwide who...
If you're looking for an all-round pair of CrossFit hand grips to get through all sorts of exercises in style, without sore hands, calluses, or rips, then you'll certainly want to consider JerkFit. They make some top-quality products, but people seem to LOVE their WODies. Keep on reading to find out why we like them so much.
PROS
Works great at preventing blisters and wrips
For both men and women
Comes in various sizes from small to extra-large
Allow for a larger range of movement for the fingers
Protect the palms as well as the wrists
Comfortable enough to wear for the entire workout
Made in American
Heavy-duty stitching makes them very durable
Patented design
Helps improve grip strength for rope climbing, lifting, etc.
CONS
Some people prefer full gloves
A few reports that they are not grippy enough for exercises like pull-ups
Get them Now
Do you want to pick up some of the best CrossFit gloves for pull-ups and all sorts of other exercises too? Then head over to Amazon to find out more about JerkFit Wodies:

What About WodWax Grip Enhancer?
A common question we get is how does something like WodWax Grip Enhancer compare to workout gloves or grips. And, which option is better for a CrossFit workout?
WodWax is a wax that you apply directly to the bar before doing pull-ups or other kinds of lifts. It provides excellent grip, and it also doesn't dry out your hands which helps to prevent ripping.
WodWax overcomes the disadvantages of the other two options. It provides better grip than gloves, while not drying out the hands like powerlifting chalk. This makes Wod Wax a serious win in our books. Just about the only negative is price, along with the clean-up you may have to do of the bar if the gym owner or manager requests it.
Learn more about this popular product for CrossFitters here:
How about Using Goat Tape instead of CrossFit Gloves?
Another option besides gloves, grips or WodWax if you find your fingers and hands getting torn up, or you want a bit more grip on the bar is Goat Tape, a popular weightlifting tape. It's designed specifically for CrossFit and the company calls it scary sticky.
In our experience, it's the stickiest athletic tape around and certainly a top option if you prefer this kind of protection instead of wearing gloves.
Goat Tape Scary Sticky Premium Athletic Tape | Weightlifting Tape | Thumb Tape for Hook Grip –...
We've developed the strongest grip tape on the market for athletes; our "scary sticky" adhesive...
Designed to stick with you through extreme friction, tension, heat and sweat, while still being easy...
Optimally used as wrist, finger or thumb tape, Goat Tape protects hands, improves grip, and protects...
This isn't just lifting tape – athletes from every discipline are using Goat Tape, including...
This gym tape is latex-free, hypoallergenic and made with cotton fabric. Each roll measures 10 yards...
CrossFit Ripped Hands: How Can I Prevent and Treat Them?
Do you often suffer from ripped hands from your CrossFit workouts. Gloves, grips, or goat tape is certainly a good start to prevent this common problem. However, there are a number of other strategies that you'll want to consider for CrossFit hand care.
Without further ado, let's get to the best ways to treat and prevent CrossFit hands, aka hand rips!
#1: Pay Close Attention to your Grip
Prevention is a big part of the solution. If you can prevent rips and tears from happening in the first place, then you're already half-way there.
You'll want to pay close attention to how you grip the bar in order to reduce the amount of callouses you're getting. You may be currently gripping the bar with your palm. Instead, try holding it at the base of your fingers so that less skin is compressed between the bar and your fingers. This will also allow you move the bar more easily.
You may also want to re-grip at the top of a pull-up for example and ease up the death grip thing.
#2: Callouses are Inevitable, but Can I Prevent Rips?
It's a fact that you're going to get callouses on your hands if you work out a lot. It's a combination of chalk and friction. But, how should you care for them after they happen in order to avoid ripping and tearing? Let's find out right here!
File or Shave Callouses
You can use a razor or pumice stone to reduce the size of your callouses. The best time to file them is after a shower when they're softer. Keep on going until you don't feel any hard edges. You may find that your skin is a bit thicker, but it'll be better if it's smooth and consistent.
#3: Use Moisturizer at Night
Dried out hands rip and tear more easily. One of the best ways to prevent this is to apply moisturizer before going to bed each night so that your hands feel smooth. This helps prevent your callouses from hardening and also combats the overall effect that all that chalk has on the skin.
#4: Use Gloves or Grips
If you constantly suffer from rips or tears, then considering switching to a pair of grips or gloves instead of bare hands. This list is a great place to start. And yes, we know that nothing feels as good as your bare hands on the bar, but some people just have sensitive skin and no matter what they do, they get the CrossFit ripped hands thing going on.
#5: Use Goat Tape
If you have a very specific spot on your hands that you constantly have problems with, consider using something like Goat Tape to protect that spot. This is super sticky tape designed specifically for weightlifting and does a great job at preventing callouses from forming, and ultimately, from your skin ripping.
#6: Start to Feel a Rip? Just Stop!
Okay, we know that this is tough to do in the middle of a WOD, but a large part of CrossFit hand care is preventing serious stuff from happening. If you're in the middle of a workout and start to feel a hot spot on your hands, stop and treat it with some tape, or put your gloves on.
If you start to notice a tear or rip, consider stopping the workout and giving your hands a break. Remember that a day or two off to let your hands heals is better than week or two to let serious problems heal!
#7: Start Slowly at the Beginning
Ripped hands in CrossFit usually happen because of too little, or too much callous. As we've already mentioned, you should file down and smooth callouses.
However, if you're just getting started with lifting, you'll want to start slowly until you have some callous start to build up. Opt for a happy medium for the best results.
#8: I Have a Rip, What Should I Do?
How to treat ripped hands? Let's find out!
The first thing you'll want to do is wash it well with soap and water. And the barbell too of course! Then, cut the dead skin away as close as possible to it.  Put some salve on it and then wrap hands with gauze. Think protection + air flow here, as well as keeping it as clean as possible.
You may want to consider sleeping with a sock over your hand. This helps it to breathe but can prevent your sheets from getting super messy. And of course, take some time off from lifting. It is certainly a real injury and will take some time to heal completely.
Hand Care for CrossFit 
Do you want to find out more about CrossFit and ripped hands? Then you'll need to check out this detailed below for all the information you need about this important topic:
CrossFit Gloves and Grips: FAQs
There are a number of common questions that people have about using gloves, grips or tape for CrossFit. Here are the answers to some of the most important ones.
Are Gloves Allowed in CrossFit?
Gloves or tape are allowed during the CrossFit Games as long as they don't offer a competitive advantage. You can wrap tape around a pull-up bar or wear some sort of hand protection but may not do both.
What are the Best Gloves for CrossFit?
The best gloves for CrossFit WODs and competitions is really a matter of personal preference. Some people prefer full coverage and opt for gloves while others prefer grips or gloves that leave the fingers free. Whatever the case, make sure they're durable and grippy.
Do I Need Gloves for CrossFit?
You don't need gloves for CrossFit. However, some people choose to wear them for exercises like rope climbing or weightlifting in order to increase grip as well as prevent rips and tears on the hands.
Should I Wear Gloves for Pull Ups?
Wearing gloves during pull ups, Kipping pull ups or deadlifts can help improve grip on the bar. Often, people will have sweaty hands during a WOD which can make the bar slippery. Chalk serves much the same purpose too.
Should you Wear Gloves with Kettlebells?
Most people do kettlebells without wearing gloves or grips. However, if you have sweaty hands or find that they give you blisters, consider using gloves or grips. However, they should have proper ventilation and be designed for working out.
How Tight Should Lifting Gloves Be?
Lifting gloves should be tight but they shouldn't restrict movement and you should be able to close your hand around the bar completely.
Have your Say about the Best CrossFit Gloves
What's your top pick for CrossFit, or gym workout gloves? Are you going for something like the Reebok Cross Fit gloves, or are you opting for another brand? Leave a comment below and let us know what you think. We'd love to hear from you.
Also be sure to give this article a share on Facebook, Twitter, or Pinterest. It'll help other gym enthusiasts, like yourself find this useful resource.
Last update on 2022-11-07 / Affiliate links / Images from Amazon Product Advertising API