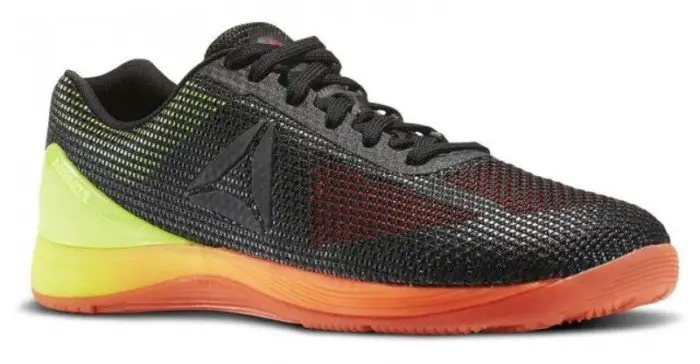 If you're looking for a top-quality women's CrossFit shoe, then the Reebok Nano 7 makes an excellent choice. It's durable, supportive and is ideal for sprints, jumping, climbing and lifting.
Read our buying guide packed with information to help you decide if it's the right workout sneakers for you.
Review of the Reebok CrossFit Nano 7.0 for Women
The Nano 7 is a classic CrossFit shoe offering from Reebok. Reebok has a serious reputation for putting out some of the best CrossFit shoes you can buy. Some of their most popular CrossFit sneakers include the Reebok CrossFit Speed, and the unique CrossFit Nano Pump.
Reebok is one of the best brands in the business, and their Nano line is just as good.
Top-Quality at a Reasonable Price
The Reebok CrossFit Nano 7.0 for women is an excellent addition. This shoe is a top quality CrossFit sneaker at an affordable price. Quality at a reasonable price? We love that here at Best CrossFit shoes and it's certainly a serious win in our books.
If you're looking for a CrossFit sneaker that can do a bit of everything-sprinting, jumping and climbing, then you need to consider the Nano 7.0 Reeboks for women. These sneakers are light and flexible enough for sprinting. The recent addition of a heel piece makes them stable enough for lifting because your feet won't slip around in them.
Heel-Toe Drop of 4 mm
A heel to toe drop of 4mm means that it can handle the sprints, where you want a heel to toe drop, as well as the lifting, where you want a flat shoe reasonably well. We also love the NanoWeave in the upper part of the shoe, which will keep your feet cool. Nobody likes hot, sweaty feet! There are some nice styles and colours so you're sure to find one that suits your tastes.
Where to Get These Training Shoes?
We love the Nano series from Reebok! Try them out and see for yourself. You can buy a pair of these top-quality CrossFit sneakers on Amazon today:

Reebok Nano 6.0 vs. Nano 7.0
it's time to get into the nitty-gritty details about the Reebok Women's CrossFit Nano 7.0. One thing we love about Reebok is that they take their customer reviews seriously and keep improving their CrossFit Nano series. New for the CrossFit Nano 7.0 are two things. We'll give more detail about each one in the next two section.
NanoWeave vs. Kevlar Infused Upper
First, there is the addition of NanoWeave in the Reebok CrossFit Nano 7.0. Previous shoes in the Nano series had a Kevlar infused upper. This meant that while they were durable, especially when climbing ropes, they also weren't very breathable.
With the addition of NanoWeave, the Nano 7.0 will be very comfortable and keep your feet cool, even during the toughest workouts. They are slightly less durable, but in our opinion, it's a good change. It's rare to climb ropes enough during a WOD to actually wear out your shoes from it.
New Heel Piece to the Reebok CrossFit Nano 7.0
The second difference between the 6.0 and the 7.0 is the addition of a heel piece. The heel piece was added in order to offer some more stability when lifting weights. The Reebok Women's CrossFit Nano 7.0 are able to handle heavy loads easily.
Reebok CrossFit Nano 7 Review
Reebok CrossFit Nano 7.0 for Women Pros:
NanoWeave for extra breathability
Heel piece for extra stability
Low-cut, sock liner design allows for natural foot movement
Rubber outsole gives stability and maneuverability
4mm heel to toe drop, works well for lifting as well as sprinting
Durable sole and upper
Good customer service from Reebok
Variety of interesting colours including: pink, black/white, orange/grey, white/red/blue, etc.
CMEVA midsole for extra cushioning
Wide toe box
Reebok CrossFit Nano 7.0 for Women Cons:
Nothing! It's kind of the perfect CrossFit shoe
What Do People Think About Them?
—>Check out More Customer Reviews and Ratings<—
"They're a little bit stiff when they come out of the box, but they break in after a little while so it's not a big deal. They're for gym workouts only though and not ideal for running outside or playing sports in."
"If you're looking for a nice women's athletic shoe, then the Nano 7 makes an excellent choice. The stable platform is perfect for lifting, the upper is durable enough for rope climbs, and there's enough cushioning for sprints or box jumps. In short, they're my ideal shoe and I'll be buying the next version of them when they come out."
Compare the Best CrossFit Shoes for Women
Are you looking for some of the best picks for Cross-Fit shoes for women? Look no further than this handy comparison chart below:
Best CrossFit Shoes for Women
The Takeaway on the Reebok CrossFit Nano 7.0 for Women:
If you need a new pair of Cross Fit shoes, the Nano 7.0 is a great choice! It's one of our favourite shoes here at this website and it's the shoe that many of us have been waiting for to come out. It's an all-round, top-quality shoe that will keep your feet cool, comfortable and secure during even the heaviest CrossFit workouts.
Heel Piece for Added Stability
We love the new additions to the 7.0, as opposed to the 6.0. The added breathability with the NanoWeave is a serious plus. The addition of a heel piece for some added stability is a much needed improvement from the 6.0
Excels for Serious Gym Workouts
The Nano 7's can handle a little bit of everything at the gym—sprints, cardio, lifting, rope climbs, box jumps and weightlifting. In short, everything you'd encounter during a CrossFit workouts.
Shop Now for the Best All Round Cross-Fit Shoe
Get yourself a pair of Reebok CrossFit Nano 7.0 sneakers on Amazon today. You can often get free shipping with a Prime membership on this footwear:

Have your Say about the CrossFit Nano Women's Training Shoe
What are your thoughts about this popular Cross Fit shoe for women? Leave a comment below and let us know what you think.

Tony is a licensed nutritionist from California, who developed an interest in fitness while he was in college. When he realized that his regular exercise routine was not helping him lose some of his extra weight he decided to sign up at the local CrossFit gym. Now not only is he an avid CrossFitter, he is also a coach. You will usually find Tony at the local gym where he uses his knowledge of proper nutrition to help other athletes achieve all of their goals.

Latest posts by Tony Calder (see all)