If you're looking for a top-quality women's CrossFit shoe, then the Reebok Nano 7 makes an excellent choice. It's durable, supportive and is ideal for sprints, jumping, climbing, and lifting.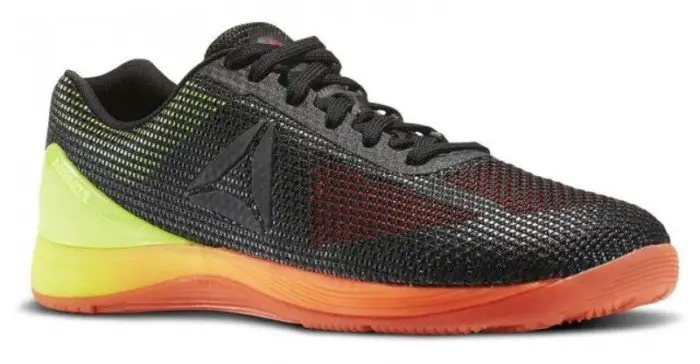 Read our buying guide packed with information to help you decide if these top-of-the-line performance sneakers are right for you. There's a good reason why Nano 7s are some of the most popular CrossFit shoes.
Review of the Reebok CrossFit Nano 7.0 for Women
The Nano 7 is a classic CrossFit shoe offering from Reebok. Reebok has a serious reputation for putting out some of the top Cross Fit shoes you can buy. Some of their most popular CrossFit sneakers include the Reebok CrossFit Speed, and the unique CrossFit Nano Pump.
Reebok is one of the best brands in the business, and their Nano line is just as good.
Top-Quality at a Reasonable Price
The Reebok CrossFit Nano 7.0 for women is an excellent addition. This shoe is a top-quality CrossFit sneaker at an affordable price. Quality at a reasonable price? We love that here and it's certainly a serious win in our books.
Ideal for a Variety of Exercises
If you're looking for a CrossFit sneaker that can do a bit of everything-sprinting, jumping, and climbing, then you need to consider the Nano 7.0 Reeboks for women. These sneakers are light and flexible enough for sprinting. The recent addition of a heel piece makes them stable enough for lifting because your feet won't slip around in them.
Plus, they're durable in the midsole and won't get torn up during rope climbs. They also have a ton of grip to help you with these important CrossFit exercises as well.
Heel-Toe Drop of 4 mm
A heel-to-toe drop of 4mm means that it can handle the sprints, where you want a heel-to-toe drop, as well as the lifting, where you want a flat shoe reasonably well. We also love the NanoWeave in the upper part of the shoe, which will keep your feet cool. Nobody likes hot, sweaty feet! There are some nice styles and colors so you're sure to find one that suits your tastes.
Where to Get These Training Shoes?
We love the Nano series from Reebok! Try them out and see for yourself. You can buy a pair of these top-quality CrossFit sneakers on Amazon today, and don't forget to check for deals that include free shipping with a Prime membership:

Key Features of the Reebok Nano 7
CMEVA midsole
Low-cut design
Reinforced heel clip
Flexible rubber outsole
NanoWeave technology for excellent breathability
4 mm heel-toe drop
Ortholite sockliner
Anatomical toe box
Provide lots of support
Reebok Nano 6.0 vs. Nano 7.0
It's time to get into the nitty-gritty details about the Reebok Women's CrossFit Nano 7.0. One thing we love about Reebok is that they take their customer reviews seriously and keep improving their Nano series. Although these models are quite similar, new for the Nano 7.0 are two small things:
Nanoweave mesh in the upper for increased breathability
Addition of a heel piece to give more stability when lifting
We'll give more detail about each one in the next two sections.
Change #1: NanoWeave (Nano 7) vs. Kevlar Infused Upper (Nano 6)
First, there is the addition of NanoWeave in the Reebok CrossFit Nano 7.0. Previous shoes in the Nano series had a Kevlar-infused upper. This meant that while they were durable, especially when climbing ropes, they also weren't very breathable.
With the addition of NanoWeave, the Nano 7.0 will be very comfortable and keep your feet cool, even during the toughest workouts. They are slightly less durable, but in our opinion, it's a good change. It's rare to climb ropes enough during a WOD to actually wear out your shoes from it.
Change #2: New Heel Piece to the Reebok Nano 7.0
The second difference between the 6.0 and the 7.0 is the addition of a heel piece. The heel piece was added in order to offer some more stability when lifting weights. The Reebok Women's Nano 7.0 are able to handle heavy loads easily.
What about the Nano 8 vs Nano 7?
Reebok has taken the feedback seriously about the Nano 7 and improved the shoe for their next version. It's more breathable, a bit more flexible on the sole, and also grippier.
Here is a summary of the main differences in the Nano 7 vs Nano 8:
Slight improvement in the look and design
More padding around the collar makes them both comfortable and flexible
Addition of a dual density midsole
They breathe a bit better
Better for running
You can check out our full review here:
What about the Reebok Nano 9?
As of June 12, 2019, the Nano 9 from Reebok is on the market. We think it may actually be one of the best CrossFit shoes of all time. Find out more here: Nano 9 Reebok Review.
Reebok CrossFit Nano 7.0 for Women Pros
NanoWeave for extra breathability
Heel piece for extra stability
Low-cut, sock liner design allows for natural foot movement
Rubber outsole gives stability and maneuverability as well as excellent grip
4mm heel to toe drop, works well for lifting as well as sprinting
Durable sole and upper
Good customer service from Reebok
Variety of interesting colours including: pink, black/white, orange/grey, white/red/blue, etc.
CMEVA midsole for extra cushioning
Wide toe box
Reebok CrossFit Nano 7.0 for Women Cons
Some issues with durability
Compare Colors and Styles
Here are some of our favourites colors of the Nano 7 for women:
What Do People Think About Them?
—>Check out More Customer Reviews and Ratings<—
"They're a little bit stiff when they come out of the box, but they break in after a little while so it's not a big deal. They're for gym workouts only though and not ideal for running outside or playing sports in. I like these a bit better than the CrossFit Grace because they're more stable and better for lifting."
"If you're looking for a nice women's athletic shoe, then the Nano 7 makes an excellent choice. The stable platform is perfect for lifting, the upper is durable enough for rope climbs, and there's enough cushioning for sprints or box jumps. In short, they're my ideal shoe and I'll be buying the next version of them when they come out."
"Quite stiff right out of the box, but they're loosened up a bit over time. They're perfect for squats and deadlifts, and also flexible enough for sprints and jumps. They are also durable enough for rope climbing. I'm very happy with them and they may just be the perfect CrossFit shoe in my opinion."
"I made the switch from the Zquick TR sneakers and honestly couldn't be happier with my choice."
Can I Use The Reebok Nano 7's for Running or Weightlifting? 
That's a great question and we're happy you asked. These cross-trainers can definitely be used for weightlifting. The minimal heel drop, as well as flat sole provides an excellent base for lifting weights. That's kind of what they're designed for actually.
However, these are designed for all-round workouts that include rope climbs, box jumps, wall handstands and sprints. If you're doing solely weightlifting, then you'll want a flatter, sturdier shoe. Check out some of the best choices here: Your Guide to the Best Lifting Shoes. 
However, as far as running goes, these are not the ideal choice. They are too stiff, and most running shoes that you'd run a marathon in have a heel-to-toe drop of 10-12 mm, not 4 mm like these shoes.
While they can handle some sprinting, there not what you'd want to go for a run in. If that's what you're looking for, you can see some of our top choices here: The Best Running Shoes.
The Takeaway on the Reebok Nano 7.0 for Women:
If you need a new pair of Cross Fit shoes, the Nano 7.0 is a great choice! It's one of our favourite shoes here at this website and it's the shoe that many of us have been waiting for to come out. It's an all-round, top-quality shoe that will keep your feet cool, comfortable and secure during even the heaviest CrossFit workouts.
Heel Piece for Added Stability
We love the new additions to the 7.0, as opposed to the 6.0. The added breathability with the NanoWeave is a serious plus. The addition of a heel piece for some added stability is a much-needed improvement from the 6.0
Excels for Serious Gym Workouts
The Nano 7's can handle a little bit of everything at the gym—sprints, cardio, lifting, rope climbs, box jumps, and weightlifting. In short, everything you'd encounter during a CrossFit workout.
Shop Now for the Best All Round Cross-Fit Shoe
Get yourself a pair of Reebok CrossFit Nano 7.0 sneakers on Amazon today. You can often get free shipping with a Prime membership on this footwear:

FAQs
There are a number of common questions that people have about these shoes. Here are the answers to some of the most popular ones.
What are the key features of the Reebok Nano 7?
The Reebok Nano 7 is known for its lightweight design, durable construction, and versatility for various CrossFit movements.
Is the Reebok Nano 7 suitable for weightlifting?
Yes, the Reebok Nano 7 is designed to provide stability and support for weightlifting movements commonly found in CrossFit workouts.
Does the Reebok Nano shoe offer good grip?
The Reebok Nano shoe typically features a rubber outsole with a grippy pattern that provides traction on different surfaces.
Are the Reebok Nano 7 shoes suitable for running?
While the Reebok Nano 7 is primarily designed for CrossFit, it may not provide the same level of cushioning and support as dedicated running shoes.
Are the Reebok Nano 7 shoes for women comfortable?
The comfort of the Reebok Nano 7 shoes for women can vary depending on individual preferences and foot shape, but they are generally designed to provide a comfortable fit for CrossFit workouts.
Do the Reebok Women's Nano 7 shoes have a wide toe box?
Yes, the Reebok Women's Nano 7 shoes typically have a spacious toe box to allow for natural toe splay during movements.
Is the Reebok Nano 7 durable?
The Reebok Nano 7 is designed with durability in mind, featuring reinforced materials to withstand the rigors of CrossFit training.
Can the Reebok Women's Nano 7 be used for other types of workouts?
While primarily intended for CrossFit, the Reebok Nano 7 can also be suitable for other types of functional fitness workouts and gym training.
Have your Say about the CrossFit Nano Women's Training Shoe
What are your thoughts about this popular Cross Fit shoe for women? Do you agree with our CrossFit Nano 7 review? Leave a comment below and let us know what you think. We'd love to hear from you.
Also be sure to give this article a share on Facebook, Twitter, or Pinterest. It'll help other fitness buffs, like yourself find this useful resource.

Latest posts by Tony Calder
(see all)
Last update on 2023-08-20 / Affiliate links / Images from Amazon Product Advertising API