If you're looking for a pair of top-quality CrossFit shoes for women, then the Reebok Nano Pump should be at the top of your list. Read our buying guide packed with information to help you decide if they're the right choice for your next workout.
Reebok CrossFit Nano Pump for Women Introduction
The Reebok CrossFit Nano Pump is a new addition to the popular line of CrossFit Nano shoes from Reebok. The main difference in this latest model from the previous ones is the addition of a pump.
Not Just for Basketball
Normally when you think of pumping up your shoes, you think basketball. However, Reebok has introduced this technology into some of the best CrossFit shoes for women that your hard-earned money can buy. These shoes are awesome. Try them out and we're sure you'll agree.
Very Solid Fit
If you thought that the Reebok Nano was a great shoe, you'll love this one even more. You can deflate it, put it on your feet, and then pump it up for a solid, secure fit.
Extremely Durable
Plus they're extremely durable, especially with the Kevlar infused upper to prevent those ropes from ripping apart your shoes. We love these shoes from Reebok here at Best CrossFit Shoes! Keep reading for the full review of the Reebok CrossFit Nano Pump for Women.
"I wore these shoes from Reebok to do the 16.1 WOD for this year's open and they felt great. They are light in weight, fit snug, are comfy, and grip the floor well. Plus, they are really nice looking."
Key Features:
Nano shell
Kevlar infused upper
Pump for a very secure fit
Mid-cut design
Compression molded foam insole
RopePro midsole protection
Grippy sole
Where to Get Them?
Want to get yourself a pair of these sweet CrossFit Shoes for women? You can get 'em over on Amazon and don't forget to see if they're eligible for free shipping with an Amazon Prime membership:

Reebok CrossFit Nano Pump for Women Pros:
Same fit and feel as the popular Nano
Nano-shell that is very durable
Kevlar-infused upper for increased durability (for rope-climbing)
Compression molded foam midsole for extra cushioning
Designed specifically for CrossFit workouts
Wide range of colors and designs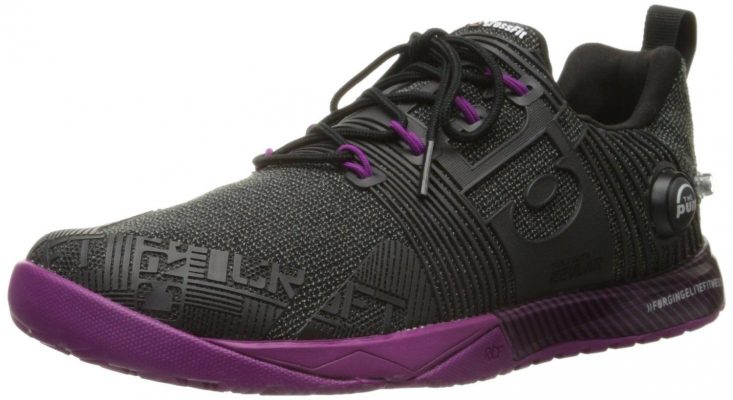 Reebok CrossFit Nano Pump for Women Cons: 
Doesn't pump up enough for some
Runs quite small-if in doubt, order a 1/2 size bigger than usual
Not ideal for narrow feet
Some people don't like the bootie style liner
Comfort
If you're looking for some serious comfort during your CrossFit workout, then these top-quality CrossFit shoes for women are an excellent choice. They have the same fit, comfort and feel as the Reebok Nano series, but offer an even more customized fit. The pump, usually found in basketball shoes allows the shoe to fit very snugly, but not too tightly.
The sock style (no tongue) takes a bit of getting used to, but once you do, you'll probably never go back. It's often the tongue that digs into the top of your feet which makes them uncomfortable. However, Reebok has avoided this annoyance and designed a shoe that fits. Many reviewers commented that the Reebok CrossFit Nano Pump felt comfortable from the first or second time that they wore them.
"I love these things! The pump in these shoes prevents my heel from slipping out. They keep my feet snug but the toe box is wide enough that my toes can spread out when I'm lifting. They are light, strong, and super comfortable. I just bought an extra pair to wear around town they're so comfortable!"
Running
If you're looking for a pair of shoes for your next 1/2 marathon, these ones aren't it. Although light, they're not light enough. And although flexible, they're also not flexible enough for serious running. Instead, check out our Best Shoes for Running. If you're going to do some serious running, you need a specialized running shoe.
What these shoes will do is perform well for short runs that you'll experience during the course of your CrossFit workouts. And they'll allow you to do them without injury.
Weightlifting
As far as lifting some serious weight, these shoes perform moderately well. The sock style fit and pump ensure a great fit so that your feet won't be slipping around in them. The rubber sole grips the floor extremely well and doesn't slip.
In short, these shoes provide a great platform for lifting weights during the course of your workout. If you're looking for a pair of shoes for things like Olympic weightlifting, these ones are not recommended. They aren't stable enough for that, nor are designed to maximize your natural force. Instead consider: Top-Notch Weightlifting Shoes.
What do People Think About Them?
—>Read More Customer Reviews and Ratings Here<—
"Comfortable, lightweight, and fit true to size. Love the pump feature that gives it a custom fit, especially in the heel area. I didn't realize that they're basically slip-on shoes which made them kind of hard to get on the first few times. But, it got easier with time."
"Feels great to lift weights in these shoes and do CrossFit workouts. They're flat, have excellent grip and my feet feel very secure in them. I'll be buying myself another pair when these wear out for sure."
"A bit too wide for me and just didn't work out that well. Better for people with narrower feet I think, especially without the laces because you can't really cinch them down so well."
Summary for the Reebok CrossFit Nano Pump
If you're looking for a shoe to run your next 10km or half-marathon, the Reebok CrossFit Nano Pump isn't it! While the 5mm heel-to-toe drop does perform well when running, the shoe is too stiff to be comfortable for long runs. If you're looking for a shoe that provides extreme stability while lifting weights, this one isn't it either!
Ideal for a Variety of Workouts
What this shoe does excel at is workouts (like CrossFit) where you'll be doing a wide range of activities-sprinting, jumping, climbing, and lifting. It does everything decently well and will keep your feet cool and comfortable. Most importantly, these shoes will help prevent injuries while doing CrossFit workouts because they are light enough for running, yet stable enough for lifting.
One of the Top CrossFit Shoes
In short, the Reebok CrossFit Nano Pump Cross-Training shoes for Women are a great shoe for any ladies who are serious about CrossFit and they get our 5/5 star rating here at Best CrossFit Shoes.
They are cool-looking, extremely comfortable, and super-durable. Doesn't get a whole lot better than that, does it? They're certainly not cheap, but they're reasonably priced for what you get- a really solid CrossFit shoe.
Shop Now
You can get one of the best CrossFit sneakers for women on Amazon today:

FAQs
There are a number of common questions that people have about this shoe. Here are the answers to some of the most popular ones.
What makes the Reebok CrossFit Nano Pump shoe unique?
The Nano Pump shoe features a pump technology that allows users to customize the fit and provide enhanced support during intense workouts.
What are the key features of the Reebok CrossFit Nano Pump shoe?
The key features include the pump technology for a customized fit, durable construction for CrossFit activities, a stable and supportive platform, and excellent traction.
Is the Reebok CrossFit Nano Pump shoe suitable for weightlifting?
Yes, the shoe is designed to provide stability and support during weightlifting exercises, making it suitable for weightlifting activities in CrossFit training.
Does the Reebok CrossFit Nano Pump shoe have good breathability?
Yes, the shoe is designed with breathable materials to help keep the feet cool and comfortable during workouts.
Can I use the Reebok CrossFit Nano Pump shoe for running?
While the shoe is primarily designed for CrossFit activities, it can be used for short-distance running. However, it may not offer the same level of cushioning and support as dedicated running shoes.
Are the Reebok CrossFit Nano Pump shoes suitable for high-intensity workouts?
Yes, the Nano Pump shoe is specifically designed for high-intensity workouts, such as CrossFit training, providing stability, support, and durability.
Have your Say about the Reebok Nano Pump Shoes
What are your thoughts about these top-quality shoes for CrossFit and gym workouts? Leave a comment below and let us know what you think.
Also be sure to give this article a share on Facebook, Twitter, or Pinterest.
Latest posts by Anne Calderson
(see all)
Last update on 2023-08-20 / Affiliate links / Images from Amazon Product Advertising API