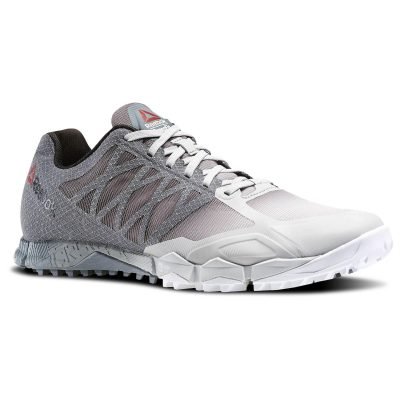 Are you looking for a top-quality workout shoe that's ideal for CrossFit WOD's focused on running or jumping? Then the Reebok CrossFit Speed should be at the top of your list. Read our buying guide packed with information to help you decide if it's right for you.
Review of the Reebok CrossFit Speed Training Shoe for Men
In early 2016, Reebok added another top-quality CrossFit shoe to their already super-solid line-up. While not so dissimilar to the extremely popular CrossFit Nano Series, the main difference in this one is that it's designed for speed. A common complaint about the Reebok Nano Series is that they're clunky for running. Reebok has taken this seriously and come out with a CrossFit shoe that isn't!
Lightweight and Breathable
If you're looking for a CrossFit shoe that will eaperform well in workouts with a lot of sprinting, this one is it. It's lightweight, breathable and cushions your feet very well. While designed for running, they are actually an extremely versatile cross-training shoe that can perform well during lifting, jumping or climbing.
Lots of Devoted Fans
In short, the Reebok CrossFit Speed Training Shoe is solid. Reviewers mention that once they made the switch to these ones, they never plan on going back.
Where can I Get Them?
You can check them out at Reebok.com

Reebok CrossFit Speed Training Shoe Pros:
Less clunky than other Reebok CrossFit shoes
Ultra-soft response foam absorbs shock during sprints
Metasplit flex grooves for enhanced stability
Supports smooth transitions and explosive power
TPU piece to support sliding during handstands
ROPEPRO for extra durability during climbs
Extremely light
Breathable and comfortable
Low-cut design
Reebok CrossFit Speed Review
Reebok CrossFit Speed Training Shoe Cons:
Less secure for lifting than other Reebok CrossFit shoes
Some people don't like the graphics
Reports of lack of durability in the mesh
Fits larger than expected
What do People Think About Them?
—>Read More Customer Ratings and Reviews Online<—
"Up until now, I've just used running shoes for all my sporting activities. I started doing CrossFit and HIIT workouts, so decided to get a pair of cross-training shoes. After much research, I decided on the CrossFit speed from Reebok and couldn't be happier. They're light and have a ton of grip. But, they're stable and also ideal for lifting,"
"Feel pretty good on my feet, but kind of stiff the first few times you use them. They do loosen up with time though and it becomes not such a big deal. They're ideal for any sort of indoor gym workout."
"Flat bottomed, and designed for circuit or CrossFit type workouts. These shoes, along with my cable pulley machine are my go-to fitness gear."
Comfort
The low-cut design of the Reebok Men's CrossFit Sprint Training Shoe make these very comfortable to wear. They are very light in weight (8.9oz) and fit more like a running shoe than a cross-training shoe. The midsole is flexible which makes them extremely responsive when performing just about any kind of exercise.
A common complaint about the Reebok Nano Series is that they are big and clunky. Reebok has taken these complaints seriously and designed this shoe! Unlike the Nano, these ones don't need to be broken in and they should feel comfortable from the first time you put them on.
Running
With a heel-to-toe-drop of 3mm, the Reebok CrossFit Speed Training Shoe isn't the shoe to run a marathon in! The minimal heel-to-toe-drop is more characteristic of weightlifting shoes than running shoes.
The shoe excels at sprinting, and while light (8.9 oz), it's still a bit too heavy and clunky to run long distances in. It's classified as more of a cross-training shoe than pure running shoe. If you're looking for a shoe to run your next 10km in, consider one of these ones:
The Best Shock-Absorbing Running Shoes
Weightlifting
If you're looking to do CrossFit workouts that are heavy on the sprinting, but also include some lifting, the Reebok Men's CrossFit Speed Training Shoe is an excellent choice. Reviewers mentioned that while the shoe is lightweight and comfortable on their feet, it offers a stable enough platform for lifting.
The multi-directional outsole provides excellent traction and grips the floor extremely well, preventing slipping of any kind. The minimal heel-to-toe-drop is ideal for transferring power and providing a secure feeling while lifting weights. While not as stiff in the midsole as the other Reebok CrossFit shoes, they are still stiff enough.
If you're looking to get heavy on the weights, then these are not the shoe for you! Consider one of the following:
The Takeaway on the Reebok CrossFit Speed Training Shoe
If you're all about CrossFit workouts that are heavy on the running, these are the shoe for you. They're light, comfortable and built for running, while still being stable enough for lifting.
Reasonably Priced
Priced reasonably, they're a top-quality, affordable athletic shoe. We actually consider them one of our top picks for Best CrossFit Shoes.
A CrossFit Sneaker that's Not Clunky
If you like to move quickly and want to be agile during a workout, then the CrossFit makes a nice pick for you. They're almost as light as a running shoe and just as breathable. However, they still are durable enough for ropes climbs and have a moderate shoe differential that makes them ideal for lifting.
A nice all-round cross-training shoe!
Learn More About Them
You can check out all the style options, prices and reviews online:

Compare CrossFit Shoes
Besides this option, there are plenty of other choices out there for workout sneakers. You can see some of top picks here:
Have your Say about the Reebok CrossFit Speed Training Shoes
What are your thoughts about this popular workout shoe? Leave a comment below and let us know what you think.
Also be sure to give this article a share on Twitter, Pinterest, or Facebook.