You know those times you're going for your maximum weight? The last thing you want to worry about is your ability to grip the floor, or whether or not you have a stable foundation. Proper equipment is vital to a workout, and your shoes are no exception!
—>Click Here to See our Top Choice for Weightlifting Shoe<—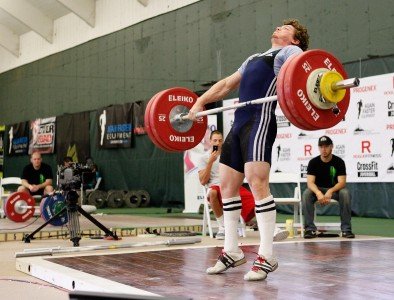 Weightlifting Shoes if you Have Flat Feet
We are often asked what our readers should be looking for in a pair of weightlifting shoes if they have flat feet. It may surprise you to learn that you have plenty of options as long as the footwear includes these three features:
Slight heel lift
Strap for support
Flat sole for effective grip.
Another solution is to pair up one of these top picks for weightlifting shoes with a pair of insoles or orthotics. One brand that some people swear by is Superfeet. Keep on reading for more details about that.
Keep on reading for what to look for in a weight lifting shoe. We'll also share our top recommendations and give some advice about where to buy them.
The Best Squatting Shoes: Nike Romaleos
Or, check out our top pick on Amazon, the Nike Romaleos. The support you need in a weightlifting shoe, at a price you'll love:

Heel Height
You probably already know that your feet should be planted firmly on the ground if you want to live some serious weight. However, there should also be a slight lift in the heel to give you some extra stability. The best shoes are a balance between the two.
Most weightlifting shoes have a heel that measures between .5 and 1 inch, which will give you the extra push you need to lift the bar safely up over your head. The slight lift to the heel also makes it easier to get into a lower position.
It's also useful for increasing the range of motion in your ankle. The raised heel height is also great for flat-footed athletes and will help provide some of the support you're missing without an arch.
Weightlifting Shoes: Strap for Additional Support
What you may not know is that weightlifting shoes often include a strap that is designed to give athletes additional support when they push off the floor. This convenient strap ensures a secure fit. This is important when lifting some serious weight. It will also give your feet and ankles added stability that might be missing due to your low arch.
You will also notice that it is easier to put some hip action behind your push if you have a strap.  This will give you the added advantage of being able to rise up safely from a deep squat.
Weightlifting Shoes: Flat Rubber Sole
The best lifting shoes should also include a flat rubber sole to give you plenty of traction and stability. Both of these are important when you are training and weightlifting on a slick gym floor. After all, the last thing you want to worry about is a platform for lifting.
The best ones stick to the floor like glue and don't slide, no matter what!
Best Weightlifting Shoes
Some weightlifting shoes that are able to provide the support you need during lifts and squats include these stylish and surprisingly affordable pairs.
Most Weightlifting Shoes: Perfect for the Flat-Footed
To answer your question, most weight shoes are great for flat feet simply because the footwear is designed to provide stability.
Unlike other types of shoes, ones designed specifically for weightlifting can almost seem like they were designed with your low arch in mind.
When you find a pair of dedicated weight training shoes, simply make sure that there is a slight lift in the heel, a supportive strap, and flat sole for shock absorbing stability and traction and you will be ready to train and lift weights outdoors or in the gym.
We look forward to reading any additional comments and questions you might have. We also encourage you to share this page with family and friends.
Here are our featured lifting shoes. There are a lot of models on the market, but we've done the research and narrowed down the choices for you.
Our #1 Pick for Lifting Shoe: The Nike Romaleos 3
Our top-rated weightlifting shoe for someone with flat feet is the Nike Romaleos. It's a top-quality shoe with all of the features that we're looking for. It's a classic lifting shoe that has been around for years, and for good reason. People love it!
Namely, the Nike Romaleos Weightlifting Shoe has a very small lift, strap for additional support, and a very grippy, rubbery sole. People that have tried this shoe, particularly those with low arches seem to love it.
What Do People Think About Them?
The Nike Romaleos has some excellent reviews over on Amazon:
"This is a great lifter that provides some serious stability, particularly when squatting. The grip on the soles is fantastic and I feel like my feet are bolted to the floor when I wear these things! My ability to lift serious weights is never hindered by these things, like with my old pair of sneakers."
"Nike Romaleos 3 are the best pair of lifting shoes I've ever owned. The interchangeable soles are pretty handy to have. I thought they were a bit expensive, but hands down, they're worth every penny. I used the original Romaleos 1, but like this new, updated version a bit better. They are a bit lighter, but have more support."
If you have flat feet, but are into weightlifting and powerlifting, you can't go wrong with these top-rated shoes from a trusted name, Nike. We LOVE this shoe and we're sure you will too!
Why We Love these Weightlifting Shoes
Here are some of the reasons why why've chosen this shoe as our top pick for flat footed weightlifting shoe:
Supper on interior and anterior sides
You can swap out the insoles if you have something like orthotics
Stylish appearance, when compared to some other weightlifting shoes
Breathable
Strength and flexibility throughout the full range of motion
Customizable looks
TPU power bridge heel wedge which can provide support and stability
Excellent durability
Ideal for Olympic weightlifting
Where to Buy Nike Romaleos Shoes for Lifting
Check out all the details about this shoe, as well as customer reviews on Amazon. These shoes can be found on the feet of many an Olympic weightlifter.

---
#2: Pendlay Powerlifting Shoe: The Best Squat Shoes?
Next up on our list are these ones from Pendlay. They have a reputation for being a durable, sturdy weightlifting shoe that most people seem to love.
Customer Reviews
They also have some great customer reviews over on Amazon, and most people who try them really seem to love.
"They're a bit cheaper than some of the other weightlifting shoes, so I wasn't sure what to expect. However, they've exceeded my expectations. They offer some serious stability, and have also stood up well to some serious workouts. They make a nice addition to my athletic shoe repertoire."
"Pendlay are my first pair of lifting shoes, and I really love them, particularly for squats as they help me have good form. They fit as expected, and have a nice, even fit throughout the entire shoe. Please note: These are not for walking around or running, they're for lifting only."
Great Support and a Wide Toe Box
Pendlay Weightlifting Shoes aren't the most stylish lifting shoe out there, but that doesn't really matter, does it? What you really need is their excellent support, and wide toe box.
These two features will make them comfortable to wear, even with flat feet, if you don't want to wear orthotics. These Pendlay shoes are flexible, but firm, and comfortable but still provide the support you need when lifting some serious weight.
Why We Love these Weightlifting Shoes
Here's why they make an excellent pick for weightlifting shoes for people with a low arch
Lightweight, for a weightlifting shoe
Minimal heel to toe raise for extra stability
High overall quality, these shoes are built to last
Extra room in the toe area
Designed for a single purpose (lifting) at which they excel
Nice style and colors
Strap system locks the feet in place
Where to Buy Pendlay Lifting Shoes
It can be a little bit difficult to find Pendlay powerlifting shoes in stores, which is why we recommend shopping online. You can head over to Amazon to check them out for yourself. They can help prevent injury and improve your lifting form. Best of all, shipping is often free with Amazon Prime.
Get yourself the best shoes for squats here:

Pendlay Weightlifting Shoe Review
---
#3 Pick for Weightlifting Shoe for Flat Feet: Asics Gel Fortius
If you're looking for an all-round shoe, and not specially a weightlifting shoe, then you'll need to consider the Asics Gel Fortius. It offers some serious stability, even though it's not a lifting shoe and most people who try it, seem to love it.
These cross trainers can work well for CrossFit workouts focused more on sprinting, jumping, and climbing over things than lifting.
Read More Customer Reviews
"These trainers offer some decent arch support, even with the included supports. I have pretty flat feet, so I ended up using them with my orthotics, but I was fine without them actually. This type of shoe is perfect for CrossFit where you have to lift, jump, run, climb, etc."
"An amazing pair of shoes for workouts. The heel to toe drop is minimal for a crosstrainer, so it works pretty well for squats and deadlifts, and is actually way better than expected. They're versatile and work well for a variety of sports. They do tend to run a bit small to size."
Why Consider the Asics Gel Fortius?
Here's why we recommend this shoe for people with flat feet:
Serious support and stability
Asics has a high commitment to quality and has an excellent reputation for making top-quality shoes
Stylish, contemporary design
Breathable upper mesh that keeps your feel cool during a serious workout
Protective sole that's resistant to scratches and abrasions
Shock resistant gel that offers some serious supoort
Strong toe cap makes these shoes very durable and offers extra protection during certain CrossFit activities like box jumps or rope climbing
However, it does lack the support and super stable foundation if you're going to life serious weight, so we'd recommend sticking with some of the other shoes on this list.
Where to Buy these Shoes?
You can check out these popular shoes for flat feet on Amazon. If you want some lifting shoes that still have a high degree of mobility for a variety of exercises, you'll want to consider these ones:

Asics Gel Fortius Features
---
#4: Reebok Legacy Lifter
A newcomer to the weightlifting shoe world are the Reebok Legacy Lifters. While a bit heavier than the other options we've mentioned, they can make an excellent choice for the follow people:
Those with wide feet, as they're a bit wider than most other lifting shoes and particularly have lots of room in the forefoot
People who don't do dynamic lifting such as clean and jerk. If you stand in one spot and lift, you may appreciate the extra stability, as opposed to the shoes that are light in weight
If you find your toes lifting off the ground during a heavy lift. Reebok Legacy Lifters are adjustable on the bottom and you should find that this doesn't happen as much.
If you have flat feet or overpronate. They also some serious support, and you could also pair them up with an insole or orthotics.
If you're looking for some extra security over a variety of movements because they have a strap across the midfoot.
What Do People Think About Them?
—>Read More Customer Ratings and Reviews<—
"I love that I can customize the bottom part of my foot to how I want it. The other lifting shoes don't offer this much customization. My entire foot feels grounded and secure and the base is very firm, giving me a nice base. They've stood up to a ton of force during my workouts."
"I love these things and they've really helped me a lot, particularly with squats. They're ideal at making sure your heels don't come off the ground when you don't wan them to. Just be sure to not wear them for walking around or running. I walked 2o minutes to the gym in them and my feet hurt by the end of it!"
Reebok Legacy Lifter Summary
In short, they're a top-quality OLY lifting shoe at a very reasonable price. Plus, Reebok makes some excellent workout shoes and they're a massive step-up from the runners that you might have previously been wearing to the gym.
The straps across the top add some serious stability, solid platform, and will help you improve your lifts. And they can help to prevent stress fractures during a serious workout and maintain good form.
More Information and Where to Buy Them
Check out our full review here: Reebok Legacy Lifters.
Or, learn more about these new OLY weightlifting shoes for flat feet over on Amazon for yourself, but only if you want to take your performance level higher!

---
#5: Adidas Adipower Lifting Shoe
Another popular option for lifting shoe is the Adipower line from Adidas. They've been around for year and have many devoted customers.
The anti-slip rubber outsole grips the ground extremely well and offers some great traction. You'll love the strong TPU midsole that offers a lot of stability. Finally, the adjustable strap provides rear-foot stability when lifting some serious weight.
The 2 mm heel toe drop is perfect for lifting. It can give you a stable platform, but you won't feel too fatigued.
Adidas Adipower Reviews
—>See More Customer Ratings and Reviews<—
"I'm new to lifting, but knew that I had to upgrade the cross-trainers I was using because it felt like I was standing on a bed of marshmallows. I ended up going with these ones because of the very reasonable price and couldn't be happier with them. I've seen some serious improvements in how much I can squat."
"These are the shoes that you'll wish you wore from day 1 in the gym! They helped me see some serious gains. I use compression socks with mine and find them very comfortable. If you're serious about lifting, but have never considered these shoes, you should!"
"Love the Adidas Powerlift shoes. They're a serious lifting shoe ideal for Olympic weightlifting, and have helped me to maintain correct posture during a variety of exercises."
Where to Buy Them?
You can check out these popular lifting shoes on Amazon:

---
#6: Sabo Deadlift Shoes: A Top Performing Shoe
Sabo Deadlift Shoes (43 RUS / 9.5-10 US, White)
New anatomical last was created especially for deadlifting.
New non-marking outsole is made of high density material with a special design for traction. Soles...
Two lateral straps allowing for an individual fit and precise tuning of tightness for the foot,...
High cut upper and materials optimal for training.
Side support on the outsole allows you to spread the floor without your feet rolling over, unlike...
If you're looking for a pair of workout shoes with excellent durability, nice style, and serious ankle support, then you'll want to consider the Sabo Deadlift shoes. Although they're a bit of a newcomer, they've quickly attained some serious supporters.
Key Features:
Fabric, synthetic upper
Anatomical mold created specially for dead lifts
Ultra-thin soles for increased traction
Two lateral straps allow for perfect fit across feet and ankles
High cut upper with excellent lateral support and protection
Ideal for a variety of weightlifting exercises, not just deadlifts
Sticky outsole for a greater amount of traction when compared to running shoes, or crosstrainers
What Do People Think about the Sabo Deadlift Shoes?
—>Check out More Customer Reviews<—
"Ultra hard and durable sole that's very flat, making it a perfect choice for lifting. They're also quite durable so far. Just about the only negative is that they're not comfortable to wear outside the gym, but they weren't really designed for that so it's to be expected."
"I use these for all sorts of exercises at the gym and am super happy with them. Just wear other shoes when you're going to the gym because the sole is very thin and not designed to handle rocks, dirt, pavement, etc. If you want to lift, you'll need the proper equipment and these fit the bill."

"I have a hard time finding lifting shoes because of my flat feet. After a workout, my leg muscles would be very sore, but not just from lifting. It was mainly because of my poor-fitting shoes. These are the first pair of comfortable squatting shoes that I've tried!"
Where to Buy Them?
You can shop now on Amazon, and you'll often get free shipping with a Prime membership:

---
#7: NoBull Training Shoes
Next up on our list of the best shoes for powerlifting if you have flat feet are these training shoes from NOBULL. Although the company is new to the scene, they're quickly gaining a huge following among CrossFitters. They're ideal for weightlifting because of how flat they are, and many people find them especially stable for squatting.
Besides lifting, they're ideal for climbing due to the durable one-piece upper, and they're supportive and stable enough in the midfoot and heel for someone with low arches. They can also handle some light cardio or sprints like you might encounter during a WOD.
These Nobull Trainers should certainly be at the top of any list of crosstrainers for gym or CrossFit workouts. Keep your body safe during a tough workout with a pair of top-quality trainers like these ones.
Key Features
Reflective logo for visibility at night
Lug outsole is grippy on just about any surface
Lateral and medial guards for side-foot protection
Medial rope grip for increased durability
One-piece upper material is breathable, and also very durable
Flexible base layer
Variety of colors and designs
Ideal for a combination of activities and movements
What Do People Think about Them?
—>Read More User Reviews Here<—
"I've always worn Inov-8s with the odd Nike Metcon thrown in there, but these are by far the best lifting and all-around gym shoes I've ever used. The perfect height for squatting or deadlifts, and can also handle jumps and sprints. A ton of support for my very flat feet and they don't ache at the end of a workout like they do with some other athletic shoes."
"I have very long and thin feet that are also very flat. This makes it quite difficult to find workout shoes. I tried these No Bull ones on the recommendation of my trainer and am so happy that I did. They're flat and stable, making them perfect for squatting and any kind of lifting. They're comfortable enough for a cardio warm-up or sprints."
"High-quality materials and super durable. I've been using them hard (4-5x a week) for about six months now and they almost look brand new still. Quite impressive! Go for your maximum results in these things—they'll stand up to the test.'
Where To Get Them?
Do they sound like one of the top workout shoes for your flat feet? Check them out on Amazon.com to find the lowest prices. Achieve your personal best with these shoes:

---
Reebok Nano 8 Cross-Trainers
Another top pick for the best squat shoes is the Reebok Nano 8. They're technically considered cross-trainers, which makes ideal for cardio, sprints, jumping and rope climbs. But where they really excel is for weightlifting.
They have a flat heel, grippy sole and a ton of support to help you achieve your personal bests in the deadlift and squat.
If you have flat feet, you'll find these reasonably comfortable. They do have some support in the arch, but it's not overly aggressive.
Key Features
Mesh upper for maximum breathability
New heel construction ensures a custom fit
Nanoweave upper for added durability
Flex grooves in the forefoot
CMEVA midsole
What do People Think About Them?
—>Read More Customer Reviews Here<—
"I got these for Cross Fit workouts and other stuff in the gym and I couldn't be happier with them. Love the laces which stay in place easily, and the reinforced upper for extra durability."
"Maybe one of the best products of the year for CrossFit and weightlifters? Lots of cushioning and support for a variety of movements, but enough stability for lifting."
"They feature a very flat heel, which makes them great for lifting. But, they're also like putting on your house slippers, that's how comfortable they are, a ton of cushioning."
Shop Now
Do they sound like the right pair of shoes for you? Check them out for yourself on Amazon.com and don't forget to check for deals that include free shipping:

---
 New Balance Minimus Training Shoe
There are a number of people who swear by barefoot shoes for lifting. Although they don't offer much in the way of support, this can actually be a positive thing if you have flat feet. Some workout sneakers have quite an aggressive amount of arch support, which can be quite uncomfortable if you have flatter feet.
Of the barefoot shoes, the New Balance Minimus is one of our favourites. It has a low heel to toe drop, making it ideal for weightlifting, squats and deadlifts. But, unlike some other kinds, it does offer some nice traction, as well as protection for the soles of the feet.
Key Features
REVlite midsole foam for extra cushioning
Meta support
ASYM collar for a comfortable fit
Removable insert (you can add Superfeet or Orthotics)
Grippy outsole that won't slip during heavy lifting
Mesh on the upper for great ventilation
Customer Reviews
—>See Customer Reviews and Ratings Here<—
"Probably my favourite pair of shoes that I've ever owned. Extremely comfortable, very light in weight and you can use them for a ton of activities. Ideal for lifting and squats because they're so flat, but minimalist runners would probably like them too. Super solid and the slightly raised heel makes them comfortable for walking and doing cardio too."
"Not a lot of arch support, and they're also not that great for lateral movement, but they're an amazing, all-round shoe, and one of my top choices for barefoot style shoes. Order a half size up if you're not sure, they run quite small. Oh, and keep in mind that they are very different from regular shoes, but so much better!"
"New Balance is one of my favourite brands and this shoe is awesome, and a nice addition to their regular shoes. They've really raised the level of minimal shoes with this one."
Where Can I Get Them?
Do they sound like the right pair of shoes for you? You can find the best prices online. Check here for the lowest prices:

---
 Chuck Taylors: Not a Great Weightlifting Shoe
Some flat-footed athletes have also found Chuck Taylors to be a great weightlifting shoe due to the flat sole and slightly raised heel. However, it should be mentioned that this footwear does not have adequate support on the side and through the ankle. It's for this reason that we don't recommend them.
What about Minimalist Shoes for Flat Feet? 
What about other minimalist shoes for CrossFit or weightlifting if you have flat feet? Our advice is the same as for the Chuck Taylors. There just isn't enough support. You'll have the best results from something like a weightlifting shoe that has a ton of support built in.
You could also consider a training shoe that has some adequate support on the medial side (inside, where your arch is). Another option is to get a neutral shoe (not a big bump where the arch of your foot is) and then use some custom orthotics to give you the support that you need.
How Do I Know if I Have Flat Feet?
The easiest way to tell if you have flat feet, high arches, or something in between is to do the pool or beach test. When you're walking on the beach barefoot, check your imprint in the sand. Or, when you're walking on a pool deck with wet feet.
If you can see only your heel and front of your foot, you have high arches. If you see your heel, front of your foot and a bit of the middle, you have a regular arch height. However, if you see what looks like a stretched out pancake, then you have a low arch, or flat feet.
Learn How to Fix Them
What are They Caused By?
Some people are born with flatter than average feet due to genetics.
However, the most common cause of flat feet is loose tendons in the foot. It's estimated that 25% of Americans suffer from this condition. However, many people never experience any problems with it.
Some reasons for loose tendons include: aging, or an injury or illness that damages the tendons in the foot. Overweight people may also put excess pressure on their feet, causing the arches to fall over time.
Adult acquired flat feet is most common in women over the age of 40. It's not really understood why, but some possible reasons include wearing high heels, or having jobs that require standing or walking for excessive periods of time.
What are some Problems Associated With Flat Feet?
However, there are some people who will experience a number of problems related to their fallen arches. These could include:
Knee pain
Plantar Fasciitis
Shin Splints
Achilles tenditis
Etc.
What about Insoles?
Everyone with flat feet should be wearing good, supportive, sturdy footwear. Avoid the high heels and flip-flops, okay? This will likely lead to some pretty sore feet, and other problems over time.
Beyond that, many doctors recommend an insole to provide some extra support to the feet. It's best to check with your doctor, podiatrist, or physiotherapist to see if this option will work for you. They'll be able to give you the best advice for your specific situation.
There are, however, plenty of people with flat feet who swear by Superfeet. It's one of the most popular brands of over-the-counter insoles.
You could try out one of these pairs of weightlifting shoes we've recommended, combined with an insole for the ultimate pair of weightlifting shoes for flat feet. Try it out for yourself and see.
You can check out Superfeet for yourself over on Amazon:

How to Fix Flat Feet?
I have the Opposite Problem: High Arches
So, you actually have the opposite problem, high arches. Unlike with flat feet, high arches is not something that happens to you over time. You were probably born this way, and this condition can also cause some significant pain during physical activity. Check out some of our best picks for you here:
Workout Shoes for People With High Arches
Have your Say about the Best Weightlifting Shoes for Flat Feet
Leave a comment below and let us know your thoughts. If you have flat feet, what weightlifting shoe is your top pick?
And don't forget to share this article on Facebook, Twitter, or Pinterest.
Last update on 2022-11-07 / Affiliate links / Images from Amazon Product Advertising API