As an Amazon Associate, I earn from qualifying purchases. What does this mean? I recommend products (only ones that I like) and if you purchase a product through that link, I earn some money.
Are you looking for a top-quality weightlifting shoe? Then the Reebok Legacy Lifter should be at the top of your list. Read our buying guide packed with information to help you decide if it's the right choice for you.
Introduction to the Reebok Legacy Lifter Weightlifting Shoes
If you're looking for some top-quality lifting shoes, then look no further than the Reebok Legacy Lifter Shoes. They're well designed, and have all the features that you'd expect in a pair of Oly lifting shoes.
Adjustable on the Bottom
What sets them apart is that they're adjustable at the bottom. If you usually feel like your toes are lifting off the ground during certain exercises, try these out. You'll probably notice a huge difference.
2 cm Heel-Toe Drop
The 2 cm heel-toe drop is ideal for weightlifting. Runners will want a higher differential, but people who lift some serious weight want a stable, plat platform. 2 cm is comfortable, but flat enough to allow you to have your maximum performance.
Perfect for Wide-Feet
Another reason to buy them is if you have wide feet. You've probably struggled in the past to find a pair of weightlifting shoes that worked for you. Try out the Reebok Legacy Lifters and you'll instantly notice a difference. They're actually comfortable. Keep on reading for our full review
Reebok Legacy Lifter Features
Low-cut design for maximum ankle flexibility
Weave in the upper for maximum air-flow
EVA midsole for excellent cushioning
Strong rubber grip on the outsole for excellent traction
2 cm heel-to-toe drop
Strap across the top for extra stability and to give some serious support
20.6 ounces, a bit heavier than some of other weightlifting shoes
TPU heel clip has been added
Comfort and quality is high compared to other lifting shoes
Great support from toe box to heel
Ideal for Olympic weight lifting
Where to Buy these Weightlifting Shoes?
The best place to find these Oly weightlifting shoes is on Amazon. You can check them out for yourself over on Amazon and don't forget to see if they're eligible for free shipping with a prime membership. Add them to your cart now:

Reebok Legacy Lifter Review
For Lifters, by Lifters
The Reebok Legacy shoes were designed by CJ Cummings from the USA, who won gold at the 2016 Youth World Weightlifting Championships. We LOVE shoes that are designed and inspired by the athletes doing the sports.
We're sure that you will too.
Reebok Legacy Lifter Weightlifting Shoe Pros
Can customize the bottom part of the shoe to your liking, unlike with many other brands
Well ventilated upper to keep your feet cool
Slightly bigger width works well for people with wide feet
Can offer you a stable, secure platform for your ultimate athletic performance
Reebok is one of the most trusted names in athletic footwear
The straps keep your feet very stable in the shoe, and prevent them from sliding around
Nice design, but not many color options
Made from durable leather with top-quality construction
Large range of size options
Rubber outsole for a nice grip and extra durability
Ideal for power lifting, the squat or deadlift
Features advanced technology
Sounds like the right lifting shoe for you? Check them out over on Amazon to find the best deals:

What People are Saying about Reebok Legacy Lifter
"I love that I have the option to fasten the bottom part of my foot to my liking. It's actually the main reason I went with the Legacy Lifter over another brand. It'll help you feet stay grounded during Olympic lifts. It used to feel like my toes were lifting off the ground, which I hated. My personal view: The best in the class and they should work well for most people."
"I used to normally just use cross-trainers for lifting, but I'm never going back! My base is now so much more stable, and I hate doing any sort of lifts without these things. Totally recommend them. But, they're not for casual wear or sports."
"The Reebok Legacy Lifters and solid, and heavy but not clunky and comfortable to wear even for a few hours. One of the top products of the year in my opinion. Be aware: these shoes are only for lifting and not casually walking around in, or running a few minutes on the treadmill."
Reebok Legacy Lifters Cons
The strap on the top is a little bit flimsy
Some reports that the velcro straps didn't hold that well after a few months of hard use
Expensive compared to a basic pair of cross-trainers, or even Cross-Fit shoes
Compare Oly Weightlifting Shoes
For our top picks in the category for weightlifting shoes, you'll want to check out this chart below, or the Best PowerLifting Shoes.
Reebok Legacy vs Nike Romaleos
These two weightlifting shoes are some of the most popular ones on the market today. But, how do they stack up against each other? Check out this short video for all the details about the Nike Romaleos vs Legacy Lifter:
Reebok Legacy vs Adidas Adipower
Another popular option for Oly powerlifting shoes are Adidas Adipower. You can learn more about the differences between them in this short video:
Can I Use these Shoes for CrossFit?
If you take a look around your CrossFit gym, you'll notice that there are a million and one kinds of shoes on people's feet. You can find everything from minimal, barefoot shoes to powerlifting shoes likes these ones.
Most people stick with cross trainers, or specialized CrossFit sneakers for their WOD. You might experience box jumps, wall handstands, sprints, rope climbs and weights. You'll certainly want a shoe that can stand up to the test and handle all of these things with ease.
So, can these Reebok Weightlifting Shoes handle all that? Not really!
While they're ideal for lifting, they aren't great at all that other stuff, particularly the running and jumping. The heel toe differential is too low to run effectively, and there isn't enough cushioning to handle the impact on jumps.
If you're looking for an all-round CrossFit shoe, you'll want to check out some of our top picks here: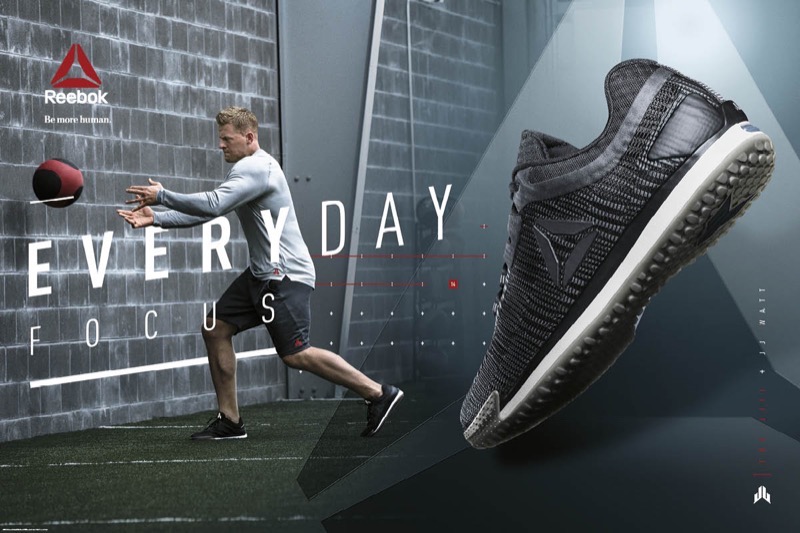 The Takeaway on theLegacy Lifters
If you're looking for a solid pair of lifting shoes, then the Reebok Legacy Lifters should be at the top of your list. This is particularly true if you have wide feet, or feel like your toes are always lifting on the ground during your workouts.
Reebok: A Trusted Name in Athletics
Reebok is one of the most trusted names in athletic shoes for good reason. They make some solid, durable shoes that will help you to achieve your maximum athletic performance.
Top-Quality Powerlifting Shoes
Although not cheap, you certainly get what you pay for. If you've been using regular cross-trainers for lifting, you'll notice a huge difference when it comes to lifting. Our guess is that your performance will improve because you're not worried about what's on your feet, and whether your shoes can handle the weight.
Olympic weightlifting? Check. Weekend warrior at the gym? No problem.
Low Heel Height is Ideal for Squatting
Perhaps the best feature of these shoes is the low heel height. There is only a lift of 2mm, making them a nice choice for squats, deadlifts, or other exercises where you want to lock your heel in place on the ground.
If you've tried lifting weights in running shoes before, you'll notice a huge difference when you make the switch to these shoes.
Oh yeah, the rubber on the sole helps your feet stick to the floor. Seriously, no more sliding around, even in dusty gyms or at your local box.
Buy Reebok Legacy Lifter Weightlifting Shoe 
You can find these Oly lifting shoes over on Amazon. Shop now for the best prices on workout shoes:

Reebok Legacy Lifters: Have your Say!
What are your thoughts about these top-quality weightlifting shoes from Reebok? Leave a comment below and let us know what you think about one of the best tools of the trade.
Also be sure to give this article a share on Facebook, Twitter, or Pinterest.
Anne is a blog writer from New York, who realized that all of the time she spent sitting in front of her computer was not good for her health. As a blogger for a fitness site she was already familiar with some of the CrossFit exercises. After noticing a difference in her level of energy, and toning some muscles that had become flabby, Anne's decided to use her love of writing to tell her readers about the benefits of CrossFit.
Latest posts by Anne Calderson (see all)
Last update on 2019-11-12 / Affiliate links / Images from Amazon Product Advertising API