Life has a lot of ups and downs and everybody goes through it. How you deal with it tells a lot about you. Despite some setbacks in her CrossFit journey, Rachel Campbell is moving forward and keeping herself busy.
Do you want to know her story? Then, continue reading and find out who Rachel Campbell is.
Rachel Campbell: Life Before CrossFit
While Rachel Campbell has been quite private with her life before CrossFit, she is known to push her limits as an athlete. With this, it's safe to say that she was quite athletic before she joined CrossFit in 2014.
She did reveal that she has a passion for the outdoors. She loves absorbing God's creation and explores nature by hiking and mountain biking.
Rachel Campbell and CrossFit
Rachel Campbell started with CrossFit in 2014 when she joined the Open competitions. She initially joined the competition just for fun. While she finished 4,311th overall, she developed a passion for the sport.
This passion led her to join the CrossFit Open the following year where she finished 181st overall. In the same year, she joined the South Regional competition as part of CrossFit PRx. The team finished 25th overall in the region.
In 2016 and 2017, Rachel competed as an individual in the South Regionals. She finished 33rd in 2016 despite competing with an injury. But her performance in the events didn't show her true potential due to her injury.
Injury
In the 2017 Regionals, Rachel suffered another heart-wrenching injury. The elite athlete tore her right bicep and it effectively ended her season. She wasn't able to continue in the competition and finished 44th overall.
At this point, she went to see a physical therapist based in Texas. While the physical therapist helped her make small gains in treating her injury, she wasn't able to fully use her right arm for around six months due to nerve damage.
When she moved to Arizona, she wanted to start training full time. To fully rehabilitate her arm, she sought help from an Arizona-based physical therapist.
She went through different types of therapies to work on her arm, including cupping, scrapping, and acupuncture, among others. But the treatments did not remove the pain that she felt coming and going over a period of several months.
An ultrasound scan showed that she was suffering from a bicep strain. The injury prevented her from performing pulling exercises. So, she looked to reduce her pain by seeing a doctor.
Her doctor initially recommended using growth hormones, but the cost was too high. Due to this, she took oxandrolone upon the recommendation of the doctor. She placed her faith in the recommendation of her doctor to use the drug.
It was effective and her arm gradually healed. Rachel took the drug since it was recommended by her doctor and it was the only option for her. She was also aware that it can be easily abused, but she wasn't trying to get ahead of her competition using it.
Sanction
Even as the drug her doctor recommended allowed her to gradually heal her arm, it was also the same drug that resulted in her being banned from CrossFit competitions for four years. In May 2018, she was disqualified from joining CrossFit-sanctioned competitions after she tested positive for a metabolite of oxandrolone.
Even though Rachel submitted a Therapeutic Use Exemption together with her full diagnosis and treatment record, it was denied. She was one of several athletes who were meted a two or four-year ban by CrossFit HQ.
Even though the situation may have disappointed and upset some people, Rachel does not think it defines who she is. She is moving forward and continues to train and provide coaching services to anyone aiming to achieve what she achieved as a CrossFit athlete.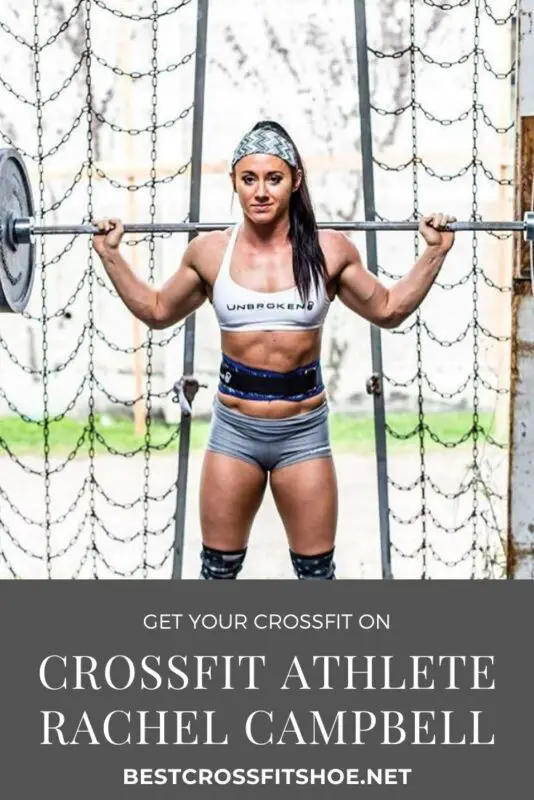 Rachel Campbell's Stats
Height: 5' 3"
Weight: 142 pounds
Country: United States
Born: 1981
CrossFit Games Results
While Rachel Campbell wasn't able to participate in the CrossFit Games, she was a CrossFit Open participant from 2014 to 2018. Her best finish was in 2017 when she finished 75th overall in the Women's division.
Rachel also participated in the Regionals as part of CrossFit PRx in 2015 and as an individual in 2016 and 2017. In both instances, Rachel competed even though she was nursing an injury. Her best regional finish was 33rd in the South Regionals in 2016.
CrossFit Tips from Rachel Campbell
The positive attitude of Rachel Campbell towards competition makes her a good person to give advice and tips about how you can improve as a CrossFit athlete.
#1: Your desire for success should be greater than your fear of failure.
For Rachel Campbell, it is necessary for your desire for success to be bigger than your fear of failure in order to succeed. For her, it's always good to put in the work first and reap the rewards later.
This has been one of her guiding principles during her CrossFit journey. It allowed her to achieve what many can only dream of.
#2: Self-discipline
Rachel Campbell also believes in self-discipline. For her, you cannot get any reward without self-discipline and sacrifice. The best tool you can use to become successful is learning how to discipline yourself.
The most important thing about self-discipline is learning when to say yes and when to say no. She believes that discipline can also be trained like a muscle. If you use self-discipline more, you become stronger in disciplining yourself over time.
Similarly, how bad you want to achieve or obtain something determines the work you need to put in. If your desire for something is similar to your need to breathe, the work to achieve it becomes irrelevant.
#3: Find a Professional Coach
Rachel Campbell suffered several injuries throughout her CrossFit career. Even as these injuries frustrate her, she doesn't allow these setbacks from clouding her approach to training. She also found clarity following these injuries.
And one of the things that she discovered was that you need to have a professional coach to help you and reduce the damage caused by these injuries. Competing at the highest level of sports means injuries are inevitable.
Getting a professional coach gives you someone to ask for advice from in case you feel a nagging injury is preventing you from performing to your true potential. When you experience these instances, you should speak to your coach about it and find out what you can do to alleviate the situation.
Rachel Campbell's Diet
Rachel Campbell competes at a high level in the CrossFit world. Due to this, her diet takes into account food that enhances performance and provides her fuel.
So, her diet is mainly paleo or 90 percent of it is paleo. With this in mind, she doesn't really eat grains. She has a high-protein, high-carbohydrate, moderate-fat diet.
But she also says that the diet of athletes should be something that works for them and they should stick with it.
Training Day of Rachel Campbell
Rachel Campbell trains five times a week in the gym. She also has one day set aside for active recovery. If you're interested in what her training looks like, check out the video below:
Rachel Campbell's Instagram
Despite the setback following her injury and disqualification from CrossFit-sanctioned events, Rachel Campbell still continues to train and offers coaching services to anyone looking to have a head-start in the sport.
She also has a strong presence on social media, particularly Instagram where she has more than 118,000 followers under her handle, brunettestrong. Check out her Instagram account below:
Rachel Campbell Instagram – https://www.instagram.com/brunettestrong/?hl=en
Have your Say about Rachel Campbell, CrossFit Athlete
Do you have any questions or comments about Rachel Campbell? Let us know what's on your mind in the comment box below. We'd love to hear from you.
Also, be sure to give this article a share on Facebook, Pinterest, or Twitter. It'll help other CrossFit enthusiasts, like yourself find this useful resource.