Long gone are the days when you could casually turn up at the gym in basketball shorts. As our exercise regimes advance, our style and attire have to as well. Some might wonder how this can even be an issue, as your clothes will get dirty as soon as you hit the gym. This of course includes CrossFit shorts.
We'll get into all the nitty-gritty details you need to know to make the right decision but before that, here's a sneak peek at our top three options for mens WOD shorts:
If you're looking for some CrossFit gym shorts, then keep on reading. Our buying guide packed with information will help you choose the right pair for you. We've done the hard work for you by trying them out. And then we've reviewed them so you can get the information you need to make the best choice.
Let's get into the mens WOD shorts that you might want to consider.
Best Shorts for CrossFit for Men
Here are some of our top picks for men's CrossFit shorts that will be essential for your next workout:
Best CrossFit Shorts for Men: Top 15 Options to Choose From
This is true, but your being there doesn't require you to look shabby and miserable all the time. Moreover, some shorts turn out to be more purposeful than others. This is especially true for those doing CrossFit because they require flexibility when doing the moves and you certainly don't want your clothes to be a hindrance to your best performance.
Here's a consumer's guide for most of the top brands you may choose from for your WOD shorts, including some of the customized fight shorts that you could be interested in. We've included ones from Reebok, Amazon Basics, 5.11 Recon, Under Armour, Anthem Athletic and more. Keep on reading for all the details that you need to know.
#1: Reebok Speedwick Shorts for Men
If you're looking for some solid gear that'll get you through a tough WOD in style, then these ones from Reebok should be at the top of your list. They will wick the moisture and sweat away from your body quickly, leaving you dry and cool.
Reebok is one of the most trusted names in CrossFit and for good reason. We LOVE their shoes, as well as clothing.
Pros:
High level of moisture-wicking technology (86% polyester, 14% spandex)
Sleek design and cut is perfect for box jumps or rope climbs
No mesh lining (many people prefer this)
Can hand wash in the sink and they dry very quickly
Stain resistant
Antimicrobial material
Comes in a wide variety of sizes
Won't ride up
Feel great next to the skin
Cons:
Some people may not like the slim fit
No zippers on the pockets
A bit too short for some
What are People Saying About These Best Shorts for Men?
—>Read More User Responses on Amazon<—
"Extremely comfortable and they look nice too—I get a ton of compliments on them whenever I wear them. Light in weight, and quick-drying, but aren't see through at all. I have a few pairs of the Speedwick shorts in various colours."
"Nice pair of shorts for men that are light and comfortable. They do run a little bit higher on the leg, which is perfect for weightlifters or people who do CrossFit. However, for workouts heavy on the squats, be sure to pick up a pair of men's squat shorts at the same time which are even shorter. I'm you're on the fence, just get them."
Where to Get Them?
You can easily get these CrossFit shorts for men online. They're the choice of many pro trainers and athletes because of their high quality and attention to detail:

Reebok CrossFit Speedwick Review
Do you want to know more about our top-rated pair of Cross Fit shorts? Then check out this short video below for all the details you need to know about whether or not you should get them:
---
Compare Mens Wod Shorts
For some of the top options, have a look at this handy comparison chart we put together for you:
#2: Anthem Athletic Hyperflex Athletics Shorts
If you're looking for one of the best pairs of men's shorts, then these ones from Anthem Athletic should be at the top of your list. They're ideal for CrossFit, gym workouts, yoga, travelling, hiking, or running. Keep on reading for more information about the features of them.
Pros:
New style for 2019
Zippered pockets for keys or a card
Above the knee cut, but with maximum mobility
Stretchy waistband with a drawstring
Stretch fabric
30 day money-back guarantee
Quick dry fabric allows for superior comfort and airflow
Ideal for tough gym sessions
Allows your body to move freely
Ideal for men
Cons:
Some wish that they were slightly more fitted instead of looking like basketball shorts
Fit it a bit shorter than some people expected
What do People Think about Them?
—>Read More Customer Reviews on Amazon<—
"I love this type of workout shorts so much that I bought them in every single color that they make! I pretty much wear them every single day. They don't bunch up on the waist, or constrict movement like other pairs that I've tried."
"Not too long, and have a moderately snug fit. Compared to the basketball style ones I was using before, these are just so much better for lifting weights, or cardio type workouts. They're nice enough to wear outside of the gym too."
Where to Get These Mens WOD shorts?
You can check out these CrossFit shorts on Amazon, and you'll often get free shipping with Amazon Prime. Click the button below to learn more about them here:

---
 #3: Under Armour Men's Raid Shorts
Some of the top shorts for CrossFit are these ones from Under Armour. They're very reasonably priced, have a ton of great ratings and are ideal for just about any workout.
These shorts feature sun protection if you plan to use them outside, along with 4-way stretch fabric then helps to ensure full movement.
Key Features:
There are a ton of things you're going to love about these ones:
100% polyester will help you stay cool and comfortable
HeatGear fabric is soft and smooth, as well as lightweight
UPF 30+ for sun protection
4-way stretch fabric moves in every direction
Quick drying and wicks sweat away from the skin
Feature anti-odour properties
Stylish logo just above the knee
Non irritating seam
Under Armour Raid Shorts for Men Review
Are you a bit unsure about whether or not to get them? Then you'll want to check out this video:
Pros:
Comfortable elastic waistband with internal drawcord
Available in a variety of inseam lengths
Very quick-drying, making them ideal for travel
Moisture-wicking material that's important for helping you stay cool
Side pockets that are big enough for a phone
4-way stretch
Cons:
No vented sides
Pockets are too deep. For example, when hiking in them, keys will hit the crotch area
What do People Think About Them?
—>Read More Customer Thoughts Here<—
"Very plain pair of workouts shorts with pockets, nothing fancy but it's exactly what I needed. They are far cooler than many of the other options and are ideal if you live in a hot climate. A nice length that's not too short to be strange looking but not so long that they look like basketball ones."
"Lightweight and comfortable to wear CrossFit shorts. I actually like the big pockets because I prefer a big cellphone which doesn't fit into many other men's shorts. These items are built tough too and once you check them out, you probably won't go back to your old ones."
"Strong and fit well. I've washed both pairs of mine probably 100x now and no signs of wear and tear. Quite impressive actually! They're optimal for work when I have to be outside for hours in the hot sun! I originally got this brand of gym bag, and liked it so much that I tried out their shorts too."
Shop Now:
You can easily get these top-quality shorts for men from Under Armour online. They're one of the must have items for sporty people. Show now to get the best prices on this complete sportswear item:

---
 #4: Amazon Essentials Workout Shorts
Another top pick for the best men's CrossFit shorts are these ones from Amazon Essentials. What we love most about them is the price! But, apart from that they're a top-quality pair of shorts, but they just don't have all the branding which makes them quite a bit cheaper than the competition. What they don't suffer in is quality however.
Key Features
100% polyester
Machine washable
Two pack
Light in weight and quick drying (ideal for traveling)
Moisture wicking material
Loose fit
Drawcord
Reflective logo means you can run in them at night
8″ inseam
What are People Saying about Them?
"Was pretty surprised by how much I liked them! I just wanted some cheaper shorts to use for basketball and jogging, but these are some of the best ones I've ever used. I actually liked them so much that I bought another 2-pack after a couple of months and I put them on as soon as I get home from work!"
"They look great and do very well for a few months. But, you can tell that they're kind of cheaply made as the stitching is staring to come apart on mine. However, for the price, these Amazon Essentials shorts aren't really a bad deal at all."
"Once you try them, you won't go back! They really are awesome."
Shop Now
Do these sound like the right pair of Cross Fit shorts for you? You can learn more about them on Amazon.com. Check now for the best prices and to get them today:

---
 #5: MC11 Men's CrossFit Shorts
The MC11 Men's athletic shorts are an excellent choice for doing your WODs. These are made from a long-lasting and rapid sweat-soaking polyester with two slits on the sides, which permit flexible movement.
A Ton of Features You'll Love
The waist consists of a closure with a drawstring for flexible sizing. They also come with a small front pocket. They're a little smaller in the leg than a lot of other options out there, so take a close look at the sizing, especially if you're tall. They come in a great range of design.
Pros:
Multipurpose pair that are useful for all activities
Great range of designs
Durable and will last you for years
Will keep you comfortable when you're working hard
Low profile
Stretch fabric
Cons:
Some customers complain that they are shorter at the legs than other brands
What do People Think About Them Online?
—>Check Out More Reviews on Amazon<—
"These things are awesome…so light in weight, but allow a full range of movement. They're ideal for high intensity workouts like CrossFit or MMA. I love the velcro closure at the waist, with the added drawstring for a bit of extra support. Really nice design and I've bought a few pairs of these things now."
"Nice pair of board shorts that are perfect for all kinds of workouts. They're soft, comfortable and the right length and snugness. I get super sweaty, especially on my back but these ones stay in place."
Where Can I Buy Them?
Do they sound like the right WOD shorts for you? You can check out this option online, and you'll often get free shipping with Amazon Prime. Get your pair today:

---
#6: Virus AirFlex Training Shorts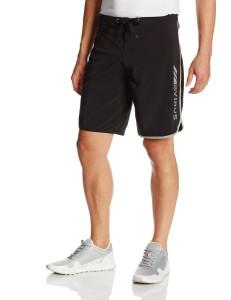 These Virus AirFlex Training Shorts deliver high-quality materials and fitting. The waistband utilizes flexibility, a drawstring, and Velcro for a super easy and extremely comfortable fit.
Comfortable Material
They are light, flexible, and very comfy. Styling is attractive too and not overdone; the piping enhances contrast and provides a sophisticated look to the shorts. They come with only a single pocket that is zippered, making them not only the best choice for daily wear, but impeccable for the gym or for a light traveler to hot climates such as South-East Asia.
Pros:
Super easy fit and are very flexible
The material is light and comfortable
Stylish for drinks or coffee post-workout
Nice feel to them
Designed to sit low on the hips
Cons:
Not good for daily wear, as viewed by some customers
They have got only a single zippered pocket, which might be an issue for some users as it doesn't hold very much
Shop Now
To see the lowest prices, you can check them out on Amazon. Get them right here:

---
#7: Reebok CrossFit Epic Base Shorts
Of course, Reebok has a few different pairs of WOD shorts on this list. They are synonymous with CrossFit apparel and make a ton of great products that many of the top athletes swear by. These epic base shorts can be found on the bodies of many of your favourite CrossFit athletes because they're so comfortable and just fit well.
They are designed to help you beat your best times in that next WOD. They won't get in the way during a tough workout and they'll also keep your legs cool. You couldn't ask for much more than that in a pair of shorts, right?
Key Features of these Reebok Shorts for Men
87% polyester, 13% elastane
Speedwick fabric
Front pockets
Various color options
Cordlock closure
10″ inseam and slightly higher on the back
Water repellant finish makes them also ideal for running or hiking
What are People Saying About Them?
—>Read More User Thoughts on these Reebok Shorts on Amazon.com<—
"Really great pair of workout shorts that are ideal for any WOD you can throw at them! They're not cheap, but you get what you pay for and they're my go-to option for just about anything, including hanging around the house. Love Reebok!"
"Top quality shorts that fit me really well. I love the waistband closure that's not too bulky or uncomfortable. It just gives a really secure fit and I'm never scared they're going to fall off like some of the other ones I've tried! They stay in place on my back."
Shop Now
To learn more about the Reebok Epic Base shorts, then keep reading. They made the list because of how comfortable they are. Click the button below to learn more about them on Amazon and also to check for the lowest prices:

---
#8: Rogue Fight Shorts
These Rogue Cross-Fit shorts are made of a dense, superior two-way elastic sweat-soaking polyester texture, with 6 inch side slits that permit full-body maneuverability. Whether you are doing squats, deadlifts or kettlebells swings, you can be assured that these top-quality performance shorts will facilitate full movement.
Excellent Fit
These WOD shorts come with a drawstring waist and a Velcro closure. They also give a superb fit but they don't have any pockets which can be a huge negative for some. The Rogue CrossFit shorts also have well stitched seams, made to endure wear and tear. Overall, these Rogue shorts offer some serious performance as a very reasonable price.
Pros:
Heavy duty seams as well as fabric
Good maneuverability
Long lasting and durable
No chafing
Sits low on the hips
Stay in place on the back, even when sweaty
Cons:
Don't have any pockets
Not much stretch to them
Where Can I Get Them?
You can compare prices for the Best Cross Fit shorts for men on Amazon. They are one of our top brands of gear for men:

---
 #9: Jaco Hybrid Training Shorts
The Jaco Hybrid Training Shorts are super-solid for CrossFit training, as well as other sports that call for a full range of flexibility and movement. They are made of a four-way elastic, sweat soaking fabric so you get both all-around comfort and ultimate motion.
These Cross Fit shorts come with an exclusive compression waist constriction system utilizing a rear compression panel with a drawstring to retain your shorts firmly in place but still portray a relaxed look.
Secure Pockets
The double outer pockets are protected with hook-loop closures and offer enough room for your phone as well as for your wireless headphones. The pockets also sit flat uninterruptedly. They also offer compression shorts and capris (Go to Jaco Shorts on Amazon).
Pros:
Perfect for a vast range of sports including CrossFit training
Great waist fit
Comfortable
Double external
Cons:
Made of a heavy-weight fabric according to some customers
Pockets are on the large side
Where to Get Them
Do these sound like exactly the piece of workout apparel that you need? Intense workouts are certainly no problem with this top-quality option.
You can see them out on Amazon to find the lowest available price:

---
#10: Anthem Athletic Resilience MMA Fights Shorts
Another pick for the best CrossFit shorts are these fight shorts from Anthem Athletic. Although designed and intended for use by MMA fighters, many people find this kind of style perfect for a workout.
The company mentions that they may fit a bit different than your true pant size so pay careful attention when ordering them. Use a tape measure around your waist and measure it in inches. If in the middle (37 inches for example), order the next size up (38).
Pros:
Tear-resistant, quick-drying fabric
Velcro waistband with interior drawstring
Side slits
4 way stretch in the crotch for freedom of movement
30 day money-back guarantee
Breathable fabric
Variety of unique styles and colors
Won't ride up
Stylish enough to wear from home to the gym and back again
Cons:
Some people had issues with finding the size that worked for them (although return policy is simple and easy)
Ride too high on the waist for some people
What do People Think About Them?
—>Read About More User Experiences Here<—
"Style and construction are great and these are one of the best pairs of gym shorts that I've found. I use them for CrossFit and have a large enough range in these things. The velcro closure works and doesn't rub or scrape against my stomach like some of the cheaper ones I've tried."
"They have kind of a stretch fabric to them which is ideal for me. They're quite roomy and cool. Also very comfortable for just about any kind of workout. I actually like them so much that I end up using them almost every day, even just around the house!"
"Ideal for a range of movements. I ended up buying a few pairs of these things. Certainly, a pro choice that you won't regret. Don't be content with anything less!"
Where to Get Them?
It's easy to get these shorts online, and you'll often get free shipping with Amazon Prime. Shop now to find the lowest prices:

---
#11: Elite Sports Shorts
Another top pick for workout shorts are these top-quality ones from Elite Sports USA. They make a wide range of apparel for CrossFit, MMA, boxing, wrestling, judo, etc. As far as their shorts go, they make some top-quality gear that are some of the most comfortable ones we've ever worn.
Keep on reading to learn more about why we like these shorts from Elite so much.
Key Features of this WOD Gear
50% cotton, 25% Polyester, 25% Rayon

Drawstring closure ensures a great fit
Cool and comfortable to work out in
4-way stretch allows for a full range of motion (ideal for CrossFit, squats, boxing, etc.)
Easy access, zipper pocket that's perfect for credit card, keys, etc.
Non-chaffing waistband that doesn't ride up
Top-quality customer service
Find out What People Think About Them
So awesome for training and all kinds of workouts. I got my first pair and now all my CrossFit buddies have gotten some. Love how reasonably priced they are too."
"These are seriously the only pair of CrossFit or lifting shorts you'll ever need. They're loose, but not too loose and it's easy to have a full range of motion during box jumps, squats, etc. without them getting in the way."
"Super soft material that feels comfortable even when you get kind of sweaty. They do contain some cotton, but I find that they wick the sweat away well. However, they may not be ideal for backpacking or travel, etc. because they don't dry quite as quickly as the ones without cotton."
Shop Now
Do they sound like the right pair of shorts for you? Check them out online to learn more about them:

---
#12: Reebok CrossFit Games Austin 2
Another top pick for the best CrossFit shorts is another one from Reebok, the CrossFit Austin 2. They are cool, comfortable and can be seen on the bodies of many of your favourite CrossFit athletes. Here are just a few of the things that we like about them.
Key Features
88% polyester, 12% elastane
Speedwick fabric that keeps you cool, dry and comfortable
Front pockets
9″ inseam
Drawcord at the waist for a custom fit
Side slits at the hem
Top brand of athletic gear
Black
Customer Reviews for Reebok Shorts
—>Check out More Reviews on Amazon<—
"Awesome pair of shorts that are perfect for just about anything, including CrossFit. They fit really nicely and also have a soft feel to them as well and sit low."
"These Reebok shorts for men are worth the price! They are super durable and are hands down, the best pair of athletic gear that I've ever owned. I've bought a few pairs now and hope they never go out of production!"
Where Can I Get These Reebok Shorts for Men?
Are they the right pair of men's shorts for you? Learn more about Reebok shorts on Amazon:

---
#13: 5.11 Men's Tactical Recon Vandal Shorts
Besides shorts, 5.11 makes some serious athletic gear, including bags, footwear, pants, shirts, and professional gear for the military, police officers and other similar professions. They have a reputation for making some really tough equipment, and their recon vandal shorts are certainly no exception.
Oh yeah, and they're also ideal for a tough workout. Keep on reading to find out why we like them so much.
Key Features
100% polyester
Offset zippered pockets
Lightweight material that will keep you cool and dry
4-way stretch fabric
Front-tie closure
Designed for MMA
Quick-dry material
Customer Reviews
—>Check out More User Reviews Here<—
"The fabric is fantastic on these things. Really light in weight but heavy enough that they don't feel like swimming trunks. The zippered pockets are ideal for keys, cards, etc. Just about the only thing I don't like is the inflexible sizing. There isn't really a lot of room for adjustment here."
"Awesome shorts that should be at the top of anyone's list. ! I got my first pair a few years ago and they're still going strong. Since then, I've gotten a few more pairs and wear them basically every single day. They're ideal for WODs, P90X, or just about any gym workout."
Where Can I Get These Top-Rated Shorts?
You can easily find these Cross Fit Shorts on Amazon. Check now for the lowest prices and don't forget to check and see if they're eligible for fast, free shipping with a Prime membership:

---
#14: Tough Mode Lightweight Workout Shorts
If you're looking for a budget option for CrossFit workout shorts, then you'll want to consider these ones from Tough Mode. They have all the features and durability you'd want but because they don't have a big brand name attached to them, they can be found at a very reasonable price. Keep on reading for all the details you need to know to decide if they're the right choice for you.
Important Features of these CrossFit Gym Shorts
Comes in  black, sky blue or army green
100% money-back guarantee
Polyester/spandex blend
Super light in weight
Nice length on the thighs
Side slits allow for total range of motion
Pocket in the side
User Reviews
"Really nice shorts! They are very similar to the Reebok Austin shorts but come in at about half the price. They're so comfortable that I bought a few pairs now and find myself wearing them around the house or out for errands or whatever."
"They do run a little bit large so if in doubt, go one size down. Besides that, they're probably the best pair of CrossFit training shorts I've ever used and I love the super reasonable price too. I'd honestly give these things 10 stars if I could."
Shop Now
If you want to pick up a pair of these Cross Fit Shorts for men, then head on over to Amazon by clicking the button below. And, don't forget to check and see if this product is eligible for fast, free shipping with a Prime membership:

---
#15: Everworth Men's Workout Shorts (Cheap CrossFit Shorts)
If you're looking for a cheap pair of training or workout shorts that are ideal for your next WOD, then you'll want to consider these ones from Everworth. Unlike most of the other options on this list, they are made from 80% cotton which means that they're super comfortable to wear. The downside is that they don't wick away moisture from the skin.
However, if you're all about comfort and don't drip with sweat during a workout, then they may be a good option to consider. Apart from that, they are some of the cheapest training shorts so consider picking up a few pairs of them!
Key Features
Comes in a variety of colors
Zipper pocket
20% polyester, 80% cotton
Super soft
Lightweight
Easy to clean
Very durable
Adjustable waistband with drawcord
Full range of motion in the leg
Machine washable
What do People Think About Them?
"Quality of the fabric is great and I have a feeling these will last me for years. I like the fact that they're a bit shorter than normal and sit well above my knee. I hate being restricted during squats for example."
"Super comfortable and I love the zippered pocket that I can throw my locker key or a card into. I bought a few pairs because they're so cheap and wear them all the time!"
Buy Them Today
Do you want to pick up these cheap CrossFit shorts from Everworth? The best place to find them is Amazon by clicking below:

---
What's your Top Pick for Women's Shorts
Here are some of our top choices for women's CrossFit shorts.
These top-picks are some of the best shorts you can choose from that will get you the perfect shorts for your workout session. They will enhance your workout training and achieve your targets with comfort. After all, you don't want what you're wearing to get in the way of your maximum athletic performance.
Factors to Consider When Buying Shorts for CrossFit
If you take a look at the store, or on Amazon, you'll see that there are a ton of choices for CrossFit shorts. It can be a bit overwhelming, right? That's why we're here. These are the most important factors you can consider when picking the right pairs of shorts for your next WOD.
#1: Style and Design
Just because you're wearing these shorts for a workout doesn't mean that they shouldn't look good, right? Of course! The best ones not only feel good, but they look good too.
Ideally, your CrossFit WOD shorts would look sharp enough to wear around town for errands, or to a family summer BBQ or something similar.
#2: Materials for CrossFit Gym Shorts
The last thing you want during a tough workout are training shorts that will leave you feeling all hot and sweaty. In general, we recommend quick-dry fabric (not cotton) that wick away sweat and moisture from the body easily. Synthetic materials like spandex or polyester are ideal.
This makes this kind of shorts ideal for travel in hot climates.
Oh yeah, and take a look at the special features. If you run at night for example, consider getting a pair of shorts that has a reflective stripe. Or, if you plan on using the shorts when surfing or paddling, consider some that have a mesh inside pocket that drains easily.
#3: Movement and Flexibility
During a typical WOD, you'll encounter a ton of different exercises. You might have everything from running to weights, to biking or rope climbing. You most certainly should consider a pair of training shorts that can handle all of these things in style.
That's why we prefer fabric with 4-way stretch. It can accommodate all kinds of movements without ripping or tearing and they won't be too restrictive. The best CrossFit gym shorts are loose, but not too loose. The second you find the right pair, you'll know exactly what we mean by that.
#4: Durability
During high-intensity workouts, the clothes you're wearing take a beating. That's why you'll need some apparel that's strong and durable so that it'll still be going strong years later. After all, it's a big waste of money to have to keep buying new shorts, right?
#5: Pockets
The big debate! Do you need pockets or no pockets? It really is a matter of personal preference in this regard.
However, we generally love a small zippered pocket. This way, you can put a piece of ID or a locker key in there and know that it's safe and secure. The big open pockets may seem ideal to put your phone in there, but trust us, this is kind of the last thing you want during a tough workout like this!
#6: Price
Price is of course a consideration with anything you buy. CrossFit athletic shorts are no exception. You can spend as little as $10, or upwards of $50, but we find that the ones in the $30-40 price point work well. They're usually durable and have some care and attention paid to fit.
#7: Online Reviews
Before buying anything, we recommend heading over to Amazon to check customer reviews. This is usually the best source of information about how the product performs in the "wild."
We prefer products that have a rating higher than 4.5/5 star, with at least a hundred reviews. This will ensure that you're getting a quality product you'll be happy with.
#8: Return and Exchange Policy
Most companies offer some sort of exchange policy in case you get the wrong fit. Where they differ is in the costs associated with this. Some offer this free of charge, where some hit with you something like a "restocking" fee. If you're going to buy shorts online, then read the fine print carefully regarding this.
CrossFit Shorts FAQ's
Here are some of the most frequently asked questions about CrossFit shorts that you might need to know.
Where to Buy CrossFit Shorts?
It can be difficult to buy CrossFit shorts at your local sporting goods store. You could try MMA or boxing stores, but we recommend shopping online on a site like Amazon. You'll have access to all the colours, styles, options and brands. If they don't fit, you can often return them for free so check the policy before buying.
Why Board Shorts for CrossFit?
Many people opt for board shorts for intense workouts. They work because they're loose, but not too loose, a nice length and are also made from breathable material. Plus, they usually have a drawstring enclosure with velcro so you'll have no worries about them falling off when you're going for a personal best.
What are the Best WOD Shorts?
Have a look at some of our favourite options right here:
Why Get CrossFit Shorts?
You may want to use your old pair of gym shorts for CrossFit. In reality, they'll probably work. However, consider upgrading to CrossFit shorts because they're the right length to not get in the way, plus they're a little big tighter than normal gym shorts for guys which are ideal for things like box jumps or Olympic lifts.
Why are CrossFit Shorts Short?
Too long of training shorts are not ideal for CrossFit and you'll want to opt for a relatively short pair. This is because CrossFit has so many dynamic movements and you don't want your shorts getting in the way. Think about doing a box jump. The last thing you want is your shorts interfering with natural movements, right?
Do you Wear Underwear Under CrossFit Shorts?
Whether or not you wear underwear under your CrossFit shorts is purely a matter of personal preference. Keep in mind though that this activity features a ton of jumping and running and you may not want everything floating freely down there. In this case, underwear could be a good option for you.
Which Men's WOD Shorts Should I Get?
Still not sure which ones are right for you? Not to worry. We've got your back. In reality, you can't go wrong with this top option:
Have your say about the Best CrossFit Shorts!
What do you think about these training shorts for your next workout? Leave a comment below and let us know. Or, if pants are more your thing, then check this out: The Best Baggy Workout Pants.
Also be sure to give this article a share on Facebook, Pinterest, or Twitter. It'll help other fitness buffs, like yourself find this useful resource guide.
Last update on 2022-10-04 / Affiliate links / Images from Amazon Product Advertising API