Are you looking for a top-quality, but affordable pair of workout shoes? Then the New Balance 20v7 should be at the top of your list. Read our buying guide packed with information to help you decide if the New Balance Minimus 20V7 is the right shoe for you, and your next CrossFit workout.
Let's get into all the details you'll want to know in this Minimum 20V7 review.
New Balance 20v7 Minimus Cross-Training Shoes for Men Review
CrossFit allows the major muscle groups of the body to act together in a dynamic motion. This makes it a great workout and conditioning program. It provides stress on the legs, back, and other major muscles of the body. Given the stress of the workouts, it is imperative to have the perfect footwear to eliminate the tendency of injuries and other unfortunate occurrences.
New Balance Minimus 20v7: Very Light in Weight
New Balance MX20v7 Minimus Cross-Training Shoe is part of the latest line of CrossFit shoes in the market. Unlike the bulky and heavy shoes, the MX20v7 Minimus Cross-Training Shoe by New Balance is strikingly lightweight, weighing only 188 grams, or approximately 6.5 oz.
Key Features of the Minimus 20V7 Trainer
REVlite midsole foam
Vibram outsole
Minimal training shoe
4 mm heel toe drop
Meta support
Asym collar
Lateral support
Breathable upper
Variety of color and style options
Made to Eliminate Heel Strike
Heel strike is one of the worst practices that people developed over the years because of poorly designed shoes. New Balance made it possible to allow users to eliminate heel strikes by tweaking the heel-to-toe drop. Heel-to-toe drop standards in the shoe manufacturing industry range from 8-12 mm. This standard, however, may not be suitable for those who really want to correct their running gait.
4mm Heel Toe Differential
The lower the heel-to-toe drop value is, the more you are not going to be a heel striker for your runs. The MX20v7 Minimus Cross-Training Shoe has a 4 mm heel-to-toe drop guaranteed to promote a proper walking and running gait.
Back to the Basics with this Minimal Trainer
If you are looking for a CrossFit shoe that has been valued under $100, this is the product you want to look into. New Balance has been considered by many serious runners as a great brand, along with Saucony, Brooks, and Mizuno. The difference with the new MX20v7 by New Balance, however, is that it has stripped down its design to the basics.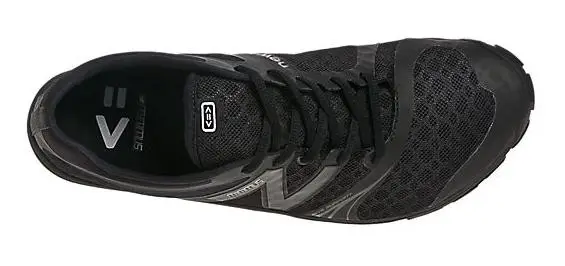 Top-Quality Construction
Using a synthetic material, it has been tested to withstand long and arduous CrossFit sessions. In terms of the construction of the footwear, New Balance implemented a similar no-sew application used by other companies producing minimalist shoes. On the part of the MX20v7 Minimus, it utilizes welded seams that prevent chafing, not to mention that contribute to the lightweight design of the footwear.
Padded Tongue and Collar
As for the fit of the product, it has a lightly padded collar that comes with a tongue. This provides a snug fit to prevent injuries to the end user of the shoe. As for the sole, New Balance utilized the REVlite technology to contribute to the overall stability of the shoe. For the outsole, Vibram was used by New Balance in order to provide the best traction possible to their product.
New Balance Minimus Review
Do you want to find out more? Then you'll want to watch this short review video of the New Balance Minimus Cross Trainer:
Antimicrobial Properties
One of the issues that shoe manufacturing companies have to deal with is hygiene. Since a CrossFit shoe is exposed to a lot of sweat, especially during intense sessions, antimicrobial treatment becomes important for the MX20v7 design.
Lightweight Design
With a breathable and lightweight design, the New Balance MX20v7 Minimus is a product comparable to the Inov-8 F-Lite 240, one of the top CrossFit shoes in the market.
Where can I get these New Balance Men's Cross Training Shoes?
The best place to find these top-quality minimal workout shoes is on Amazon. Head over there and you'll often get free shipping with a Prime membership:

Pros:
Sleek design and style
Very light in weight
Barefoot style shoe that offers a nice degree of foot protection
Comfortable to wear
An ideal width for most people
Durable
Allows for lots of foot flex
Reasonable heel to toe drop of 4 mm, in line with most traditional cross-trainers
Cons: 
Some people found them a little bit narrow
Some found the tongue a bit uncomfortable compared to previous versions of the shoe
Minimal shoes are not for everyone
Learn More about the Minimus 20V7 Shoes
Do you want to find out more about these popular barefoot styles shoes? Then keep on reading for all the details you need to know.
Outsole
The New Balance Minimus MX20 comes with a sticky, vibram outsole. It's durable and provides a ton of traction on both indoor and outdoor surfaces. It also doesn't leave marks, which makes it ideal for use inside gymnasiums.
There are three zones for this shoe. The lifting zone is found at the back, near the heel and is designed to provide a flat, stable base for lifting. At the front are the power and toe-off zones that are packed with small nubs that enhance traction. Plus, you can also find flex grooves that do a nice job at allowing for flexibility in many directions.
Midsole
The REVlite midsole is responsive, and durable but is lighter than other similar foams. Although it does compress a little bit, most people find that these shoes are a decent option for weightlifting, if they prefer a minimal style of shoe for this.
The cushioned insole provides protection and cushioning to the feet. Plus, the surface that's slightly rough will help prevent slipping around inside the shoe.
Upper
Finally, the upper of the MX20 Minimus Training Shoe is made of nylon infused fabric which is both supportive and flexible. Unlike many minimalist shoes, there is some degree of lateral stability for these.
We also love the mesh upper that allows for some excellent breathability. Your feet will stay cool, dry and comfortable when wearing these shoes.
What Do People Think About Them?
—>Read More Customer Reviews and Ratings Here<—
"Very much worth the slightly expensive price. Probably the best designed pair of athletic shoes that I've ever owned. Light, comfortable and a ton of support for all the things a CrossFit workout or gym workout can throw at them."
"Feels like a slice of heaven. I use them for gym workouts, but if you plan on using them for running, then start slowly with them or you can get injured. Wear them around the house too for shorter periods of time before using them all day too."
"Nice workout shoe and I love how they help my body move in a more natural way. Would definitely recommend the New Balance Minimus 20 to anybody looking to transition from regular shoes to minimal ones. It's kind of a nice crossover."
Are these Shoes Ideal for CrossFit?
Have a look around your CrossFit gym during your next workout, or ask your trainer. You'll probably notice that there are a ton of different kinds of shoes that people are wearing, everything from lifting shoes to barefoot ones and everything in between.
Our recommendation is to use neither of these things, but instead stick with a top-quality cross trainer like these ones from New Balance, or a CrossFit specific shoe (Nike Metcons, or Reebok Nanos for example).
During a workout, you'll encounter a variety of activities like box jumps, rope climbs, lifting, and running. You'll need a good all-round shoe that can do a bit of everything.
Can I Run in the New Balance Minimus 20?
If you're looking for a pair of shoes to run your next race in, then you may want to know if these ones from NB are right for you. And, what's the difference between running shoes and cross-trainers anyway?
If you want to do some light running on the treadmill for a warm-up, or some sprints during a CrossFit workout, then the Minimus 20V7 might work well for you. It has some support and cushioning, and a little bit of a heel to toe differential. They are also light in weight and you'll find that your feet won't feel too fatigued.
However, for serious running, you'll want to consider a pair of running shoes. These barefoot style shoes don't have enough cushioning, plus the 4 mm heel drop isn't high enough—you'll want to consider a pair with close to 10 mm. Here are some of our top picks:
Or, you could check out one of our best-selling running shoes right here:
Brooks Mens Ghost 12 Running Shoe - White/Grey/Black - D - 11.5
THIS MEN'S SHOE IS FOR: Neutral runners looking for a lightweight shoe and a smooth ride without...
SUPPORT AND CUSHION: The neutral support type provides high energizing cushioning. Ideal for road...
BALANCED, SOFT CUSHIONING: BioMoGo DNA and DNA LOFT cushioning work together to provide a just-right...
SMOOTH, STABLE RIDE: No matter how your foot lands, our Segmented Crash Pad - an integrated system...
SOFT, SECURE, FIT: The newly engineered mesh and 3D Fit Print practically disappears on your foot...
Weightlifting with the MX 20 from New Balance
Another great question is whether or not you can use these minimus shoes for weightlifting. Many people do, either as a dedicated workout, or during something like CrossFit. But, is it ideal?
In many ways, they are a nice lifting shoe. They have a low heel, excellent grip on the floor and allow for excellent toe splay and feel with the floor.
However, for serious lifting, you'll probably want a beefier shoe. You'll want to look for one with a synthetic upper, strap across the midfoot, and lower heel to toe drop. Here are some of our recommendations:
You could also just check out the very popular Adidas Powerlift on Amazon:
The Takeaway on the Minimus 20V7 Trainer
If you're looking for a top-quality pair of minimal or barefoot shoes, then these ones should certainly be at the top of your list. They've been around for years now and there are a ton of people who swear by them. And, keep coming back for the next version as soon as their previous ones wear out.
Look and Feel of Regular Cross Trainers
Although they're a minimal shoe, they have the look and feel of something a bit more substantial, almost like a normal cross-trainer. They do have a little bit of cushioning, and lateral support and they're quite responsive. In addition, they have a heel height of 4 mm, in line with the cross-training shoes that you might be using right now, or just a wee bit lower.
Very Comfortable to Wear
Finally, they're super comfortable to wear and don't require a break-in period. That said, it can be a transition to go from regular shoes to something like these ones. So, wear them around your house until you get used to them. Then, wear them for walks or light workouts. Do your feet, legs and the rest of your body still feel good? Then, start using them like you would a normal pair of training shoes.
Shop Now
Does the New Balance MX20 sound like the right pair of shoes for your next workout? You can easily find them on Amazon. Click the button below to learn more about them, and also to check for the lowest prices:

FAQs
There are a number of common questions that people have about these shoes. Here are the answers to some of the most popular ones.
What is the main feature of the New Balance Minimus?
The main feature of the New Balance Minimus is its minimalist design, which offers a low-profile, lightweight construction with a minimal heel-to-toe drop.
What is the purpose of minimalist running shoes like the New Balance Minimus?
Minimalist running shoes are intended to promote a more natural running form by encouraging a midfoot or forefoot strike, as opposed to a heel strike. They aim to provide a barefoot-like feel while still offering some protection and support.
Are the New Balance Minimus suitable for all types of running?
The New Balance Minimus is designed primarily for shorter distance running, speed workouts, and those transitioning to a more minimalist running style. They may not be ideal for long-distance running or individuals who require extra cushioning and support.
Do the New Balance Minimus come in different models?
Yes, the New Balance Minimus line offers different models to cater to various running preferences. Some models provide more cushioning, while others prioritize flexibility and a minimalistic design.
Can the New Balance Minimus be used for other activities besides running?
Yes, the New Balance Minimus can be suitable for other activities such as gym workouts, CrossFit, and other fitness activities that involve multidirectional movements. They can provide a lightweight and flexible option for those activities.
Are the New Balance Minimus true to size?
It is recommended to try on the New Balance Minimus or refer to the brand's sizing guidelines, as the fit can vary from person to person. Some individuals may find that they need to size up or down compared to their regular shoe size.
Can the New Balance Minimus be used by beginners transitioning to minimalist shoes?
The New Balance Minimus can be used by beginners who are transitioning to a more minimalist shoe, but it is essential to gradually introduce them into training to allow the body to adapt to the lower level of cushioning and support.
How long do the New Balance Minimus typically last?
The durability of the New Balance Minimus depends on factors such as usage, running technique, and terrain. As minimalist shoes generally have less cushioning, they may wear out faster compared to traditional running shoes. It is recommended to monitor the shoe's condition and replace them when signs of excessive wear or loss of support are noticeable.
Are the New Balance Minimus suitable for individuals with specific foot conditions?
It is advisable for individuals with specific foot conditions, such as high arches or severe pronation, to consult with a healthcare professional or a specialist shoe retailer to determine if the New Balance Minimus is appropriate for their specific needs.
Have your say about the New Balance Men's MX20V7 Cross Training Shoes
What are your thoughts about these workout shoes from New Balance? Leave a comment below and let us know what you think. we'd love to hear from you.
Also be sure to give this article a share on Facebook, Twitter, or Pinterest. It'll help other exercise enthusiasts, like yourself find this useful resource.
Last update on 2023-08-20 / Affiliate links / Images from Amazon Product Advertising API