If you're looking for your next pair of cross-trainers, the Nike Metcon 2 trainers for men should be at the top of your list. Read out buying guide packed with information to help you decide if the Men's Metcon 2 training shoes are the right pair of CrossFit sneakers for you.
An Introduction to the Nike Metcon 2 Cross-Training Shoe
If you're looking for a top-of-the-line cross trainer, then the Nike Metcon 2 should be at the top of your list. There's a huge range of stylish colors to choose from, so not only will your feet feel great, but they'll look good too.
Durable and Supportive
These shoes from Nike are durable and long-lasting. They're firm and supportive, and provide a nice platform for lifting and enough lateral stability for a wide variety of sports.
Flywire Cables
The Flywire cables combine with the laces to lock your feet in place. If you're looking for a shoe that is great for weightlifting, but can also handle a range of activities like you'd experience during a Cross Fit workout, it might be the one for you.
Ideal for CrossFit and Lifting
With a minimal heel-to-toe differential, these shoes are the ultimate lifting shoes, as well as perfect for CrossFit. They offer a very stable base for squats, deadlifts, and other weightlifting activities. However, they're flexible enough to handle cardio, running, or jumping.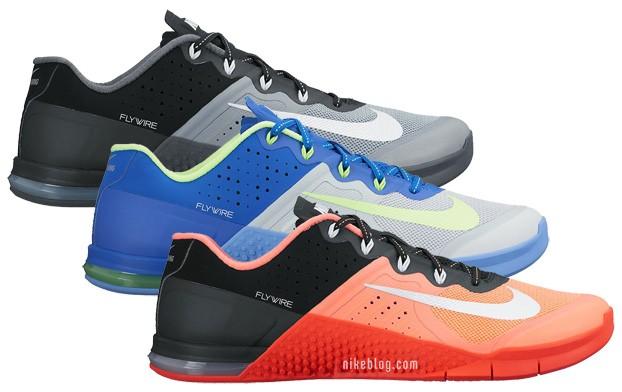 An improvement over the Nike Metcon 1 in a Number of Areas
Nike has taken user comments seriously and improved the Metcon 2 in a number of different areas. The most important area is increased mesh in the upper, which seriously increases breathability compared to the original version which seemed like it was made of plastic.
Where Can I Buy Them?
Check now for the lowest prices:

Pros of the Metcon 2 Cross Trainer
Some key improvements over the Metcon 1 (improved flexibility, breathability, and durability)
Flat, stable sole
Zero-drag heel
Wide variety of colors and sizes
Mesh to allow good air-flow
Roomy toe box
Allows a wide range of movements easily
Fits true to size
Nice color and design options
The new addition of mesh in the upper increases the ventilation
Light, and no extra weight that you have to carry around
Cons of the Metcon 2 Sneakers
More expensive than some other cross-trainers.
They're also not ideal for running because of the moderate heel-to-toe drop (consider the Metcon DSX FlyKnit 2 which is a bit better)
What about the Nike Metcon 2 for CrossFit?
If you're a serious CrossFitter you'll know that the shoes you wear are extremely important for a whole variety of reasons. During the workout, you'll want to keep your feet cool and comfortable. And of course, the right pair of Cross Fit shoes is vital in preventing injuries over the long term.
The Perfect Pair of Sneakers
It can be a bit overwhelming to choose the best shoe for your needs. But, in order to make it easy for you, just stop whatever you're doing and get yourself a pair of these Metcon 2 Cross Trainers for Men. They're kind of the ultimate Cross-Fit shoe and we're super pumped about them here. Keep reading for details on why this is the case.
Reasonably Priced Comfort and Protection
The Nike Metcon 2 Sneakers are a top-quality workout shoe from Nike at a very reasonable price. It's been dubbed by some as the ultimate shoe and for good reason! It excels in a whole bunch of areas including running, lifting, climbing, jumping, handstands against the wall, and box jumps.
Excellent Grip and Traction
This shoe feels like a high-end runner on your feet but is stable enough for some heavy weightlifting and jumping which you'll experience during a Cross Fit workout. You'll find that you have a great grip on the floor with these shoes. There's also enough room in the toe box that you won't feel any discomfort with these activities.
However, if you're going to do a workout light on the weightlifting, but heavy on the sprints, then you'll perhaps want to consider the Nike Free X Metcon sneakers instead. They're a bit lighter and more flexible than the Metcon 2.
Shop Now for this High-Performance Shoe
You can easily get one of the best workout shoes on Amazon today. Click the button below to check for the best prices:

Customer Reviews for the Metcon 2 Trainers
"I have terrible foot issues, including high arches, wide feet, etc. but have finally found the pair that works for me! I'm tempted to buy 2-3 pairs of them should Nike ever stop making them. I use them for all kinds of workouts, but they really excel at ones focused on lifting."
"Nice support and they work well for multi-directional movement, including things like handstand push-ups or rope climbing. Plus, I even got a compliment from my trainer about how nice they look. I've been a fan of these things since the first version, but I love the new features they've added for the second."
"I generally stick with runners so I found the Nike Metcon Series quite stiff. However, I'm getting more into weightlifting so find that these ones work much better for that. I also use them for wall handstands, box jumps, and climbs. They handle all that stuff with ease. Oh yeah, they look pretty too!"
—>Read More Customer Reviews Here<—
Comfort
Many reviewers commented that the Nike Metcon 2, instead of feeling like a cross-trainer actually feels like a top-quality runner. In short, this means that it's extremely cool, light, and comfortable on your feet. The mesh over the foot allows your feet to remain cool, but it has also been improved to make it more durable.
The dual-density foam midsole provides some excellent cushioning. The zero-drag heel allows you to do hand-stand push-ups with ease, fixing a common complaint of users of regular sports shoes for CrossFit. The heel has been designed in such a way that it won't rub against your achilles tendon, a small complaint about the Metcon 1.
"They are by far the best workout shoes I've ever owned. They have a lot of support and feature some advanced technology. Definitely sticking with them instead of Adidas." David A.
Running
The Nike Metcon 2 sneakers are made for running! Compared to the Metcon 1, Nike has reduced their stiffness of them, which makes them much better for running. Reviews commented about the Metcon 1 that it hurt to run more than about a mile in them.
There are no such complaints for the Metcon 2 and they're solid for runs of up to a few miles, or sprints during a serious workout. You can easily walk home in them from the gym.
Consider a High-Performance Shoe Instead
If you're looking to run more seriously, like a 10km race or a marathon, consider a specialized shoe for running. They contain more flexibility and cushioning and will help prevent injuries over the long term much better than all-around sneakers. The big negative is that they don't provide a lot of stability while lifting, especially with heavier weights.
If you'd like to stick with Nike, then consider the Nike Revolution Running Shoe for Men instead.
Weightlifting
The Metcon 2 Workout Shoe for Men is a solid choice for weightlifters, more so than the Metcon 1 where some reviews mentioned that their heels slipped around. Nike has fixed this problem. It has a flywire mid-foot technology that helps lock the foot into place.
Of course, you don't want your feet slipping around when you're lifting and this shoe will prevent that. There's also a flat, stable platform with minimal heel-to-toe drop as well as a rubber sole that makes sure you're lifting from a solid base. In short, the Nike Metcon 2 will be able to handle any lifting you can throw at it during the course of a serious workout.
If you're looking to lift weights exclusively, consider a dedicated weightlifting shoe. They are even more stable, although it's not recommended that you do things like running and jumping in them.
"Great shoes to WOD in and a big improvement over the Metcon 1." Timmy C.
The Takeaway on the Nike Metcon 2 Cross Trainers
This shoe is one of the best shoes on the market today. It has an excellent grip with a durable sole, making it the perfect choice for rope work. It's light and flexible, allowing you to do sprints with ease. There's a stable, flat platform, which helps make lifting easy because of the support they offer.
Lots of Cushioning and Support
And finally, there's enough cushioning so that you can do jumps without worrying about hurting yourself while landing. These are top-quality sneakers that you'll love. The main point is that they're ideal for just about any kind of workout you might want to do, except for running a marathon!
Wide Variety of Nice Colors
It comes in a variety of bright colors, making it easier than ever to look stylish during a workout. Seriously, people will compliment you all the time when wearing these!
An improvement over the Nike Metcon 1
Nike has taken the negative reviews from the Metcon 1 seriously and done a few key improvements, making this an all-around awesome cross-training shoe! While not cheap, priced well over $100, it's most definitely worth it in our opinion, especially with the added durability, and cushioning. This shoe should still be performing well after months of serious workouts.
Where To Buy Nike Metcons?
You can easily get this top-quality workout shoe, the Nike Metcon for men on Amazon today by clicking the buy from Amazon button. Trust us. You won't regret it.

FAQs
There are a number of common questions that people have about using these popular training shoes. Here are the answers to some of the most popular ones.
What is the Nike Metcon shoe?
The Nike Metcon shoe is a popular cross-training shoe designed for various functional fitness activities, including weightlifting, HIIT workouts, and CrossFit.
What are the key features of the Nike Metcon shoe?
The Nike Metcon shoe typically features a stable and durable design, a flat and grippy outsole, a supportive upper, and a balance of cushioning and responsiveness.
Is the Nike Metcon suitable for weightlifting?
Yes, the Nike Metcon shoe is known for its stability and firm sole, making it a suitable choice for weightlifting exercises that require a solid base and good support.
Can the Nike Metcon shoe handle high-intensity workouts?
Yes, the Nike Metcon shoe is designed to withstand high-intensity workouts and provide the necessary support and traction for dynamic movements and quick transitions.
Does the Nike Metcon shoe offer flexibility for agility movements?
While the Nike Metcon shoe provides a balance of stability and flexibility, it leans more towards stability. It offers enough flexibility for most agility movements but is primarily designed for strength and stability.
Are Nike Metcon shoes breathable?
Yes, Nike Metcon shoes typically feature breathable materials, such as mesh uppers, to enhance ventilation and keep the feet cool during workouts.
Are Nike Metcon shoes suitable for running?
Nike Metcon shoes are primarily designed for cross-training and weightlifting rather than long-distance running. While they can handle short runs and sprints, they may not provide the same level of cushioning and support as dedicated running shoes.
Are there different versions or models of the Nike Metcon shoe?
Yes, Nike regularly releases new versions and updates to the Nike Metcon shoe. These updates may include improvements in design, materials, or performance features. It's recommended to check the specific model or version to understand its unique features.
Can the Nike Metcon shoe be used for everyday casual wear?
Yes, the Nike Metcon shoe often features a versatile design that can be suitable for everyday casual wear, thanks to its sleek and sporty aesthetic.
Are Nike Metcon shoes unisex?
Yes, Nike Metcon shoes are available in both men's and women's sizes, with variations in colorways and design details to cater to different preferences.
Have your Say about the Nike Metcon 2
What are your thoughts about the Nike Metcon 2, one of the most popular athletic shoes? Leave a message below in the comments and let us know what you think. We'd love to hear from you.
And don't forget to share this Nike Metcon 2 Review on Twitter, Pinterest, or Facebook. It'll help other fitness buffs, like yourself find this useful resource.
If you want to see the latest model, be sure to check out our review: Nike Metcon 5 for CrossFit.

Latest posts by Tony Calder
(see all)
Last update on 2023-08-20 / Affiliate links / Images from Amazon Product Advertising API