Have you heard of Mathew Fraser before? He's one of the top CrossFit athletes in the world. Keep on reading to learn more about him, including his diet, workout routines, CrossFit Games results, and a whole lot more!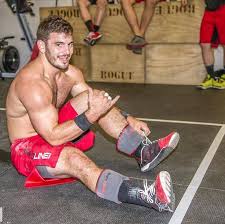 Matthew Fraser: From Weightlifting to CrossFit
Matthew Fraser is among today's CrossFit favorites. This year alone, he has won various awards in different CrossFit competitions since 2014. Although relatively young, Fraser is already considered a CrossFit champ. Compared to the other CrossFit athletes, he is relatively new to the field.
He just started a few years ago and yet, his performance has already been impressive. Originally, Fraser was famous as a heavy weightlifter.  Since he got into CrossFit, this sports personality garnered three recognitions such as being the first-place winner during the CrossFit Games in 2016; 2nd place in 2014, as well as in the 2015 CrossFit Games.
His retirement from his first physical training urged Fraser to get into Crossfit. After he retired, he said he did not go to the gym for four consecutive months. His absence at the gym resulted in 25 pounds lost and at the same time, fats gained. And so, he thought of wanting to go back to weightlifting in a casual way just to be back in shape. And that's when and where CrossFit came in, and the rest is history.
Mat Fraser Stats
Country: USA
Born: 1990
Height: 5'7″
Weight: 195 pounds
Affiliate: CrossFit Mayhem
CrossFit Games Results
CrossFit Open: 1st place in 2015, 2017, 2018, 2019. 7th in 2014 and 2016
CrossFit Games: 1st in 2016-2018. 2nd in 2014-2015.
At the 2016 games, he won by the largest margin in history.
Benchmark Stats
If you want to compare yourself to without a doubt, the most dominant CrossFit athlete in history, then here are some of his benchmark stats:
Clean + Jerk: 375 pounds
Snatch: 315 pounds
Deadlift: 500 pounds
Max Pull-Up: 50 pounds
Fran: 2:07
Grace: 1:18
The Switch from Weightlifting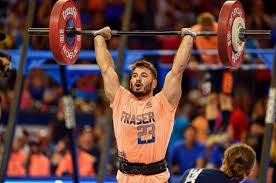 Since he switched to CrossFit, Fraser admitted in an interview that he does not train his lifts anymore. He adds, "I saw that my lifts were decent in the CrossFit world," not to mention, placing him "high enough in competition" minus undergoing through training.
This means most of the time spent for working on the other physical movements for Fraser. Having said this, it seems that the former weightlifter is nor more comfortable and at home doing CrossFit. In his newfound sport, Frasier said, he has now much stronger back, upper body and hamstrings. These same stronger parts of him, he says, are the ones allowing him to add more weights on to the bar.
CrossFit Tips from Mathew Fraser
Having been into weightlifting for more than ten years and CrossFit for two years now, Fraser shares a few tips with the other CrossFit athletes.  First is to eat right away after every workout. He's assisted with this by girlfriend Sammy Moniz who dedicates a lot of time and energy to ensuring that he has proper nutrition.
Second, recover simply. According to the athlete, he tries to do ice bath whenever he can. He also recommends relieving the muscles using the foam roller or sitting for about 20 minutes for easy stretching.
Third is to work on one's weakness. Say, there's a particular movement which one considers a weakness, he should do that specific movement day after day.
Fourth, work harder rather than quitting.
And lastly, consider getting a coach. Fraser says one won't make it to the top in CrossFit alone.
Among the tips he shared, this CrossFit champ puts emphasis on the last one he mentioned. He finds considering a coach the most important. In fact, in about one per ten sessions, Fraser always has someone watching him for some pointers.
In spite of considering a partner in coach, this CrossFit competitor says one does not need a coach to hold his hand throughout the entire workout. Nevertheless, he said, it is good to have an eye on him from time to time to ensure he's doing the training right.
Mathew Fraser CrossFit Documentary
Mat Fraser's CrossFit Diet
Do you want to know what this champion eats to fuel his training? Keep on reading for tips from his fiance about preparing food for him.
Eat What you Want…
But only if you earn it. For years, he famously used to eat a pint of ice cream at night. He's since gone cleaner in terms of what he eats, but he still doesn't track his diet as closely as some other athletes.
Snack on Fruit
If you're trying to get a lot of calories in, keep fruit in the house and constantly snack on it. Also be sure to eat as little processed sugar as possible because it give you inconsistent energy throughout the day.
Shop at the Market and not the Grocery Store
Eat more whole, unprocessed foods and shop at farmer's markets if you can. Since this food may spoil more quickly, get creative with leftovers!
Mat Fraser tries to limit his junk food these days and rarely drinks soda, or eat things that come from wrappers. It's mostly just meat, fruit and veggies. If something comes out of a package, chances are that you probably shouldn't eat it.
Learn as You Go
There's always something new to learn about flavour and techniques when cooking. Read cookbooks and keep improving your repertoire of healthy, tasty food you can cook.
What Does Breakfast Look Like?
He'll generally eat within a few minutes of waking up at 7:30 or 8. It consists of bacon, eggs, oatmeal and coffee.
How About Lunch?
His fiance prepares a sandwich that's ready for him when he gets home from his morning workout at about 1.
What are Some Typical Foods He Eats?
What can you find on Fraser's plate? You might see some of the following:
Meat
Eggs
Vegetables
Fruit
Rice
Protein shakes
Mat Fraser at the 2017 CrossFit Games
Mat Fraser Supplements
According to this article, Fraser has been known to take the following supplements in order to maximize his athletic performance.
Creatine (assists with power and strength)
Alanine (an amino acid)
Fish oil (helps to reduce inflammation, as as well other important functions like brain health)
Glutamine (aids recovery and assists with immune function)
A multivitamin helps fill in any of the gaps in his diet
Mat Fraser on Instagram
Like many of the top CrossFit stars, Mat Fraser has a very popular instagram account. To date, he has more than 1.7 million followers and you can find all sorts of tips and inspiration there. Check it out here:
FAQs
There are a number of common questions that people have about this star. Here are the answers to some of the most popular ones.
How many times has Mat Fraser won the CrossFit Games?
Mat Fraser has won the CrossFit Games five times consecutively from 2016 to 2020.
What is Mat Fraser's background in athletics?
Before CrossFit, Mat Fraser participated in Olympic weightlifting and also competed in the sport of powerlifting.
Is Mathew Fraser involved in any other ventures?
Mathew Fraser has been involved in various business ventures related to fitness, including his own training programs and collaborations with other fitness brands.
What is Mat Fraser's training philosophy?
Mat Fraser is known for his meticulous and disciplined approach to training, focusing on consistent hard work, attention to detail, and a relentless pursuit of improvement.
How has Mat Fraser influenced the sport of CrossFit?
Mat Fraser's dominance in the CrossFit Games and his exceptional performances have raised the bar for competitive excellence in the sport. He has inspired countless athletes and contributed to the growth and popularity of CrossFit worldwide.
Is Mathew Fraser still competing in CrossFit?
No, Mathew Fraser announced his retirement from competitive CrossFit after winning his fifth consecutive CrossFit Games title in 2020.
Have your Say about Mathew Fraser
Any thoughts about this top CrossFit competitor? Are you cheering for Mat Fraser at the CrossFit Games, or do you like another top athlete? Leave a comment below and let us know. We'd love to hear from you.
Also be sure to give this article a share on Facebook, Twitter, or Pinterest. It'll help other CrossFit Games enthusiasts, like yourself find this useful resource.