"Why are CrossFit gyms so expensive?" This is an inevitable question that comes to mind every time you think of joining a CrossFit gym. But the answer to that question calls for a proper assessment and analysis of what you're essentially paying for. We'll get into all the details you need to know about the price of CrossFit gyms right here.
Though there are many similarities, there are some vital differences also between a regular gym and its CrossFit counterpart, and this post will ultimately enable you to determine why and on what exactly you are spending your hard-earned money.
In this article, an attempt is made to probe the subject of how the prices of CrossFit affiliates are set as opposed to traditional gyms. Thus we will evaluate the services each offer using three direct criteria: amenities, training services, and ambiance.
Here's Why CrossFit Gyms are Expensive
Some generalizations are made, but this is just to guide you in assessing what you require, which gym you should join, and for what you are actually paying for.
Criteria 1: Amenities and Apparatus
What's inside the gym is a determining factor for what the difference is between a regular commercial gym and a CrossFit gym. Let's go ahead and analyze.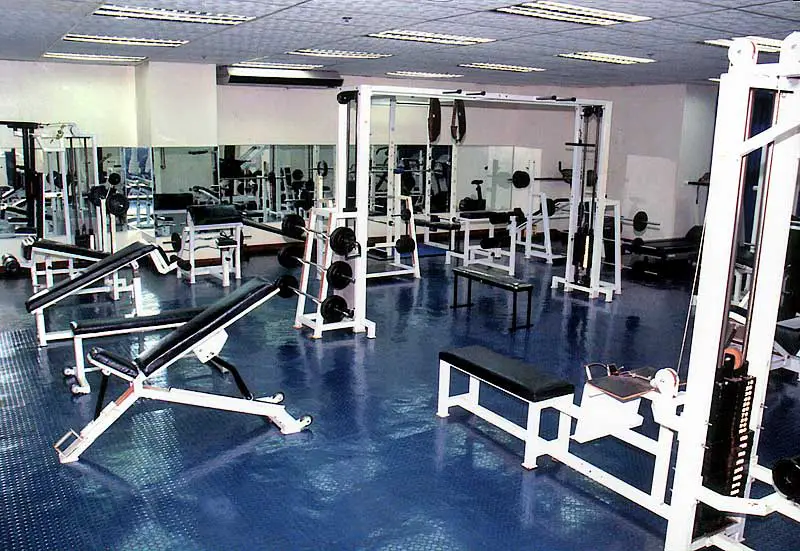 Traditional Gyms
Most traditional gyms are going to have treadmills and other cardio equipment. A minor portion of the gym may be meant for free weights and probably a place may be set aside to stretch out. Often such a gym is organized in a way so that many people can be there at the same time since they don't need a lot of space and the apparatus doesn't necessitate someone teaching you what to do.
The goal is to fill the gym with lots of average equipment so that people can remain engaged in workouts that don't require another's assistance or guidance. But there are exceptions, and some consist of extra facilities such as a pool, showers, childcare, or anything else you may need which may contribute to your decision making.
CrossFit Facilities
The more serious you are about your training, the more likely you are to look for a gym that accommodates your needs. At CrossFit facilities, they begin with the vital requirements for your conditioning and strength programs that will help you build your physique.
This means they cater to a program that the bulk of their membership follows, and thus they highlight the actual workouts. Much of the apparatus there, such as climbing ropes and competition plates, or workout sandbags are simply not found in traditional gyms.
You may also find some of the highest quality assault bikes and rowing machines as well as exercise climbing ropes that can stand up to a serious workout where you're going at your maximum.
Criteria 2: Training Services
These services include custom-made programs for your capabilities as well as daily workouts. A typical gym will normally chart out the format of a proper warm-up followed by weightlifting and ending with a conditioning or cardio workout.
Below are the main differences in the training methodology between a traditional and CrossFit gym.
Traditional Gyms
Traditional gym membership offers you access to the facilities, and for personal training, they charge you extra. If you're someone who is self-motivated, then a traditional gym will actually be beneficial to you. But in most cases, people don't know what to do exactly when they are inside the gym, and that's why they often drop-out after only a few weeks.
Spinning and aerobics classes are often a major attraction at traditional gyms, which are technically training services. But there are limitations to these. Generally at the gym, any particular trainer will pick one simple piece of apparatus and then spend 20 to 60 minutes with cheerleading, techno music, and lots of coordinated kicking and arm waving. While there are perhaps some benefits to these sessions, it really does depend on the individual trainer or instructor.
CrossFit Facilities
Each CrossFit gym is a self-supporting business, so the gym owner can have their own take on the program of CrossFit—but as a result of this, experience and quantity of training services will differ from gym to gym. While CrossFit has been at times condemned for value control, there is almost no other worldwide fitness movement where all the coaches are considered completely effective, safe, and efficient.
There are various levels of certifications for CrossFit trainers. In order to give yourself this title, you at least need to have completed a level 1 certification. This fact alone makes this kind of gym more expensive than a place where trainers may not have any formal certifications.
It is quite probable that you'll come across the normal distribution of quality. So you just have to ask the right questions to find which one is most suitable for you.
Why is CrossFit so Expensive?
Check out this short video below to find out more details:
Criteria 3: Ambiance
The ambiance of the gym to a great extent plays a decisive role in your attendance as well as your performance. A gym you're thrilled to go to filled with people you enjoy being around definitely creates a far more effective and engaging training experience than a gym you go to out of compulsion. Thus, though more intangible, ambiance plays a great role that will help you enhance your training and make working out a fun and exciting experience.
Unlike traditional gyms, CrossFit gyms are an engaging fitness experience that emphasizes the connection between members and trainers—meaning that participants intermingle directly throughout the class, which often leads to supportive and meaningful relationships between people. The social aspect gets people really excited to work out and keep healthy and keep posting their updates on social media about what they did on that particular day at the gym. This makes working out fun and far more participative.
Criteria 4: Class Sizes
At traditional gyms, you'll often be on your own for workouts. Or, if you join a class, it can have up to 20, or even more people. There is certainly no individual attention from the coach in this case.
However, in a CrossFit box, most classes have fewer than 10 people and a good coach will give you a ton on individual attention. This can make a huge difference in your progress.
In addition, you'll find that with the smaller classes, it's easier to get to know people and it can become quite a supportive community. Of course, with small class sizes, breaches in etiquette will certainly be glaringly obvious. Take heed of these CrossFit gym rules. 
Criteria 5 for the Price of CrossFit Gyms: The Gear
Okay, so this isn't really about the cost of the gym because you can actually wear any old thing you want to a CrossFit box. However, this is a serious workout and it's strongly recommended that you have the correct shoes and clothing on.
When you casually lift weights at the gym or take a spin on the bike, you could even wear flip-flops. Try that out with a CrossFit WOD and you'll certainly fail!
You can spend as little, or as much as you want on CrossFit gear, but we recommend starting with a pair of top-notch shoes. They may seem kind of expensive, but they're actually an investment in yourself because they'll help to prevent injuries.
Then, you'll also want to consider knee sleeves if you're going to be lifting some serious weight, along with hand grips.
Is a CrossFit Membership Worth the Price?
Okay, so CrossFit is expensive, but is it worth it? There are a couple of things to consider.
CrossFit Box Compared to Home Gym
Some people set up a garage or basement gym. These aren't cheap to get going though because you'll need bars and bumper plates, kettlebells, boxes, etc. Sure, it can save you a bit of money over time, but it might not be enough for you to just not pay the monthly fee and have the community, access to trainers, etc.
Are you Serious about Getting in Great Shape?
Yes? Then you'll probably just want to pay the monthly fee and not have a second thought about it! Sure, CrossFit gyms are expensive, but if you want to get in great shape and have lots of fun doing it, then a CrossFit box will be the place that it can happen.
Compared to workout out by yourself in a regular gym, it's just so much of a better option.
How to Choose a CrossFit Box
Beyond the price of CrossFit gyms, there are a ton of factors to consider. Watch the short video below for all the details:
How Much does CrossFit Cost?
A common question that people have is how much CrossFit actually costs. Of course, prices vary from box to box and city to city. However, we'll try to give you an overview of what you can expect to pay for a month of CrossFit.
An average gym membership is around $30-70 USD per month. A CrossFit membership averages around $125, although you can easily expect to pay upwards of $200 a month in many cases.
Is this extra $100 or so a month compared to a regular gym worth it? For many people who are serious about getting in the best shape of their lives, it certainly is!
Also remember that in a CrossFit gym, each workout will have a trainer who will give you personal assistance. Your results will certainly be better because of this.
Conclusion about the Price of CrossFit Gyms vs. Regular Gyms
Thus, next time you are thinking of joining a new gym, take a moment, and consider the above factors. This will help you determine what exactly you want and will help you choose accordingly.
Now it's time to answer that question of whether CrossFit gyms are expensive. Well, to speak the truth, they may be. That depends on your budget and disposable income. CrossFit facilities, for sure, aren't "low-priced," but for a majority of people across the world, the price is worth it.
This is especially true when considering the personal training you get along with it. So before you hit the gym, try assessing your current situation and what you are looking for and you will certainly make the right choice.
Have your Say about Why is CrossFit so Expensive
Do you have any opinions on the price of CrossFit gyms? Too expensive, or quite reasonably priced when considering what you get? Leave a comment below and let us know what you think. We'd love to hear from you.
Also be sure to give this article a share on Facebook, Pinterest, or Twitter. It'll help other fitness buffs, like yourself, find this useful resource.
Last update on 2022-11-07 / Affiliate links / Images from Amazon Product Advertising API