Back pain is one of the most common reasons people visit the doctor, chiropractor or physiotherapist. On top of that, there are the silent sufferers who don't seek professional help but try to deal with back pain on their own. There are lots of treatments, both professional and home remedies that you may want to try.
However, one of the easiest changes to make is starting with a good pair of shoes. There's a connection between your feet and spine. Although your feet are the things actually touching the ground, that force gets absorbed by your entire spine. What if the solution to your back pain problems are as simple as starting with a top-quality pair of athletic shoes?
Therefore, it's vital to start with a pair of top-quality shock-absorbing shoes. These will hopefully alleviate your foot, knee, back and neck pain.
To start with, you'll want to get a pair of sneakers that fits you well. You may also consider using an insert or getting fitted for orthotics if you have some problem with your gait (overpronation, or underpronation). Also consider the type of exercise you're doing: walking, running, weightlifting, CrossFit, or different kinds of sports.
Find out the Best Sneakers for Back Pain 
Keep on reading to see out best sneakers for back pain, but here's a sneak peak:
Best Shoes for Back Pain: Brooks Ghost 11
Brooks Ghost 11 Black/Ebony 11 B (M)
SHOE SIZE: "B" = Medium width, "D" = Wide width
FOOT SUPPORT: Ideal for runners with a medium to high arch looking for neutral support.
BALANCED, SOFT CUSHIONING: BioMoGo DNA and DNA LOFT cushioning work together to provide a just-right...
SMOOTH, STABLE RIDE: The Segmented Crash Pad is designed to adapt to each foot fall, so no matter...
SOFT, SECURE FIT: The newly engineered mesh upper practically disappears on foot with strategically...
First up on our list of the best running shoes for back pain is the Brooks Ghost 11. They're a pair of top-quality running shoes that have so much cushioning they almost feel like you're putting bedroom slippers on your feet. Except that you can go out and run a marathon in them.
It's made for road running, is a neutral runner (neither turn your feet inward or outward) and is for people with a normal to high arch. The heel pad does a great job at absorbing shock, particularly for heavier runners.
This are the best shoes for back pain as less force is heading up to your trouble spots.
Key Features
12 mm heel toe drop
Neutral support
Very supportive cushioning
Medium to high arch support
Mesh upper provides excellent breathability
Plush tongue and collar
Removable insole (can be used with orthotics)
Responsive sole
DNA loft heel crash pad
What do People Think About Them?
—>See More Customer Reviews and Ratings<—
"I'm an ER nurse and I have to spend up to 12 hours a day on my feet. I suffer from plantar fasciitis and have a really difficult time finding comfortable enough shoes that I'm not in excruciating pain at the end of the day. Thankfully I tried out these on the advice of my physiotherapist and am very happy that I did. They have a nice level of arch support, great cushioning and are some of the most comfortable shoes I've ever worn."
"So light and comfortable. I've been running almost 50 miles per week in them for the last six months and they're only now showing some initial signs of wear and tear. I think I'll get another six months out of them for sure. Quite impressive!"
"I have a lot of problems with my back when I start to train for a marathon. But, so far, so good with these ones after six months. They have a lot of cushioning and just feel really good on my feet."
Where to Buy Them?
You can easily find the Brooks Ghost 11 online. Check now for the lowest prices on Amazon.com:

Brooks Ghost 11 Review: The Best Running Shoes for Back Pain?
---
Adidas UltraBoost: The Best Shoes for Lower Back Pain
Sale
adidas Men's Ultraboost Parley, Carbon/Blue, 10 M US
Lace closure
adidas Primeknit textile upper
Flexible Stretchweb outsole; Continental Rubber outsole for extraordinary traction in wet and dry...
Responsive Boost midsole; Stabilising Torsion System
Lightweight and adaptive
Another top pick for running shoes that are ideal for those who suffer from back pain is the Adidas Ultraboost. It's a premium running shoe and one of the best offerings from this company. Why is it on this list? Some reviewers talk about how it feels like they're running on a cloud. There's that much support.
The responsive cushioning makes it feel like your feet are springing back with each foot strike. We also love the slipper collar fit that locks your feet into place securely, but comfortably.
Key Features
10 mm heel toe differential
Normal arch support
Primeknit upper
Torsion system between the heel and forefoot
Stretchweb outsole offers ideal flexibility
Responsive cushioning
Slipper collar fit for a very secure fit
High level of traction with the hard sole
Durable construction
10.9 oz
Lots of size and style options
Customer Reviews
—>Check More User Ratings and Reviews Here<—
"Very light, good level of support and also flexible enough for a running shoe. I have a difficult time finding shoe because I have wide feet at the toes and a high arch, but I really liked these ones. No injuries or back pain at all with these ones."
"Been using these for a few months now and they seem durable enough, although there's a little hole in the mesh at the top. That said, they're very breathable and I never get stinky or sweaty feet. Most importantly, they're super supportive."
"I'm in training for my first half-marathon and went with these shoes. So far, injury-free and my feet don't ache at the end of a long run."
Shop Now
You can find the best prices on athletic shoes on Amazon. Click the button below to learn more:

---
Puma Pulse XT Cross-Training Shoe
Next up on our list of the best shoes for back pain sufferers is the Puma Pulse XT. Unlike the others so far on this list, it's a cross-training shoe as opposed to runner. This makes it ideal for a variety for a variety of workouts, including CrossFit, Zumba, boot camp workouts, or just about anything you might do inside.
You may also want to use this outside for sports with the kids, or walks around the neighborhood. It's a top-quality crosstrainer at a reasonable price and has a nice level of support and cushioning, making it perfect for people with back pain.
Key Features
Flexible enough for some light running or cardio
Variety of nice colors and designs
Lightweight
Breathable mesh upper
Bootie construction offers a superior fit
Responsive sole and cushioning
IMEVA midsole
What People are Saying About Them
"Very light in weight and they absorb shock really well. Solid base for squats, good for a cardio warm-up. I even wear them to walk to the gym and they're quite comfortable. I'd definitely buy them again."
"Nice looking shoes for gym workouts at a very reasonable price. I use mine for CrossFit and find that that they do just as well as some of the far more expensive shoes that I've tried. They're nice enough that you could even wear them out running errands or around the town."
"I wear mine for just about everything—basketball, tennis, lifting weights, etc. and haven't had any injuries or pain with them, including my back which often gets sore when I wear poor quality/cheap shoes."
Where to Get Them
You can easily find these cross-trainers on Amazon.com. Check now for the lowest prices on workout shoes for back pain:

---
Brooks Addiction Walker 
Brooks Addiction Walker Black 9 B - Narrow
SHOE SIZE: "D" = Medium width, "EE" = Wide width, "B" = Narrow width, "EEEE" = Extra wide width
MAXIMUM SUPPORT: Our Extended Progressive Diagonal Rollbar strategically supports your arch to guide...
SLIP-RESISTANT, SECURE FIT: The forefoot MC Pod construction and an innovative outsole sets your...
SOFT CUSHIONING: BioMoGo DNA adapts to your stride, weight and speed, to make every step...
LONG-LASTING: Both comfortable and durable, this shoe with a full-grain leather upper will be a...
If you have some issues back a bad back, and are looking for a pair of walking shoes, then the Brooks Addiction Walker should be at the top of your list. Keep on reading to find out more about one of the most popular shoes in the world, and why we recommend it for back pain.
Key Features
MoGo midsole for cushioning and support
Forefoot and rearfoot hydroflow provides even more cushioning
Very durable
Standard width
Designed to support low or fallen arches and reduce pronation
Removable sock liner
12 mm heel to toe drop
Allows a full range of motion for the ankles
What People are Saying About Them
—>See More User Ratings and Reviews Here<—
"Awesome pair of shoes that are super comfortable. I'd had knee, hip and back pain for as long as I can remember when exercising, but not when wearing these things. Amazing, right and I'd totally recommend them to anyone looking for a specialized pair of walking shoes?"
"I've used these for a couple of years now and they're only just starting to wear out, a little bit. I'll be buying another pair of these for sure. They're helped to keep my PF and shin splints at bay. I walk every night after dinner so it's important to have a good quality pair of shoes."
"I've been suffering for years and am on what seems like a life long search for a proper pair of supportive walking shoes to help prevent further injuries at a reasonable price. I may have just found it!"
Buy yours Today
You can easily find these workout shoes on Amazon.com. Check now for the lowest prices:

---
Vionic Unisex Wave Flip-Flop
Vionic Unisex Wave Toe Post Sandal, 8 B(M) US Women / 7 D(M) US Men, (Black)
Nylon Webbing Upper. EVA Footbed. Durable Rubber Outsole.
EVERYDAY SUPPORT: A podiatrist-designed footbed built into every pair of Vionic sandals, slippers,...
YOUR NEW FAVORITE SANDALS: Our unisex toe-post sandal features soft nylon webbing and our...
If you are a half size, we recommend ordering the nearest size down. Fits medium widths. This is a...
VIO MOTION SUPPORT: The Most Supportive Shoes Ever. Our Vio-Motion Support includes Three-Zone...
Okay, so you probably already know this, but flip-flops are not ideal for your entire body. If you have foot, ankle, leg, hip or back pain, then flip-flops should not be your first choice. And if you don't, but wear these kind of shoes all the time? Well, it may lead to problems.
But, if you must wear them, at least use these ones with orthotic arch support. This allows you to walk more naturally in them and you'll hopefully have less back pain. These ones are unique in that they actually have some support.
Key Features
Hidden orthotic arch support
Nylon strap with durable rubber sole
EVA midsole (same as many running or cross training shoes)
Slip-on style
Special shape that's designed more anatomically
Customer Reviews
—>Read More User Reviews Here<—
"Seriously the most amazing sandals you can buy. I had my previous pair for 5 years and finally just replaced them with an updated version of the same one. I have lots of issues with my feet and back, so need some supportive shoes. These are just about the only sandals besides birks that you can find with arch support in them. Amazing."
"I'm on my feet for lots of hours at work and suffer from PF and back pain. I need a pair of comfy sandals to wear at home and these ones did the trick. They do take a bit of time to get used to them, but once you do? You'll never go back to crappy flip-flops again."
"Provide some serious relief for the legs if you can't be persuaded by your doctor to get off the flip-flops and use some proper shoes!"
What Can I Buy Them?
You can find these shoes on Amazon.com. Check now for the lowest prices and also to see if it's eligible for free shipping with a  Prime membership:

---
Reebok CrossFit Sprint: Best CrossFit Shoes for Back Pain
Reebok Crossfit Sprint 2.0 Mens Training Shoe 10 Neon Blue-Black-Red
DuraCage upper with MonoMesh wraps for lightweight protection
Internal FitFrame for a customised fit and non-slip tongue
Anti-friction lining helps reduce heat and moisture build-up
3mm drop for a stable platform with a Pebax propulsion plate for momentum
Metasplit grooves enable foot splay and outsole pattern adds serious grip
If you're into CrossFit, but also suffer from back and are looking for our top recommendation, it's the Reebok CrossFit Sprint. It's similar to the very popular Reebok Nano series, but it's lighter and more flexible, making it the perfect choice for someone who needs some nice support, but also needs to maintain their natural foot stroke in a shoe that's not so stiff.
Key Features
Very light  in weight (225 grams)
Minimal heel-to-toe drop (3 mm)
Anti-friction lining ensures a comfortable fit
Mid-foot wrap offers security and locks your feet into place
No break-in period and they feel comfortable from the first wear
Allow a full range of motion
Nice level of cushion in the midsole
What Do People Think About Them?
—>See More User Reviews and Ratings Online<—
"Awesome shoe for CrossFit from one of the top brands in the business. Despite the name, these are certainly not running shoes. They have too small of a differential and not enough support or cushioning in the midfoot. But, for a gym workout? I haven't found a better shoe."
"I made the switch to these after trying the Nike Metcons and find that these are more comfortable. they're lighter, and more breathable, but do just as well for CrossFit workouts."
"If you want a shoe for running or walking, don't go with these ones! But, if you want a shoe that's amazing for the gym, consider the Reebok Sprint. These things are perfect for weightlifting."
Buy Yours Today
You can easily find these CrossFit shoes that come highly recommended by users. Click the button below to check them out here:

Reebok CrossFit Sprint Review
---
Nike Free X Metcon: A Good Shoe for a Bad Back
Sale
Nike Free X Metcon 2 Black/Black 9.5
Midfoot cage locks your foot in place without restricting movement.
Rubber wraps up the sides to help resist abrasion during rope climbs
Foam midsole has a firmer foam carrier for comfortable cushioning where you need it and stability...
Deep grooves along the outsole allow the shoe to flex and expand in every direction for a...
If you have lots of back pain, but are looking for a top-quality crosstrainer, then the Nike Free X Metcon should be at the top of your list. It's a combination of the Nike Free, a lightweight trainer with a ton of cushioning. It's combined with the Nike Metcon, a sturdier shoe that perfect's for weightlifting.
If you have back pain, but are looking for a gym shoe, you may appreciate this one. It's strong and stable enough to lift heavy with, but a bit more flexible than most cross-trainers. This means that you'll be able to walk naturally in them, as well as do cardio exercises with no problems. It's also ideal for CrossFit.
Key Features
Flexible and durable TPU upper
Dual-density midsole adds support and stability
Flex grooves for more natural transitions
Flywire technology in the laces for added support
Comfortable bootie design
5 mm heel to toe drop
Durability is not an issue
Well cushioned
What People are Saying About It
"Very happy I decided to give these shoes a try. They're probably the best workouts sneakers that I've ever tried. I wear mine for gym workouts, as well as CrossFit and they are pretty amazing. I've always found the Reebok Nano shoes a bit stiff, but these are the opposite of that, nice and flexible."
"I have a difficult time finding shoes for my weird feet that often lead to back pain. I have high arches a very narrow heel. These ones felt comfortable from the second that I put them on. Enough support in the arch and the lacing systems locks my heels into place. Perfect for all kinds of sports and gym workouts."
"Nice design and colors, comfortable, cool and supportive. Not much more you could want in a workout shoe. Really happy with the Nike Free X Metcons! Kind of cool that they've combined their two popular shoes into one!"
Where Can I Get Them?
You can find these top-quality trainers with motion control on Amazon.com. Check now for the lowest prices:

---
Asics Gel Nimbus
ASICS Men's Gel-Nimbus 21 Running Shoes, 11.5M, Black/Classic RED
FlyteFoam Propel Technology - ASICS energetic foam formulation that provides supreme bounce thanks...
AHAR Outsole - Acronym for ASICS High Abrasion Rubber. Placed in critical areas of the outsole for...
Reflectivity - Contains reflective materials designed to enhance visibility during low light hours.
Heel Clutching System Technology - Exoskeletal heel counter provides improved support and creates...
FlyteFoam Lyte Technology - ASICS lightest weight midsole formulation that provides continuous...
Next up on list of the best shoes for leg and back pain is the Asics Gel Nimbus, a premium running shoe that has superior shock absorption capabilities.
The Flytefoam technology is ultra-light, but also provides a ton of cushioning. You'll feel the difference as soon as you take your first walk or run in them. It's like wearing pillows on your feet, except that you can easily run a marathon in them.
Key Features
Breathable upper
Durable rubber sole
FlyteFoam propel technology
The lightest midsole from Asics
Gel cushioning systems to absorb shock
Impact guidance system that helps your body maintain a natural gait
Grippy sole that's ideal for lots of different surfaces
Very fashionable
User Reviews
—>Want to See More Reviews on Amazon.com?<—
"I'm a runner with back pain so am always in search of a shoe that won't leave me in a ton of pain after a long run. I may have finally found my perfect match. These things are amazing and exactly what I was looking for. Just be sure to change them out when they start to wear out. They do tend to be durable though."
"I have very high arches so have a hard time finding a running shoe that'll work for that. These ones are perfect. I have lots of space to wiggle my toes and there's enough arch support in the shoe that they're comfortable to wear. They're not cheap, but oh so worth it!"
"I have an old basketball injury that leaves me in a lot of pain on a daily basis. These types of high-quality running shoes aren't cheap, but they're oh so worth it. It enhances my quality of life and helps to relieve some serious pain."
Shop Now
Do they sound like the right shoes for you? Check them out for yourself over on Amazon and don't forget to see if this product is eligible for free shipping with a Prime membership:

---
Vionic Walker: Best Shoe for Back Pain Sufferers
Vionic Women's Walker Classic Shoes, 9 B(M) US, White/Blue
Premium, full-grain, water-resistant leather uppers and action lacing system
Active Motion System (AMS) technology, combining our podiatrist-designed orthotic with a flexible,...
Podiatrist-developed biomechanical removable orthotic with Vionic
Anti-bacterial top cloth to control foot odor
Removable molded EVA midsole with built-in .5" elevation for a smooth transition in heel-to-toe...
If you suffer from a painful back and are looking for a pair of walking shoes, theses ones from Vionic should be at the top of your list. The company specializes in making top-quality shoes and sandals with good arch support. If you have some foot conditions, you may want to try these shoes first instead of getting fitted for expensive orthotics.
Key Features
Durable rubber outsole
Leather upper
Lots of arch support
Ample room in the toe box
Some of the best shoes with a ton of arch support on the market
Anti slip soles
Customer Reviews
—>Check Out More User Reviews Here<—
"I'm an ER doctor and am on my feet all day. I've also had a terrible heel spur for a year or two and so I need a pair of very comfortable shoes. These have been the solution for me, plus they're quite plain so look reasonable with what I wear to work."
"So happy I bought them! They've helped to correct my Plantar Fasciitis like nothing else did. It seems like they just keep my feet into alignment and improve my posture really well. I bought my normal size and they fit perfectly with ease."
"I've been suffering from a sore back for years and need proper shoes. It really affects my life, so it's am important decision. These ones are amazing and my body feels good in them. Standing, especially the wrong way when slumping over used to be excruciating, but it's not so bad now!"
Where to Get Them?
You can find the best prices on walking shoes for men and women with back pain online. Check them out here:

---
New Balance Fresh Foam Walking Shoe
Sale
One of the top walking shoes for back pain sufferers are the fresh foams from New Balance. They're comfortable, durable and have a ton of support and cushioning. Just what you need to protect your back, hips, knees, legs and feet from excess force when walking.
They are on this list due to their design. They're soft and squishy, unlike many of the other shoes on the this list which are far firmer. Some people love them and find them to be very well cushioned, while others hate them.
We think they're a nice pick though. You'll have to try them out for yourself to get the full experience.
Key Features
Waterproof materials
Light hiking shoes that are also suitable for road walking
Fresh foam insole cushioning system
Light in weight
Very durable
Lots of ankle support for trail use
What are People Saying About Them?
—>Read More Reviews on Amazon.com<—
"Just tried them out today and was super impressed. No blisters or sore feet after a long hike in the mountains. Surprisingly light in weight considering how sturdy they are. I have a bad back so am always a bit careful…but finally, some pain relief with these ones."
"Really nice walking shoes that help you to maintain the optimal posture. No question of their quality, and good grip with each step. Nice cushion to them. So far, they're helped to prevent extra strain and stress on my bad back."
"Casual walking shoes that are durable and grippy enough for longer hikes too. They're great at providing a nice level of arch support and they lock your heels into place too."
Where Can I Buy Them? 
You can easily find these top-quality walking shoes from New Balance online. Check now for the lowest prices. Click the button below to learn more:

---
Orthofeet Gramercy Men's Dress Shoes
Orthofeet Proven Relief of Heel & Foot Pain. Extended Widths. Best Plantar Fasciitis, Orthopedic,...
GUARANTEED COMFORT! Test our shoes for up to 60 DAYS and see for yourself why Orthofeet is regarded...
PLANTAR FASCIITIS? HEEL PAIN? FOOT PAIN? NEUROPATHY? Orthofeet orthotic shoes offer the BEST...
EXTENDED WIDTHS - These SUPER COMFORTABLE women's casual shoes with soft, non-binding uppers are...
SENSITIVE FEET? DIABETES? ARTHRITIS? NEUROPATHY? Soft uppers with smooth interior lining and extra...
BUNIONS? HAMMERTOES? A wide & roomy TOE BOX offers a comfortable, non-binding fit for the front part...
If you have any sort of problems with your feet and need a sturdy, comfortable pair of dress shoes, then Orthofeet should be at the top of your list.
Unlike many other shoes that have a cheap insole, these ones have built-in orthotics. This can help to improve your gait and avoid many problems like a sore back. They're engineered for total comfort and pain relief.
Key Features
Premium orthotic insole
Relieves stress on the joints
Non binding upper
Wide toe box
Soft, smooth interior lining with padded foam
Eliminates pressure on bunions, corns and hammer toes
Ideal for people with diabetes or arthritis
Lots of grip on the soles
Thick soles are ideal at reducing the shock from each foot strike into the back
User Reviews and Ratings
"One of the best options if you have screwed up feet! I've had PF and another back condition for years now, which ended up causing pain in other areas of my body. I tried these out and I'm happy to report that I'm able to avoid surgery. Kind of  game changer for me."
"This brand offers total comfort for dress shoes, both men's and women's. I know, the design is nothing to look at, but they're normal enough to pass as just regular dress shoes. The difference is the support, padding and comfort level."
"One of the parts to my back pain solution is this shoe that I wear to work daily. Thank you so much for such a great product! Whatever your reason for trying these, you won't regret it."
Shop Now
Do you want to find out more about this popular dress shoe option if you have a sore back. Click the button below to learn more about them:

---
 Brooks Glycerin 17 Running Shoe for Men and Women
Brooks Glycerin 17 Purple/Navy/Grey 9 B (M)
SHOE SIZE: "B" = Medium width, "D" = Wide width, "2A" = Narrow width
THIS SHOE IS FOR: Neutral runners obsessed with softness and cushioning. Sleeker than in the past,...
SUPER-SOFT CUSHIONING: The DNA LOFT cushioning provides a soft, luxurious feeling underfoot without...
THE PERFECT FIT AND FEEL: The plush feel of an internal stretch bootie surrounds your foot and moves...
SMOOTH TRANSITIONS: The DNA LOFT transition zone makes every move from heel to toe feel incredibly...
If you're looking for another top options for shoes if you have a sore back, then you'll want to seriously consider the Glycerin running shoes. They're ideal for running, but also walking or wearing to work if you're on your feet all day.
If you take a look at the comments, you'll notice that many people credit these extremely well-cushioned shoes for helping their bad backs, plantar fasciitis, or other ailment. They are a neutral running shoe with mid-level arch support and are perfect if you neither overpronate, or underpronate.
Key Features
Breathable mesh upper material
Responsive design
Variety of choices for colors and styles
Neutral running shoe
Maximum amount of cushioning
10 mm heel toe drop
3D printed overlay for a nice level of support
Bootie style fit
Removable insole makes them ideal for inserts
Rubber outsole has excellent traction
Lots of room in the toe box
Light in weight
Removable insoles
What do People Think About Them?
"An amazing running shoe that's one of the best I've ever tried. I run 50+ miles a week so need something with nice cushioning and support and these ones are awesome. No feet or shin injuries and I've been using them for years now."
"Brooks shoes have always worked well for my feet as I have plantar fasciitis. These ones are no exception. A nice level of arch support but not too much to be uncomfortable, along with lots of cushioning for my sore feet. This shoe just works for me."
"I have lots of lower back issues so have to be super careful with the shoes that I wear. I've given others a try, but always end up going back to these ones. The high heels just work well for me and I love the comfort and support."
Where Can I Buy Them?
You can find these workout shoes online. Click the button below to check for the lowest prices on these top-quality running shoes:

p.s. You may want to know what the difference is between the Ghost and Glycerin running shoes? Find out here:
---
Try Minimal Shoes for Back Pain: Xero Shoes
Xero Shoes Prio - Men's Minimalist Barefoot-Inspired Trail and Road Running Shoe - Fitness, Athletic...
The lightweight, flexible performance shoe for road running, trail running, fitness, CrossFit,...
Foot-first design. Wide toe boxes let your toes spread and relax. Zero-drop, non-elevated sole for...
Low-to-the-ground for balance and agility. The flexible sole lets your feet bend and move naturally.
FeelTrue sole gives you great traction, protection, and the stimulation and feedback your feet and...
IMPORTANT SIZING NOTE: As of August 20, 2019 the Prio was resized to fit "true to size." We...
If you suffer from a bad back, and have tried many of the other options on the list with no relief, then you may want to mix things up a bit and go with a barefoot/minimal shoe. This style of shoe has zero heel to toe drop, and is designed so that your body will maintain a more natural gait.
It may work for you? Lots of people swear by them, and credit minimalist shoes with curing all sorts of ailments. However, they're certainly not for everyone and we definitely recommend starting slowly with this style of shoes.
Of the barefoot shoes, Xero shoes are one of the best. They have a nice, roomy fit, especially in the toe box along with a little bit of padding so you can use them on a variety of surfaces.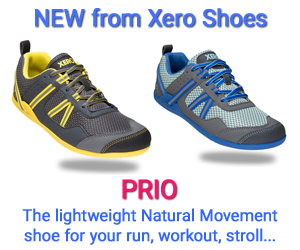 Key Features
5.5 mm TrueFeel rubber allows you to get feedback from the ground
Optional 2 mm insole. Take it out if you want a more "barefoot" feel
Around 7 ounces in weight, far lighter than some traditional cross-trainers or runners
Secure fit with heel and instep straps
For use with, or without socks
100% vegan friendly materials
5000 mile sole warranty
Not waterproof but highly breathable and should dry very quickly
45-day return policy
Top-notch customer service
Customer Reviews
—>Read More User Reviews Here<—
"The sole is simple, but durable and they also have a nice warranty on it as well. The general design is nice and although the shoe is kind of roomy, my feet feel pretty secure in them. I use them for quick jogs, at the gym, and when doing errands or playing sports with the kids. I'd definitely buy another pair!"
"Very well made and also quite comfortable. They're roomier and wider than other barefoot style shoes. Please note: they really do run quite small so pay attention to that fact when you're ordering them. I made that mistake and had to do an exchange (free in the US)."
"Impressed and unlike most other minimal shoes I've tried, these ones don't have any big issues as far as I can see. I like the little bit of padding, which means that you can use them on just about any surface, including on the trail or at the gym. The way they're designed with the zero drop means they're just easier on the body."
Order Yours Today
Do they sound like something you want to try out? Click the button below to learn more about these popular barefoot shoes:

---
 Do you Have Flat Feet?
Flat feet, foot pain and back pain are often related to each other. If this is the case for you, then you'll want to check out some of our top picks sneakers:
Best CrossFit Shoes if you Have Flat Feet
Lifting Shoes for Fallen Arches 
What about High Heels if I Have Back Pain?
If you have issues with back pain, then just about the worst thing you can do for it is wear high heels. According to the Spine Health Institute, high heels affect you in a bunch of negative ways. They:
Push the chest forward in an unnatural way
Cause the hips and spine to be out of alignment
Place excess pressure on the knees due to the position of the hips
Increase pressure on the balls of the feet instead of distributing it more evenly. This can lead to injuries in the muscles and tendons of the feet.
It's not just mind over matter with high heels. They truly aren't great for your health and body (along with flip-flops).
Instead, stick with a pair of supportive, well cushioned flat shoes. Running shoes are ideal, but if you can't wear them to work, then just get a decent pair of flats and be sure to replace them regularly when they start to wear out.
Have your Say about the Best Shoes for a Bad Back
What are your thoughts about these shoes for backpain? Leave a comment below and let us know what you think the best pair of shoes is.
Also be sure to give this article a share on Facebook, Twitter, or Pinterest.

Latest posts by John James
(see all)
Last update on 2020-10-24 / Affiliate links / Images from Amazon Product Advertising API