Given that the Christmas, birthdays, anniversaries, and other special occasions are always upon us, you may be at a loss as to what gifts to get the CrossFitter in your life.  Allow us to take the worry and anxiety away!
Below, we have compiled our Ideal Gifts for the CrossFitter in your Life. Keep reading for the best CrossFit gifts in a whole range of budgets and styles. From wireless headphones to shorts, t-shirts, knee-high socks, and journals…you can find it all here!
Best CrossFit Gifts
Are you ready to get into the top picks for CrossFit gifts? Keep on reading!
#1: Perchmount Fit Magnetic WOD Smartphone Mount
How many times when you've been working out, cooking, or doing just about anything did you wish you had a place where you could mount your Smartphone? Well now you can!
Specifications:
Universal smartphone holder
Width: 1"
Length: 2.75"
Able to be mounted onto any magnetic metal
Limitless placement options provided by the included magnetic base with adhesive
Redesigned to provide compatibility for all major brands of smartphone as well as most phone cases
Available Colors: Green, red, black
One of the most ideal gifts for those who always have their Smartphone with them!
Where to Get this Popular CrossFit Gift?
You can find this Smartphone mount over on Amazon. Check now for the lowest prices:

#2: MOXY Socks Knee-High Premium Cushioned Socks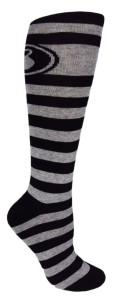 Knee high socks are an ideal way to protect and cushion your shins on box jumps, rope climbs of when you're lifting some weights. Check out one of our top picks here. Oh yeah, it's kind of the ultimate stocking stuffer.
Specifications:
One size fits MOST
Protects legs from injuries and scrapes during workouts
Keeps the feet cool and comfortable
Wicking properties
Shop Now
The ultimate stocking stuffer can be easily found online in a variety of bright colors and designs:

#3: Jump Rope – Fast Speed Cable for Mastering Double Unders
If there's one activity that crosses over to a variety of sports and fitness exercises, it's jump rope. Boxing, MMA, CrossFit, wrestling, fitness classes, etc. Check out one of our top picks for jump ropes here.
Specifications:
Great for double-unders
Get in a quick workout at home
Lifetime guarantee
One of the highest quality jump-ropes on the market today
One of the most ideal gifts for those who live far from a gym
Where Can I Buy This? 
Check online to find the cheapest prices on top-quality jump ropes:

p.s. If you're looking for a pair of shoes that can meet the test, then you'll want to consider one of the following: Best Shoes for Jumping Rope.
Gifts for a CrossFitter
#4: Cross Training WOD Bible: 555 Workouts from Beginner to Ballistic
This is an expanded and updated offering of the highly popular publication.  More than 80 pages of new content have been added.  This book helps to improve a person's athletic performance, the treatment of achy and stiff joints as well as the extension of an athletic career.  Within the pages, Dr. Kelly Starlett (the founder of MobilityWOD.com), shares his revolutionary approach to the maintenance and mobility of the human body.
Where Can I Buy One of the Best Gifts for Someone Who Does CrossFit?
It's the ideal gift for the aspiring CrossFitter in your life, especially the person who likes to work out in their garage or basement. Check it out now on Amazon by clicking the button below:

#5: Crossfit WOD Book & Food Tracker Journal: Wake. Run. Lift. Eat. Sleep. Repeat.
If you want to keep track of your workouts, sleeping, eating, personal bests and more, then you'll need a journal to do this. Check out one of our top picks.
Specifications:
Laminated front cover
Designed for the tracking progress
Food, workouts, sleep, etc.
Where to Buy It?
Does this sound like the ideal gift for that workout buff you know? Learn more about it on Amazon.com. Click the button below:

#6: WOD Shorts Agility
When you're working out, you'll want to stay cool and comfortable. A pair of top-quality workout shorts can help you do that in style.
Specifications:
Stay cool and comfortable during workouts
Wicking properties
Loose, but not too loose
A wide variety of styles and sizes.
One of the best CrossFit gifts for those that are tough to buy for
Buy them Here
You can find out more about them online, and also check for the best price:

#7: SmartShake Original Shaker Bottle
If you're into protein shakes and other supplements, then you'll definitely want a shaker bottle. It's designed to mix up everything quickly and easily, without little bits of powder left at the end.
Specifications:
Proclaimed to be the world's smartest shaker.
Has two storage compartments attached to its base along with an organizer.
Leak proof.
Find out More Here
You can learn more about this top-quality shaker bottle here:

Gift Ideas for CrossFit
#8: WOD Grips
If you want to get a serious grip on the weights you're lifting, then you'll need a grip. They'll keep you safe and help to protect your hands as well.
Specifications:
Great for lifting and rope-climbing
Prevent blisters and scrapes
Able to grip things much more securely
One size fits most
Purchase them Here
Do they sound like the ideal gift for your loved one? You can learn more about them here:

#9: Foam Roller
If you always have sore muscles after a workout, then you'll need to consider trying out a foam roller. Roll those muscles out to prevent lactic acid build-up and aches and pains.
Specifications:
Prevent stiffness
Can be used on most parts of the body
Proven to reduce muscle pain after a tough workout by reducing lactic acid build-up in  muscles
One of the most ideal gifts for those that hit the gym hard!
Shop Now
A foam roller is the ideal gift for that workout buff that you might know. Find out more at Amazon.com about our recommended model:

#10: Bluetooth Headphones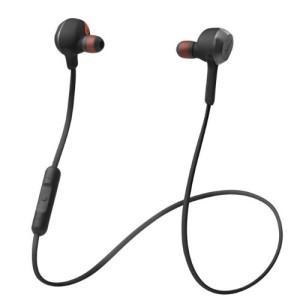 Most people who workout like to listen to music while they're doing it. Get your workout buff a pair of Bluetooth, wireless headphones to help them work out in style and comfort.
Where to Get Them?
Jabra is one of our favourite brands of wireless ear buds. You can check out all the options for yourself here:

Small ears? You may want to consider these options: Best Earbuds for Small Ears.
#11: Under Armour Compression Shirt
Sale
If you have an active guy in your life, chances are that they can certainly use another compression shirt! They're extremely versatile and ideal for wearing as an undershirt, under hockey or football gear, underneath a baseball jersey, or alone during workouts.
Pros:
Comfortable, breathable fabric
Built-in ventilation panels
UPF 30+ protection from the sun
Four-way stretch material for easy movement
Removes and sweat and dries fast
Stylish design and cut
Cons:
The regular sized shirt is a bit short for anyone with a long torso and so tends to ride up.  If you have a longer torso, it's recommended to use the tall size, so this does not happen.
The shirt is also very elastic and tight.  Check the dimensions to ensure you are ordering the correct size.  As it's a compression shirt you may want to order a size up from your usual clothing if you want a more comfortable fit.
What do People Think About Them?
—>See More User Ratings and Reviews on Amazon.com<—
"Nice fit and look for the Under Armour Heat Gear Compression Shirt and it's obviously very well-made from quality materials. My only small complaint is that it rides up a little bit. Not a big deal, but I've had some compression shirts that don't do this."
"Really nice undershirts that are way more comfortable than those cheap cotton ones you get from the big box stores or whatever. Nice fabric and I stay dry and cool in them. Also makes a nice tank-top in summertime, or you could use it as a workout shirt. Every guy should have at least a few of these in his drawer I think!"
"Easy to get on and off, and comfortable enough to wear all day. Probably the lightest, coolest workout shirt you can use, apart from wearing nothing!"
Shop Now
You can easily find Under Armour Compression Shirts on Amazon. Click the button below to check them out for yourself:

#12: WodWax
If you're looking for the ultimate present for that CrossFitter that you know and love, consider Wod Wax. It's perfect as a stocking stuffer, or little something for a birthday.
CrossFitters have a reputation as often having torn up hands. This comes from all the bar work that they do during a typical WOD. Some people use gloves or grips, while others use chalk. They both have their disadvantages though.
That's where WodWax comes in. It's provides a ton of grip on the bar, while not drying out the hands. Learn more about it here.
Key Features
Grip enhancer for lifting
Prevents rips when lifting weights (no more ripped hands from CrossFit)
Antibacterial properties fight germs left on bars
Apply until the wax to the bar until it begins to form bumps. Then, go crush your workout!
Reapply wax throughout the workout as necessary
Chalk is also a grip enhancer, but it dries out the hands and can cause rips so max the switch to WodWax!
Customer Reviews
—>Read More Customer Reviews Here<—
"At my CrossFit box, we have a few bars for lifting. Some are smooth, while other have bumps on them. I have a difficult time gripping the smooth ones, but the bumpy ones rip open my hands. What's a girl to do? I had a difficult time until I tried this product. It prevents slipping on the smooth ones, and my hands from getting torn up on the rough ones. Love Wod Wax and it now has a permanent home in my workout bag."
"Never go without this stuff! It's kind of a miracle and I've stopped taping up my hands, etc. Seriously, it's kind of a game-changer so if you're on the fence, just try it out. I used to use pull up gloves, but this wax is just so much better."
"Helps maintain grip on a pull-up bar for sure; my results have never actually been better. Just about the only negatives are that it leaves a big of residue on the bar (my coach doesn't mind though) and the fact that it's quite expensive for such a small bar. That said, a little bit goes a long way and it does seems to last for a long time. Totally worth it though when it helps me get better results."
Shop Now
Does it sound like the right grip enhancer for that fitness buff that you know and love? Check it out for yourself over on Amazon:

#13: Chasing Excellent by Ben Bergeron
Sale
If you think the best person who can inspire you the most is a CrossFit trainer, then you should check out Chasing Excellence. Author Ben Bergeron worked with some of the fittest athletes in the world. So, it would be a no-brainer for you to pick the book to get the necessary inspiration you need to work on those high-intensity interval training exercises.
He is also unlike other CrossFit coaches since he focuses on both character and results. This means you do not have to be an elite athlete to push yourself to the limits.
Shop Now for this CrossFit Book
Chasing Excellent is certainly one of the best CrossFit Books of all-time. If you want to pick up a copy for yourself, then you'll want to head over to Amazon:

#14: CrossFit Shin Guards
Rocktape Rock Guards, Manifesto, Medium
PROTECTION FROM ROPE CLIMBS AND BOX JUMPS - RockGuards are designed to protect your shins during...
DURABLE SHIN GUARD - 3rd generation RockGuards are made with strong and protective 5mm neoprene...
STAYS IN PLACE - Organically designed to conform and move with your body, with a silicone bead to...
DRAINS & DRIES FAST - A mesh back and perforated neoprene front means you stay comfortable and dry....
PERFORM YOUR BEST - Don't stop training because of an injury or staph infection (they happen in...
If your loved one regularly comes home with bruised or bloody shins, it's time to consider getting them a pair of Shin Guards for CrossFit. It's super easy to tear up the legs on rope climbs, during deadlifts or on the box jump.
Among the options available, one of our top picks is the RockTape RockGuards. They're specifically designed for CrossFit and will certainly get the job done.
Key Features
Made from super strong neoprene
4-way stretch Lycra for a great fit
Designed to stay in place with the foot strap
Quick drying
Drains easily for something like a wet obstacle race
Ideal for preventing injuries
2″ zipper makes them easy to put on and remove
Get Them Today
Do they sound like the perfect CrossFit gift? Then you'll want to head over to Amazon to learn more about them, and also to check and see if they're eligible for free shipping with a Prime membership:

#15: Dottir by Katrin Davidsdottir
Sale
Do you want to learn from one of the best CrossFit Games champions? In this case, you may want to pick up Dottir, which is the memoir of Katrin Davidsdottir. The book follows the journey of Katrin as she became a two-time champion in the CrossFit Games.
There are only two women who copped the title "Fittest Woman on Earth" twice, and she is one of them. The book takes readers through her journey as a gymnast until she became a back-to-back CrossFit champion in 2015 and 2016.
Get it Today
Do you want to pick yourself up a copy of one of the best books on CrossFit? Then head over to Amazon to find the best deals right here:

#16: Fitness Tracker (Fitbit Versa)
Sale
Fitbit Versa 2 Health and Fitness Smartwatch with Heart Rate, Music, Alexa Built-In, Sleep and Swim...
Use amazon Alexa built in to get quick news and information, check the weather, set timers and...
Based on your heart rate, time asleep and restlessness, sleep score helps you better understand your...
Control your Spotify app, download Pandora stations and add deezer playlists—plus store and play...
With a larger display and an always on option, your information's always a quick glance away...
Track heart rate 24/ 7, steps, distance, calories burned, hourly activity, active minutes and floors...
If you are unsure of the fitness watch you want to get, then you should get a fitness watch from a company whose middle name is fitness, the Fitbit Versa Smart Watch.
This versatile device monitors your heart rate, stores and plays music, tracks swim laps, and, of course, tells time. It also features several exercise modes and is water-resistant up to 50 meters. It is an all-in-one device that can be your best companion in your fitness journey.
Features
Tracks heart rate 24/7
Stores and plays 300 songs
15 exercise modes
Call and text notifications
Two-year limited warranty
Customer Reviews for the Fitbit Versa Smart Watch
—>Read More Reviews on Amazon<—
"Distance tracking is accurate even without using GPS. It is waterproof and can stay in a pool for over an hour. It is a great upgrade from my previous smart watch."
"Easy to set up. I love this fitness tracker and the detailed activities it provides. It lasts for 5 days with a 45-minute workout on each day."
"This is an affordable yet fantastic smart watch. This is a waterproof tracker with several smart watch features. It also has a great battery life."
The Takeaway on the Fitbit Versa Smart Watch
If reliability is what you are looking for in a fitness watch, you will never go wrong with the Fitbit Versa Smart Watch. It's a solid option at a very reasonable price and will track almost all of what the average exerciser needs it to do.
Shop Now
Does it sound like one of the best fitness watches for your needs? Check it out for yourself over on Amazon and don't forget to see if it's eligible for fast, free shipping with a Prime membership:

#17: How I Became the Fittest Woman on Earth (Tia-Clair Toomey)
Are you looking for an inspiration to give you that needed push to become the fittest person in the world? Look no further since the book, How I Became The Fittest Woman On Earth, should give you the encouragement you need. Authored by Tia-Clair Toomey, this book about CrossFit shows you how to push yourself beyond your limits. Moreover, Tia also gives some exercise and nutrition tips you can use in your own fitness journey.
Where Can I Get a Copy?
We recommend picking yourself up a copy of this CrossFit book on Amazon. Click the button below to check for the lowest prices and don't forget to see if this product is eligible for fast, free shipping with a Prime membership:

#18: Protein Shaker Bottle
BlenderBottle ProStak 22 Oz Bottle with 6 Piece Twist n' Lock Storage Set, Black
Expands the capacity of the BlenderBottle ProStak shaker cup to hold large protein, meal...
Unique BlenderBottle ProStak system interlocking jars with individual lids make it possible to carry...
Includes one one 250cc jar, two 150cc jars, two 100cc jars, and two Twist 'n Lock pill storage trays
Compatible with any Blender Bottle Pro Stak shaker cup system / Leak-proof SureSeal flip cap, secure...
Durable, dishwasher safe (bottle on top rack only), and BPA- and Phthalate-free
Are you looking for a shaker bottle with individual storage compartments for pills and powders? If so, then the BlenderBottle ProStak System should be your top choice. Designed by a company with decades of experience, this shaker bottle features a fully independent jar system that stores pills and powder. It is also easy to carry around with its loop handle design that allows you to attach your car keys while working out.
Features
Individual storage compartments for pills, powders, and supplements
Interlocking jars can be used independently
Dishwasher-safe, BPA and Phthalate-free material
22-oz liquid capacity
Limited lifetime warranty
Customer Reviews for the BlenderBottle ProStak System
—>Check out More Reviews on Amazon.com<—
"This shaker bottle is perfect for mixing my protein shakes. This allowed me to mix the correct amount of powder and milk for my protein shake. I used it several times and I had no issues so far."
"This is a pretty awesome shaker bottle and it's my best purchase so far. Since I work in a hospital, I'm normally asked to do unscheduled overtime and this thing is a lifesaver. It allows me to mix protein shakes on the go. It's also small enough to fit in my workout bag."
Shop Now
Do you want to pick yourself up this protein shake bottle? It's a nice addition to any workout bag. Check it out over on Amazon and don't forget to see if it's eligible for free shipping with a Prime membership:

Have your Say about the Best CrossFit Gifts!
What are your ideal gifts for that CrossFitter in your life? Leave a comment below and let us know what you think. We'd love to hear from you.
Also be sure to give this article a share on Facebook, Twitter, or Pinterest. It'll help other people who love fitness buffs, like yourself find this useful resource.

Latest posts by Tony Calder
(see all)
Last update on 2020-04-26 / Affiliate links / Images from Amazon Product Advertising API