Here's a question that we get all the time—what are the best shoes for jumping rope? Keep on reading to find out all the details you need to know about our top picks for jump rope shoes.
Best Shoes for Jumping Rope
But, first of all, here's a sneak peak at the shoes you can do jumping rope in, all day long:
Now, keep on reading our guide to the best jumping rope shoes money can buy. It can be hard to find suitable sneakers for these kinds of activities (and to choose the best ones), but don't worry, help is here!
#1: Nike Metcon 5
If you're looking for a super solid pair of shoes to jump rope in, then the Metcon 5's from Nike should certainly be at the top of your list. They're an all-round cross training shoe that can handle a bit of everything: weights, sprints, rope climbs and of course, jumping.
Key Features
Available in a variety of colors and styles
Nice, snug fit
Stiff heel and wide platform makes them ideal for lifting
TPU heel clip
Flywire lacing system
Raised sidewalls protect the feet during rope climbs and add some durability
Flexible forefoot means that you can do some light running in them
Reinforced tongue
Haptic layer on the upper is breathable, but durable
Great traction on the outsole
Hyperlift add-on helps you get deeper into squats
Dual density midsole provides a ton of support and cushioning
4 mm heel to toe drop
Neutral arch support
Customer Reviews
—>Read More Customer Reviews and Ratings Here<— 
"Nice and comfortable and a good all-round gym workout shoe. Seriously. They're probably the ultimate shoe for any kind of indoor athletic activity. I bought them to replace my Metcon 2's and these ones are noticeably better." 
"So, so much better for lifting workouts than regular running shoes. They are super stable, have a great grip on the floor and best of all, just feel good on my feet, even at the end of a tough workout. And they're flexible enough for sprints or jumping rope too."
"A great combination of stable and flexible, and perfect for HIIT, Insanity, T25 or CrossFit. They can do just about anything well."
Get your Nike Metcon 5s Today
Do they sound like the right pair of shoes for your next rope workout? You can easily find them on Amazon. Click the button below to check for the best prices and don't forget to see if they're eligible for fast, free shipping with a Prime membership:

---
#2: Inov-8 F-Lite 260
Inov-8 Women's F-LITE 260 (W) Cross Trainer, Grey/Black, 8.5 B US
For versatile training.
Unrivalled grip: 360 degree ROPE-TEC system extends onto the shoe's upper delivers traction and...
Phenomenal grip: New industry-leading Sticky Grip rubber delivers over 50% better traction in the...
Agility: Next generation META-FLEX technology and optimal multi-directional flexibility moves with...
Get more support: External Heel Cage wraps around the rear of the shoe and provides support in the...
One of our top picks for jumping rope is the F-Lite 260 from Inov-8. It's a cross training shoe that offers a ton of stability, support and an extra hit of shock absorption. Combine that with the cool looks, reasonable price and you certainly have a winner.
Key Features
Sticky, grippy outsole
Ideal for multi-directional movement
External heel cage for maximum support in the heel area
Enhanced underfoot cushioning from previous models
Cushioned powerflow midsole
Mesh upper that allows for maximum breathability
Variety of colors and designs
User Reviews 
—>Read More User Ratings and Reviews<—
"Great for high intensity workouts, CrossFit, jumping rope, and even walks around the block or sports with the kids. Probably the best pair of workout shoes that I've ever owned. Very light in weight, but a ton of support."
"Very grippy, easy to move it and lightweight. I'm so happy with these things and would recommend them to anyone looking for a gym or training shoe. I found a good offer on them, snapped them up and am so happy that I did. Double unders? No problem with these."
Where to Get Them?
Do you think the Inov-8 F-Lite 260 might be the right shoe for jumping rope for you? You can check now online for the best prices and deals that include free shipping:

Inov 8 F Lite 260 Review
Do you want to find out more about this popular training shoe? Then you'll need to check out this review video for all the details you need to know:
---
#3: Nike Metcon DSX FlyKnit 2 Trainer
Next up on our list of the best shoes for jumping rope is the Nike Flyknit Trainer. If you take a look around your gym or CrossFit box, chances are that you'll see someone wearing this shoe.
We recommend it for jumping rope because it's reasonably priced, durable, but also very light in weight and has a ton of shock absorption. Basically, just about everything you could possibly want in a jump rope shoe.
Key Features
Flyknit upper makes them extremely breathable and comfortable to wear
Very lightweight
Flywire cables integrated with the lacing system for additional support
Zoom air units throughout for lots of cushioning
Waffle outsole provides a nice level of traction
Reinforced outsole in high wear areas
Customer Reviews
—>See More User Reviews Here<—
"They feel amazing on my feet…comfortable and supportive, but super light. Just what I need for jumping rope and doing other exercises in my garage gym. I got them at such a great price, that I immediately went out and bought another pair in a different color."
"Nice style and I always get a lot of compliments on them whenever I wear them to the gym. But most importantly, they just fit well and ideal for CrossFit, classes, or just about any indoor activity."
"It helps to protect my feet from a pounding on the floor. Awesome shoe that I'm so happy with. I feel like I've been searching my entire life for these things."
Shop Now
You can find the best prices online. Check now, and also to see if this shoe is eligible for free shipping with a Prime membership:

---
#4: Adidas Freak X Carbon Mid Cross Trainer
Next up on our list of the best shoes for jump rope is the Adidas Freak X trainer. It's a nice combination of light and breathable, along with superior support and shock absorption. Plus, the grooves allow for excellent control and traction.
Basically, they're the ideal jumping sneakers and a lot of people swear by them. Keep on reading to find out more about them.
Key Features
Mesh upper allows for excellent airflow
Grippy rubber on the sole to help with traction
Flex grooves
EVA foam midsole
Sufficient arch support
Fits a little narrow for some people (looking for this? Check out our top picks: Best Shoes for Narrow Feet)
Lockweb zones of support right where you need it
Reasonably priced
Customer Reviews
—>See More Reviews on Amazon.com<—
"Probably the best pair of sneakers that I've gotten in a long time. Seriously amazing…comfortable, and light in weight. I use mine for all kinds of workouts, including rope and speed work."
"Well constructed and so far, very durable. They also come in quite big sizes which I appreciate. They're ideal for CrossFit, kickboxing, etc."
"I had a great experience with these shoes. They reduce the impact of each jump in a big way and they're perfect for keeping my knees and hips aligned correctly."
Where can I Buy Them?
Do you like the looks of these Adidas cross-trainer? You can easily find them on Amazon.com. Check now for the best prices on training shoes:

---
#5: New Balance Fuel Core Training Shoe
New Balance Women's FuelCore Nergize V1 Sneaker, Black/Magnet, 9
These shoes have a performance fit. We recommend ordering a 1/2 size bigger than your typical NB...
Midsole Cushioning: These New Balance sneakers feature a REVlite midsole that delivers incredibly...
Underfoot Comfort: With an NB Memory Sole Comfort Insert that offers a plush feel with every step,...
Sleek Design and Supportive Fit: Stay comfortable and stylish as you go about your day with the...
Lightweight Feel: The modern, eye-catching upper on these cross-trainers uses mesh and synthetic...
Another top pick for the best jump rope shoes is the New Balance Fuel Core trainers. If you prefer the memory foam style of insert in shoes that are light on the feet, these may be the ones for you.
However, if you don't, they still could be—it's removable if you want to use them with something like orthotics. Just be aware that these are more like dance or gym shoes and not the typical, heavy duty running shoes that you may be used to from New Balance.
Besides that, they have a lot of spring-back to them and are light on the feet. In short, an ideal shoe for jumping.
Key Features
REVlite midsole foam
Removable insert
Slip on style fit, with laces for additional security
Ultra lightweight
Variety of color and style options
Mesh upper is very breathable
Reasonably priced
User Reviews
—>See More Reviews and Ratings Here<—
"Love these shoes from New Balance. I got them for the gym but liked them so much that I now wear them around town all the time."
"So comfortable and cute. Light in weight with a surprising amount of support in them. The memory foam insole gets more comfortable the longer you wear them."
"I like to balance out feats of physical strength with some cardio work like jumping rope and these shoes certainly fit the bill."
Shop Now
You can easily find these top-quality training shoes online. Check now for the lowest prices:

---
#6: Reebok CrossFit Speed TR: Best for Jumping Rope
Reebok Women's TR Speed Her Training Shoes, Blue Lagoon/Solid Teal/Opal/White/Silver, 9 M US
DURABLE AND LIGHTWEIGHT MATERIAL: These sneakers feature performance woven jacquard upper for...
EFFICIENT FOOT SUPPORT: These stylish trainers with 3D fuse frame construction for seamless...
COMFORTABLE AND STURDY DESIGN: This footwear comes with unique outsole rubber pattern for ultimate...
HIGH-PERFORMANCE RUNNING SHOES: Ideal for walking, urban running and training
Another top choice for the best jumping rope shoes is the Reebok CrossFit Speed training shoe. It's a durable CrossFit shoe that's not only light in weight, but also has a ton of cushioning.
Besides being ideal for jumping rope, you can use it for just about any indoor workout: lifting, sprints or cardio, rope climbs, and box jumps. It's a beast to say the least!
Key Features
The lightest of Reebok's CrossFit shoes
Shock-absorbing foam midsole
Metasplit flex grooves increase flexibility
Breathable mesh upper
Low-mid cut around the ankle
What do People Think About Them?
—>See More User Reviews Here<—
"Until now, I've been using running shoes for all my workouts. But, I decided to get these for rope jumping, kettlebell workouts and CrossFits. MAN, what a huge difference they make! Love the lower heel height on them—they're just so much more stable. Plus, they're almost as light as running shoes."
"Perfect fit and color. I get lots of people asking about them when I wear them to the gym. I use mine for high intensity interval training: burpees, box jumps, plyo, jumping rope, etc."
Where to Get Them?
If you choose the wrong workout shoes, it's easy to get injured. However, these ones from Reebok will protect your joints from the impact on the ground, offering lots of padding and security.
You can easily get these CrossFit Shoes from Reebok on Amazon.com. Click the button below to find the best prices:

Reebok Speed TR Review
Is the Reebok Speed TR the right shoe for your next gym workout? You'll definitely want to check out this review to find out more details about them:
---
#7: Puma Pulse XT
Next up on our list of the best shoes for jumping exercises is the Puma Pulse XT. It's a cross trainer that's ideal for jumping, sprints, lifting and more. We love it because it has a ton of support, is reasonably priced and has some great user reviews all over the Internet.
Key Features
Breathable mesh upper
Padded collar lining
PU comfort midsole
Lightweight
Nice level of arch support
Well cushioned and can absorb a lot of shock
Customer Reviews
—>Read More User Reviews Here<—
"Super light in weight and they absorb shock really well. Solid base for squats, good for a cardio warm-up and jumping rope. I even wear them to walk to the gym and they're quite comfortable. I'd definitely buy them again."
"Nice looking shoes for gym workouts at a very reasonable price. I use mine for CrossFit and find that that they do just as well as some of the far more expensive shoes that I've tried. They're nice enough that you could even wear them out running errands or around the town."
"I wear mine for just about everything—basketball, tennis, lifting weights, rope jumping, etc. and haven't had any injuries or pain with them. I definitely recommend them."
Shop Now
Do they sound like the right pair of workout shoes for you? Check them out on Amazon to find the best deals:

---
#8: Reebok Ross Training Shoe
The next recommendation for the best sneakers for jumping is the Reebok Ros. It's a training shoe that's very light in weight, but still has a ton of support that's necessary for when you're jumping rope. It should certainly be one that you consider.
However, one of the best things is the price. It's very reasonable when you consider what a high-quality shoe you're getting. Keep on reading to learn more about it.
Features
Durable rubber sole offers excellent grip

Lightweight mesh upper that's very breathable

Anatomical shape designed to fit well

4.5 mm heel to toe drop- a nice balance between running and lifting

Multi-surface rubber outsole
User Reviews
—>Check our More User Reviews and Ratings Here<—
"Love that these shoes are wide enough for my feet, unlike the Nano 7's that I tried. I use mine for CrossFit workouts, cardio, jumping rope and love them. They can also do as running or walking shoes in a pinch."
"Excellent value for the price, and seem to do just as well as some of the workout shoes that cost twice as much. Comfortable, stable, and almost feels like I have pillows on my feet. Love the midsole support."
"I use mine for all-round gym workouts. They do well enough at cardio, especially when compared to some of the other trainers, and are ideal for weightlifting. Squats, deadlifts, lunges, etc. are all good with these shoes."
Where to Buy Them
You can find these workout shoes online. Check now for the best prices:

---
 #9: Asics Conviction X Cross Trainer
Next up on list of the best jump rope shoes is the Asics Conviction 2 Cross Training Shoe. These cross training shoes from Asics are ideal for a range of indoor workouts. They're super comfortable, durable and have some excellent user reviews online.
As far as workout shoes go, these trainers from Asics are one of our top picks. They are flat and stable enough for weightlifting, durable and grippy enough for rope climbing but are light and comfortable enough for sprints or other kinds of cardio.
Of course, it goes without saying that they're a really nice choice for jumping rope. Can't get much better than that, can you?
Key Features of the Asics Conviction Trainer
Durable and grippy rubber sole made from high abrasion rubber

RhynoSkin synthetic leather upper is very durable, but still has a nice degree of breathability
Perforated sock liner fit
Innovative, integrated lacing system
Seamless construction that reduces friction
Ideal for CrossFit, HIIT, jumping rope or Insanity workouts
Plush collar and padded upper
User Reviews
—>See More User Ratings and Reviews Here<—
"Really nice pair of shoes that are great for any sort of gym workout, including CrossFit, jump rope or Zumba. The only thing I don't love about them is that they're a bit heavy and clunky and are certainly not for running. However, they're not designed for this type of workout and overall, I'm really happy with them."
"Looks sharp and are ideal for working out in. You can do dynamic movements in them easily and the flat heel is nice for squats or similar exercises. Love the very reasonable price as well."
"Adequate arch support and feel really comfortable on my feet. Maybe the best Asics shoe for CrossFit workouts in my opinion. Super happy that my trainer recommended them to me."
Where to Get Them
Do they sound like the right pair of athletics shoes for you? You can easily find them on Amazon.com. Check now for the lowest prices and also to see if they're eligible for free shipping with a Prime membership:

---
#10: Ryka Tenacity Women's Cross Training Shoe
Ryka Women's Tenacity Cross-Trainer Shoe, Silver, 8 M US
Synthetic and breathable mesh. Direct-Fuse and Flex Foil materials provide support while velcro...
Precise-Return footbed.
Rubber outsole with pivot design offers traction and allows for easy transitions from one dance move...
Let's take a closer look at this popular shoe made specifically for females, the Ryka Tenacity. It's recently gained a ton of fans in the Zumba and dance world. Let's find out why!
Key Features
Ideal for indoor workouts of various kinds including Zumba, dance, jumping rope, HIIT, CrossFit and more
Fits true to size for most people
Higher on the ankles than most other cross trainers
Normal width
Dual-foam midsole
RE-ZORB foam footbed absorbs shock well
Breathable mesh upper keeps your feet cool
Lacing system with reinforced velcro strap across the top
Heel guidance clip to lock the feet in place
Padded tongue and collar
What do People Think About the Ryka Tenacity?
—>See More Ryka Tenacity Reviews on Amazon<—
"I've been in the fitness industry for years now and these are one of the best shoes I've run across for high-impact activities like Zumba, jump roe or HIIT. They're designed for female feet and are perfect for quick directional changes. I'm a huge fan of Ryka shoes and the Tenacity is probably my favourite of the bunch."
"Excellent arch and ankle support but I do with that they had a bit more padding in their insoles. I changed out the insole with a bit more padded one and now I love them. The pivot point on the sole makes it super easy to change directions quickly and I can do my jump rope workouts without pain or discomfort in these things."
Where Can I Buy Them?
Do you want to find out more about the Ryka Women's Tenacity? Click the button below to find out more about them on Amazon and don't forget to see if they're eligible for fast, free shipping with a Prime membership:

---
#11: Xero Minimalist Shoes
If you're looking for a pair of minimal shoes that are ideal for jumping rope in, then you'll certainly need to consider Xero. They're the best of the bunch when it comes to barefoot style shoes. Keep on reading for just a few of the things that we like about them.
Important Features
5.5 mm TrueFeel rubber allows you to get feedback from the ground
Optional 2 mm insole. Take it out if you want a more "barefoot" feel
Around 7 ounces in weight, far lighter than some traditional cross-trainers or runners
Secure fit with heel and instep straps
For use with, or without socks
100% vegan friendly materials
5000 mile sole warranty
Not waterproof but highly breathable and should dry very quickly
45-day return policy
Top-notch customer service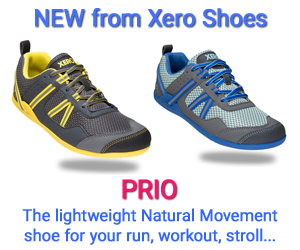 Customer Reviews
"Xero Shoes are very well made and also quite comfortable. They're roomier and wider than other barefoot style shoes. Please note: they really do run quite small so pay attention to that fact when you're ordering them. I made that mistake and had to do an exchange (free in the US)."
"Impressed and unlike most other minimal shoes I've tried, these ones don't have any big issues as far as I can see. I like the little bit of padding, which means that you can use them on just about any surface, including on the trail or at the gym. The way they're designed with the zero drop means they're just easier on the body."
Get Them Today
Do you want to pick up these minimal shoes for your next rope jumping workout? They're easy to find from the company website so click below to get all the information you need:

What Should I Look for in Jump Rope Shoes?
Keep on reading to find out what factors you should be considering when looking for a pair of shoes for jumping rope.
Materials
When you consider which athletic shoes to buy, you'll certainly want a pair that has a mesh upper. This makes them far more breathable and comfortable for your feet that all-leather.
Besides that, you'll want to make sure there's a shock-absorbing sole that can handle the impact of jumping. Plus, a durable, grippy rubber surface that will be slip-resistant.
Cost
In general, you can expect to spend around $100 USD on a top-quality pair of cross-trainers. Sure, you can spend a bit less in some cases but many of these shoes are the lower-end versions of the best models from each brand.
Jumping rope is a high-intensity activity and you'll want a pair of sneakers that can stand up to the test.
Weight
When you're doing this kind of exercise, you'll probably want the lightest, but still supportive shoes you can afford. Think about it this way.
You have to pick your feet up with every single jump. Why not pick up the lightest amount of weight possible?
Toe Box
We prefer shoes that have some rubber on the toe portion of the shoe. This makes them far more durable because this is often the first area that starts to wear out.
In addition, when you try your shoes on, be sure to wiggle your toes around. Do you have enough space to move them freely. If you don't have enough space for your toes, those shoes are going to be quite uncomfortable for you.
Also be sure to wear the same socks you do when you workout. This will give this most accurate picture of whether or not it's the right shoe for you.
Removable Insole
We always recommend a shoe with a removable insole, as opposed to something like those memory foam ones where you can't. This makes them far more customizable with Superfeet insoles or custom orthotics.
Or, just an insole that's a bit more supportive and absorbs a bit more shock than the cheap ones that usually come with most sports shoes.
Protection
The most important thing in a pair of shoes is that they protect your feet from injury. After all, that's what they're designed to do, right? Look for a shoe that's well built, supportive, sturdy but also light in weight. They should provide a ton of stability during your movements under all kinds of conditions.
Of course, they should fit you well and not require a break-in period.
Ankle Support
For this kind of activity, we prefer shoes that are not so low-cut. This offers a bit more support for the ankles, which can take a beating particularly if you do this activity on slippery, or uneven surfaces (avoid this if possible!). You can also protect your ankles from the rope as well if they're a bit higher cut.
Style
Do you want to look like a badass when you train? Then you should certainly consider style along with all these other factors.
Don't care? Then you have ALL the options available to you!
Customer Reviews
Of course it's prudent to check and see what actual users are saying about a product before dropping some cold, hard cash, right? In this case, we recommend taking a close look at the 3-4 star reviews on Amazon to see the true strengths and weaknesses of a specific athletic shoe.
Jumping Rope FAQs
Here are the answers to some of the most commonly asked questions you may have about jumping rope.
Running Shoes vs. Cross-Trainers for Jump Rope
Another common question is about running shoes vs. crosstrainers for this kind of exercise. Which ones are ideal for jumping rope?
Let's talk about the key differences first:
Running shoes have a heel-toe differential of 10+mm. Cross-trainers are around 4-6mm.
Running shoes have no lateral support because they're only designed for forward motion. Crosstrainers have lots of this kind of support.
Running shoes are very flexible in the soles, while crosstrainers are still flexible, but less so.
Running shoes absorb lots of shock from each foot strike. Cross-trainers also do this but to a lesser degree.
When you consider these factors, we definitely recommend cross-training shoes. Although they do have a bit less cushioning, they are far better designed for up and down, and side-to-side motion than running shoes which are designed for only a forward motion.
The other factor is the heel differential. Running shoes have a very high one to help propel the feet forward as you run. This makes them not ideal for jumping rope because you'll feel a bit unsteady in them.
However, cross-training shoes are lower, which makes them ideal to give you more stability as you jump.
What about Jumping Rope Barefoot?
There are a number of people who wonder about doing this form of exercise while barefoot. Some podiatrists recommend this is a way to strengthen the muscles in your feet and legs and prevent injuries.
However, there are others who certainly recommend against this because you'll lack any sort of shock absorption. The jury is certainly out on whether or not you should be running, doing CrossFit or jumping rope without shoes.
Check in with your doctor, physiotherapist or podiatrist for advice regarding your specific situation.
If you do decide to do rope jumping barefoot, carefully consider the surface you're doing it on. Somewhere soft (grass or artificial turf for example) is much better than cement or concrete. You could even find a piece of old carpet to keep for this purpose.
Another consideration is what happens if the rope hits your feet. When you have shoes on, it's not a big deal. However, it can be quite painful when not wearing shoes. It's for this reason that we definitely recommend beginners sticking with shoes.
Can I Jump Rope Barefoot?
Find out more details in this short video below:
Is it Okay to Jump Rope Everyday?
Science daily states that jumping rope is an aerobic exercise that can burn up to 1300 calories per hour, with 0.1 calories burned per jump. While you can do it multiples time a week, it's best to not jump rope everyday and take some rest days in  between training  sessions (like with any sport).
Why Do My Feet Hurt When I Jump Rope?
Your feet may hurt when you jump rope for a few different reasons:
Old shoes that have lost their support and cushioning
Ill fitting shoes
Shoes without enough padding
Inflammation of the tendons or ligaments in the foot or ankle
Achilles tendinitis
Plantar fasciitis
Overuse injuries or pain
Is it Bad to Jump Rope on Concrete?
It's bad to jump rope on concrete or asphalt because these surfaces are dense and doesn't provide any level of shock absorption. This can increase your chances of getting shin splints.  Instead, consider jumping rope on a softer surface like a gym floor, packed dirt or yoga mat.
Why Do Boxers Jump Rope?
Boxers jump rope because it helps to develop lower leg explosiveness. It also helps to develop footwork and speed which will increase boxing performance in the ring. And, it's an easy way to improve fitness levels for anyone, not just boxers.
Do you Have a Recommendation for the Best CrossFit Jump Rope?
If you're looking for a top-quality CrossFit Jump Rope to go along with your shiny new shoes, then you'll want to consider the Bullet Comp Speed Rope. It's a top-quality product that'll last you a lifetime. Plus, it just works well and has as much speed as you're going to want for when you're doing some serious double unders.
Learn more about it here:
EliteSRS, Bullet COMP Double Under Speed Jump Rope - The World's Fastest Jump Rope (Gun Metal Grey)
High Speed: A premium speed rope featuring a smooth spin and an innovative head design that makes...
Durable Speed Rope: Features aluminum handles with slip protection grip and a USA made nylon coated...
Training Jump Rope: This high quality speed jump rope is perfect for advanced jumpers, competition,...
Elite Fitness Workout Ropes: Our athletic jump ropes are built for power and speed in mind; We...
EliteSRS: Founded in 2016 by former competitive jumper and coach Matt Hopkins, EliteSRS provides...
Have your Say about the Best Jumping Rope Shoes
What are your thoughts about the best shoes for jumping rope or similar exercises? Is it one of the options from this list, or are you considering another one? Leave a comment below and let us know your top pick. We'd love to hear your thoughts.
Also be sure to give this article a share on Twitter, Facebook, or Pinterest. It'll help other fitness buffs, like yourself find this useful resource.
I am proud to be a Xero Shoes affiliate and may receive compensation for referring the Xero Shoes brand.
Latest posts by Anne Calderson
(see all)
Last update on 2023-08-20 / Affiliate links / Images from Amazon Product Advertising API